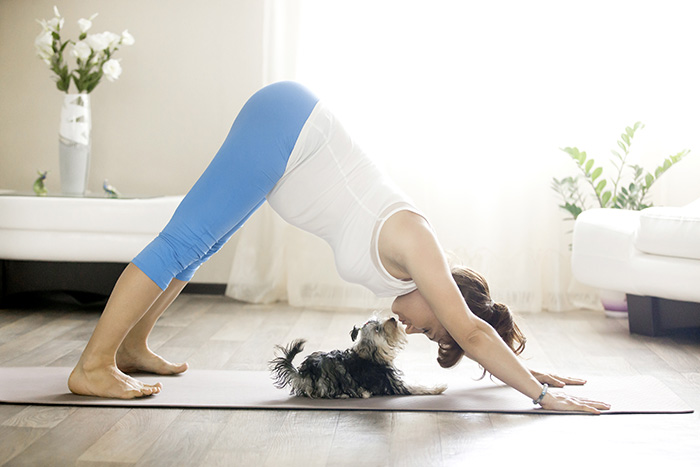 Of course, before you do anything, you must consult with the doctor, leading the pregnancy. Although this is not the usual hatha yoga, but practices specially adapted for future mothers, there are contraindications to such activities, however. And who, if not the doctor, who oversees the well-being of the woman and her unborn baby, will know what will undoubtedly benefit both, and what should be abstained from for the time being.
You can not attend yoga, if there is a threat of abortion, the future mother is worried about bleeding, she has a strong toxicosis and any diseases in the acute stage. At the same time, a competent teacher will take into account the state of health of each of her "pupils" and will correct the exercises and practices even during classes in the group.
Much depends on how much a woman is athletic, whether she is "friendly" with physical exertion, whether she practiced yoga before pregnancy and how long she was carrying a baby.
Yoga for pregnant women pays a lot of attention to breathing practices and meditations. They help a woman to calm down and begin to relate easier not only to annoying trifles, but also to larger problems.
First of all, future mothers train their breath, concentrating on a long, steady exhalation. In order to achieve the desired effect, they also sing different sounds.
In the end, each "student" finds the most comfortable and beloved one and sharpens his skills on it. The ability to breathe rhythmically and deeply helps to cope with stress.
The fact is that with a strong physical and emotional stress the body is brought to a state of alert, the sympathetic part of the autonomic nervous system is activated and stress hormones adrenaline and norepinephrine enter the bloodstream. When breathing slows down, it becomes rhythmic and deep, the parasympathetic nervous system is activated, which provides relaxation and recovery after physical and emotional stress.
The next step is relaxation. Under the slow pleasant music, future mothers are offered to present something very, very pleasant and focus on this image. This practice is called visualization.
She helps to shift attention. A woman usually aims to solve many problems at once: it is good to cook dinner, bring a child from kindergarten, clean the apartment, and drop by the way to my mother on the way home. Meditation helps to get rid of all the problems and think about something more pleasant.
The goal is considered achieved if you just managed to tune in a contemplative way. In addition, thanks to this practice, expectant mothers improve breathing, relax the muscles of the neck or face, someone finally finds a comfortable position for themselves or is distracted from momentary thoughts and anxieties.
In yoga classes, future mothers also dance, move to the music, perform certain static poses (asanas) and their sequences. All practices are very gentle, and women do them with pleasure. The main objectives of such activities are a safe pregnancy and the same as its completion, easy natural childbirth and the birth of a healthy baby.
It also lays the foundation for a successful recovery after the birth of the child.
A pregnant woman can also feel much more confident when she sees that she has girlfriends in a "position" who are experiencing the same emotions and difficulties. Including for this reason, expectant mothers recommend group classes.
Partner practices, performed in pairs or in a small team, help reduce the heat of emotions, feel the support of other people. Such exercises are fun, funny, relaxing and always very positive: women dance, breathe, sing, meditate together – all this creates a special atmosphere of trust, sets up an optimistic mood, gives confidence. Sometimes an exercise that did not succeed begins to be obtained with the support and help of another person.
As a result, a woman realizes that she is not alone, that it is possible and necessary to ask for help and support – and you will definitely be understood. By the way, such a joint activity is a great way to find friends and like-minded people.
If the doctor gives "good", yoga can be practiced at any stage of pregnancy. But it should be remembered that asanas and practices during this period are different from those generally accepted.
And each trimester has its own peculiarity.
In the first trimester to the classes should be approached very carefully. Exercises that cause tension in the abdominal muscles are excluded. However, this rule is observed throughout pregnancy.
In the second trimester, you can afford standing postures, but they are best performed against a wall or with another support. When performing exercises in a sitting position, the pelvis should be above the knees.
In the third trimester, in order not to squeeze the inferior vena cava, exercises in the prone position are limited.