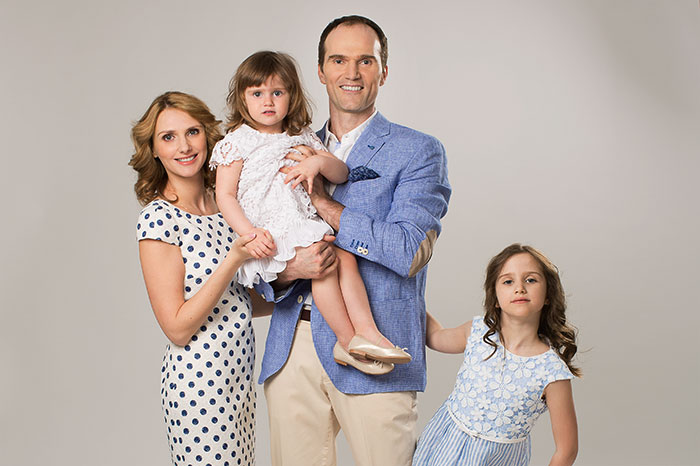 HAPPY PARENTS Egor, has your outlook somehow changed with the advent of three daughters?
Yegor Barinov. Of course, children change the outlook of men, add responsibility. It so happened that in the upbringing of my first son, Danila, I did not take a big part, because we separated from his mother when he was not yet born.
Although now we are meeting with the ex-wife in good relations, but … When the son appeared, I just did not have time to feel myself as a father. Maybe because it was young, maybe because there was no inner feeling of belonging to a family that did not take place.
And, in my opinion, in order for a man to take place as a father, he needs a family. A child appears – and you become a father, then another one appears – and now you are the father of the family.
S.R. Feelings from the appearance of the first daughter, Polina, are different from the emotions at the birth of Nastya, then Masha?
Yegor Barinov Of course! Joy – she always was … But still every time is different. And under different circumstances, all three girls were born.
For example, about the birth of the first, Polina, we had an agreement with a certain maternity hospital, but when the time came, it turned out that it was closed for washing. And I had two shots that day. So, while I was simultaneously filming in two places and trying to figure out the place where Xenia would give birth, my mother-in-law (an adventurous, I must say, man) called one of the maternity hospitals and said that the wife of people's artist Valery Barinov (my father, i.e).
And it worked. Xenia was staged, and she safely gave birth to Polina.
S.R. Have you been to childbirth?
Yegor Barinov At the first birth was not, Ksenia did not want this. And the second birth, Nastya's daughters (she is now 2 years old), fell on December 31, and we were scared.
Doctors understood everything and advised to come … January 9th. "Well, how can we hold out until the 9th ?!" we answered.
Ksenia Barinova Fortunately, the "Lapino" hospital was opened, where we were received, burned and helped Nastya to be born in excellent conditions. Egor had already been on these second births, because he himself felt that he was needed, and I was not against it. Egor even shot something there, then mounted the film.
But at the moment when the childbirth began, I asked my husband to leave.
S.R. And the third time?
Ksenia Barinova And the third time everything turned out unexpectedly, a short time after the birth of Nastya. We did not expect a third child in the near future.
Thought, well, grow two, and then, maybe, and the third. But everything turned out unexpectedly …
Egor Barinov. Moreover, it was at this time that I was doing my graduation film at the highest director courses where Ksenia was shot. And the role demanded from her good shape. We started shooting when Ksenia was in the third month, and made a movie for several months.
By the end of filming, the wife's pregnancy became completely obvious, and just the way, because her character in the final was also pregnant. In general, everything so naturally happened that we even won a prize at the Independent Film Festival in St. Petersburg.
True, at the birth of Masha, which occurred in October last year, I was not, because I went to the shooting.
S.R. The difference, in terms of experience, between daughters: first, second and third – great?
Ksenia Barinova Yes! Very accurately, it is reflected in the famous joke.
If the first child eats cat food, the parents call an ambulance, when the second one does it, they just give him a pill, and if the same happens with the third, mom and dad are wondering if something remains for the cat. And this situation is true! With Polina (she was 7 years old) everything seemed very scary, I was very nervous.
And now … You definitely get more pleasure, you already know everything, everything is not as scary as the first time.
S.R. Is it better for children?
Ksenia Barinova Especially for the eldest daughter, who requires one hundred percent communication. She had switching moments when she could play with the youngest.
But we didn't have any jealousy problems, at least between the two elders.
S.R. Ksenia, are you now working only mom?
Ksenia Barinova I worked in the theater on Pokrovka, but when Nastya got pregnant, I left and, not having time to return, I got pregnant with Masha. Now I'm at home with them. But we also have a nanny, my mother helps me and, of course, Egor.
He is a good dad, because he fully assumed to provide us with products, for example. He constantly goes to the store, buys everything.
Polina went to the first class, and still goes to a music school, to a sports school for swimming, and Egor, if she doesn't work, takes her to all these places. And he helps me a lot in education.
I mostly emotionally react to Polina's behavior, and he can talk to her in detail, explain calmly. For example, when Polina went to school, at first the teachers were not very happy with her, and after talking with Yegor everything changed.
He manages to bring them up.
S.R. Who are the girls like?
Ksenia Barinova Polina was born a copy of Egor. Nastya is like my mom, and Masha is like my dad, who is no longer there.
And the character … The two elders are not in Yegor for sure, because the husband is a calm person.
Yegor Barinov Oh yes! Our girls are very active.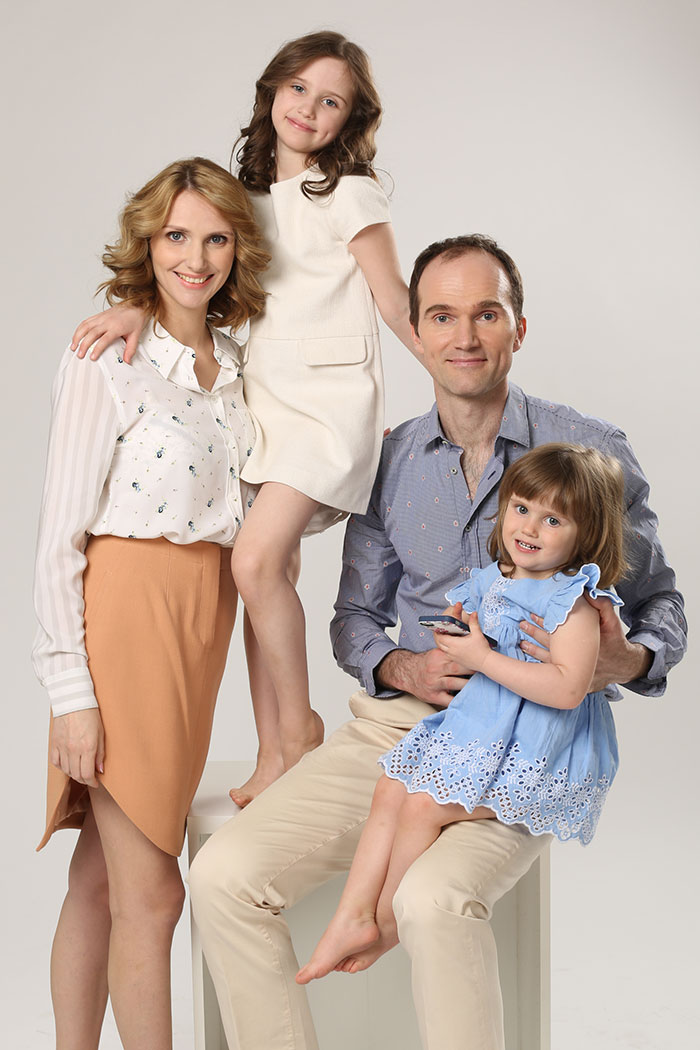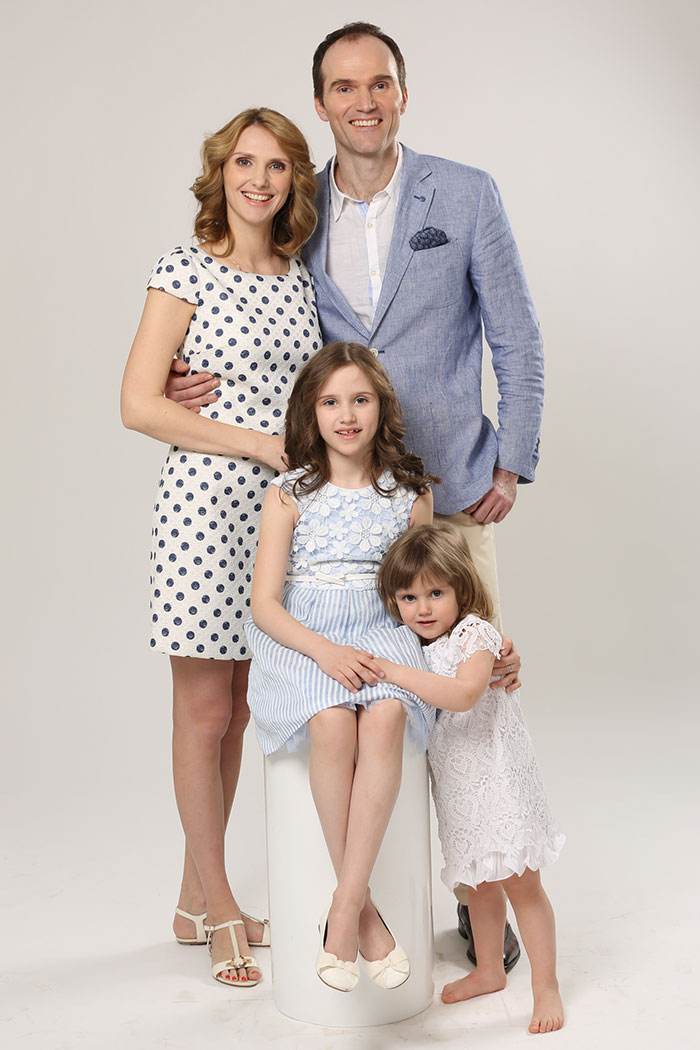 Ksenia Barinova This is what they rather into me. My mother told me that I was growing up with an unmanageable child, and in my school diary, for example, I had the following entry: "I ran around the chairs, beat the children!" Polina used to come to the sandbox and throw everyone out.
Egor Barinov But now, with the advent of Nastya, Polina has changed a lot. When the younger sister was born, Polina had a responsibility, she became serious, she realized that she was no longer the smallest.
She was just great in that sense.
S.R. Ksenia, Egor, did you really go to kindergarten?
There and met?
Yegor Barinov No, we met at the Maly Theater when Xenia studied at the Schepkin College, and I worked at the theater. And then it turned out that we had finished not only one theatrical school with a difference of 7 years, but also went to the same departmental nurseries, which many acting children attended.
S.R. Would you like girls to grow up in this acting world?
Ksenia Barinova I like this world, but I will say this: if you are a successful actor, this is wonderful, and if not, this is very difficult. Being an unclaimed actor is much more difficult than being an unclaimed engineer, for example.
Egor Barinov The unsuccessful engineer still has a profession in his hands, with which he can at least earn a living. And in the hands of an unsuccessful artist there is no profession. This ephemeral profession.
Either you do not understand why – for something that you cannot touch with your hands – you get money, or you don't. And the criteria for the results of your activity are very subjective. And another constant dependence: they will take it – they won't take it, they need it – it doesn't need it … Morally it is not easy.
And girls are even more difficult, because there are more male roles. To be a real actress, you need such an attractive energy that is not necessary and even most likely will not lead her to happiness (few talented actresses are happy), but will always allow you to be noticeable both on stage and in movies.
I will try to tell my daughters about all the drawbacks of the acting profession, so that they think many times before making their choice.
Ksenia Barinova But Polina is dreaming.
S.R. How do you plan to help them make the right choice?
Ksenia Barinova I want to give them the necessary base, which I do not have myself and which I lack. Therefore, Polina goes to music school, dancing, to the pool.
Plus English is required. To at least in these areas, it was competitive.
In addition, her school – with an in-depth study of the natural sciences, so that, if you want, there is an opportunity to do it. All the more such inclinations can manifest themselves: my dad, for example, was a professor of mathematics, and my grandmother – a teacher of chemistry.
S.R. Does Nastya look like her older sister?
Ksenia Barinova Polina in infancy and Nastya – as two different planets. Up to one and a half years, Nastya was an ideal child.
She slept all night, very early began to fall asleep alone – from the year she has been in her room. Polina, up to 5 years old, slept with us, in the afternoon with her she sat for two hours to sleep, Nastya was laid in bed – and she fell asleep.
But by the time she was two, Nastya also began to show character. She is very smart.
Does not sit still for a second, does not give rest to the nurse. Apparently, the crisis began two or three years.
Yegor Barinov Up to one and a half years Nastya obeyed. You tell her: do not go there – she does not go.
S.R. And Polina did not obey when she was the same?
Ksenia Barinova Oh! How many times have I lost her!
S.R. Do you think they are already born with ready-made characters or the decisive factor behind the upbringing?
Ksenia Barinova It seems to me that a lot depends on upbringing. I just see it on the example of Polina and Nastya.
With Nastya, I no longer ran to every call, and she was accustomed to this. And it came out naturally, because I simply did not have the opportunity to pay much attention to it.
Now, with a nanny, there is such an opportunity, and again I give Masha a lot of attention, which, I confess, is not good for her.
Yegor Barinov And it seems to me that not everything depends on education. It is clear that children can be accustomed to some things, the child reacts, whether you are approaching him or not.
That is the motivation, he certainly understands. But all the same: what character is laid, so he remains for the rest of his life.
Suppose, here is Nastya. She obeyed, slept well, but a certain moment comes when her character manifests itself, no matter how we behave.
S.R. Do you have any specific parenting algorithm in your family?
Ksenia Barinova Something certain is not, but we are looking for the right solutions. Being desperate for Polina's behavior, I turned to the group of psychological assistance to my parents and studied there for a year.
Together with me there went the same moms that were difficult with the children. In general, I believe that for all future parents, we need something like parent schools, in which we need to study even before the appearance of children. Something like preparatory (by the way, compulsory, in my opinion) courses for adoptive parents.
Or like training courses for childbirth. For some reason, it is believed that if you yourself have given birth to a child, you need no preparation, no training is necessary.
But how not to? Just carrying the child, you do not automatically become a competent mother, you make mistakes, which could be warned.
Especially if the parents themselves grew up in single-parent families and do not have a model of a normal family before their eyes. For example, Yegor and I had incomplete families and, in fact, we built our family intuitively.
S.R. Are these psychological groups public and free?
Yegor Barinov Yes. And very few people know about them, and they exist in every district.
For example, a neighbor told us about such a psychological center.
S.R. And well there help?
Ksenia Barinova Great! Great psychologists work there.
Mothers, fathers and children come there. Depending on the problem, you can talk with different specialists, even a psychiatrist.
A child there can be taken both to a psychologist, and to a group, and to a parent to be like one, depending on what you are recommended. I went there with Polina, and I was taught how to handle such children.
In addition to such training, there is one more plus in these groups. When I sat there and listened to what the parents talk about their children, I realized that it turned out that everything was not so complicated with me. It could be worse!
Such comparisons are also very necessary.
S.R. When you meet with the whole family, how do you like to spend time?
Are there any traditions?
Egor Barinov We have always had a problem with the meeting of the New Year. They went somewhere to visit, then to the restaurant. And all the time there was a feeling of some discomfort.
You go somewhere, you do not get enough sleep, or people come to you and they are not at all comfortable. And here, for the first time, it so happened that we had three children in our arms.
Ksenia Barinova Nobody invited us.
Yegor Barinov And we did not call anyone to ourselves. The nanny left and we stayed with our family, the five of us, in the apartment.
And it turned out to be surprisingly great!
Ksenia Barinova A surprisingly warm and sincere New Year has turned out. We were sitting at the table with Egor and Polina, while the younger ones were sleeping.
I didn't have a better New Year in my life!
Yegor Barinov We want to leave this tradition.
Ksenia Barinova We all run somewhere, we are afraid not to make it in time, we fuss, and sometimes it is worth stopping. Calmness, measuredness is very lacking in our life.
Yegor Barinov And it turns out that all this is at home. And the best thing for a person is also at home, where his whole family is, where the closest and most understanding people surround him.
And happiness to those who have such a family.
Natalia Bystrov and Dmitry Yermak: "You can not live only the interests of the child"
She is known to viewers as Belle from Beauty and the Beast, Ariel from Little Mermaid, as the heroine of other most famous musicals. He is the leading actor in the musical "The Phantom of the Opera", an actor of theater and cinema.
And recently, the couple had a son with the fabulous name of Elisha. Read more
Mikhail Policemaiko: Love without rules
Mikhail Policemaiko is not only a favorite actor and presenter, but also a truly reverent father and husband. Today, Mikhail, his wife (also an actress) Larissa, as well as the followers of the glorious acting dynasty of the Policemaco – Farad, their daughters Sophia and Emilia, are our guests. Read more
Olga Kabo: "The birth of a child is the elixir of youth for a woman"
Actress Olga Kabo can be called both a mom and a young mom. Her eldest daughter Tatiana is 16 years old, and her youngest son Viktor is 2 years old.
How she combines both of these incarnations, our conversation today. Read more