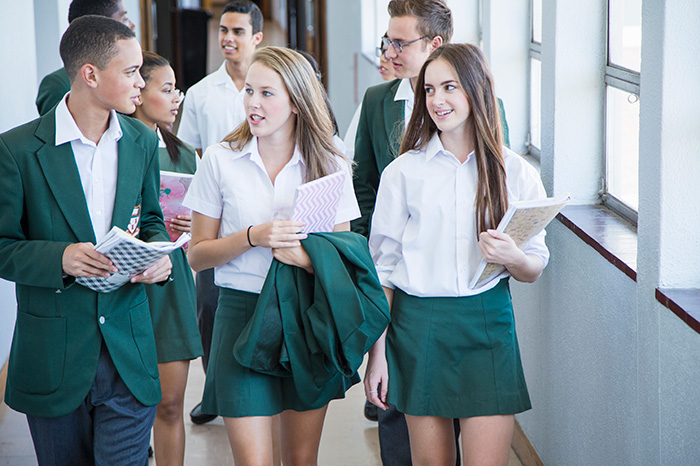 Preparation for high school begins long before the seventh grade. Parents are looking for a suitable school in their area of ​​residence, and then submit an application, indicating three preferred schools. When recruiting schools are guided by only one criterion: place of residence. Each school has a catchment area, that is, addresses that relate to it.
If there are more people willing than places, then the "ruler principle" is valid: those who live closer, take it. Preference is given to disabled children and orphans from foster families.
If the child does not go to the first school chosen by the parents, then he is offered a second school from the list, and sometimes a third one.
In Catholic and Anglican schools preference is given to children professing Christianity. Catholic schools, by the way, are very popular not only among Catholics.
They prefer the family of strict moral principles. Both Protestants and Muslims often gladly send their children to Catholic schools, especially girls.
Discipline is usually better there, and the level of teaching is higher.
To think about which school to send the child to is a question that needs to be addressed several years before the start of school. It often happens that people buy a house in a pleasant area, do expensive repairs, have a child, and suddenly it turns out that a decent school is far away, and I don't want to give my child to the nearest one.
As a rule, secondary schools are much larger than primary schools. If in the elementary school where my elder children studied, there were 400 people and two parallels, in high school there were 1200 students and nine parallels.
The transition to secondary school is no less important an event than "the first time in the first grade," and in terms of the level of experience can be compared to marriage.
Many schools have specialization. For example, one school is strong in foreign languages, another – in the natural sciences, and the third – in sports. My neighbors discouraged me from the "monstrously strict and difficult" Northgate, where their boy had to be tight.
He moved to Copleston and found himself there, winning endless volleyball matches. How was it explained to the neighbors that for my boys it was Northgate that was a great option, and for the sake of this school we settled in the area and did not regret it.
Strict discipline, strong natural sciences, languages, professional art studio – all arranged for us. With mathematics, however, the situation is more complicated, but in high school, it is taught decently.
In the ninth grade, children choose four subjects in addition to compulsory: mathematics, English and chemistry + physics + biology (Triple Science) or physics + chemistry (Double Science), in which they will take exams in grade 11.
History and geography are taught in grades 10 and 11, optionally after school, and one must choose either history or geography.
Education is required up to grade 11, at the end of which students take exams for a GCSE certificate – general certificate of secondary education. In other words, it is a high school diploma.
After graduating from high school, the majority of children (about three quarters) go to study at colleges (analogue of vocational schools) or go to work experience (apprenticeship). Those who want to go to university go to study at Sixth Form.
This is the next step in the education system, where all subjects are studied at the A-level, that is, at the level that allows you to pass the entrance exams to the university.
Grades 12 and 13, which are called the Sixth Form (sixth degree), are not available in every school, and here again the students have a choice: to stay in their school, if there is a Sixth Form, or to go to another school. Some submit applications to several schools at once and await the results of examinations.
In high school, only 4 subjects are studied – it is for them that you need to gain a passing grade in grade 11, passing the GCSE exam. Thus, children prepare for university purposefully, without being sprayed on many subjects.
And even one of the four selected items can be "reset" if it is difficult. To enter the university, you must pass exams in three subjects.
Sixth Form is the elite of the school. High school students study in a separate building, do not wear a uniform, have the right to leave school and come to school according to their individual schedule.
There are no classes as such anymore.
Students are divided into groups according to the selected subjects. A few hours a week are devoted to self-preparation. For example, my eldest son is studying English, visual arts, computer science and German, which means he has four groups in which he studies, that is, four different teams.
As a rule, the group is much smaller than the usual class: from 15 to 20 people. The guys here have approximately the same level of knowledge, since those who are not interested in studying have left school, and those who entered the upper classes are usually interested in good results: the better the university, the higher the passing points.
In the next article, Lyudmila Selenskaya will talk about the differences between Russian public schools and English. It will be interesting!
Stay tuned for updates on the site.