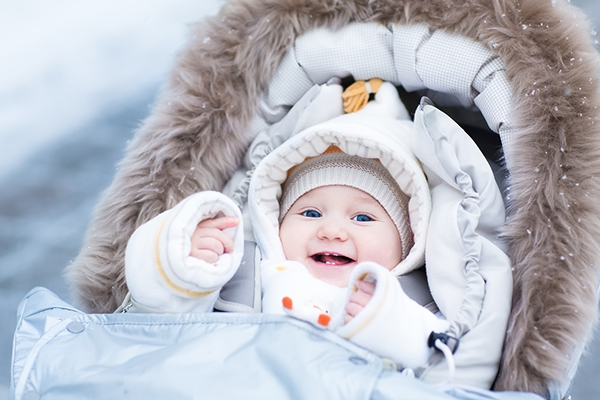 Quite often, doctors say that the development and health of babies depend on what time of year they were born. "Winter" are children born in autumn and winter from the beginning of November to the end of February. "Summer" – born from mid-May to mid-September.
With winter babies, the walk usually starts later and the walks are shorter. Fearing to "freeze" the baby, the parents lift the top of the stroller and put a cover on top.
It turns out that the sun's rays do not reach it and do not affect it at all. Due to the lack of sunlight, the child may be at risk of rickets, he will begin to lag a little in growth and muscle development.
And vitamin D has a therapeutic effect only under the influence of sunlight. To eliminate the threat, it is enough to expose the baby's face to the sun's rays for at least 15 minutes a day.
For this you need only half open the awning stroller. "Summer" newborns do not encounter such a problem, since they start to walk with them early, walks last longer, and the sun's rays, no matter how they hide the child, still get on it.
Another difference is that usually "winter" kids start walking earlier than "summer" ones. After all, in the summer, the crumbs born in November-December already sit on their own and try to stand up.
It is impossible to hold a baby in a stroller that has already stood on its feet. Willy-nilly, it turns out that the "winter" children actively move not only at home, but also during their walks.
Those born in summer get motor activity in winter or spring. It is inconvenient and difficult for a child to walk in warm overalls and felt boots, and he moves less.
But the differences are temporary, the children very quickly catch up.
For newborns, all vitamins are important. But vitamin D is of particular importance to them, so it is important to consult a pediatrician about the introduction of the synthetic form of this vitamin.
Vitamin D normalizes calcium metabolism, which is necessary for the normal development of the musculoskeletal system. Its lack can lead to the leaching of calcium from the bones.
At the initial stage of vitamin D deficiency, the baby often sweats the feet and palms, bald patches may appear on the back of the head, the baby becomes sluggish. If you do not eliminate the deficiency of vitamin D, the bones can be deformed. This will worsen the work of the internal organs.
Further, the baby can develop rickets. His signs are: an increase in the size of the head, the bones of the skeleton are deformed, the legs are bent.
The onset and exacerbation of the disease occur, as a rule, in late autumn, in winter and in early spring.