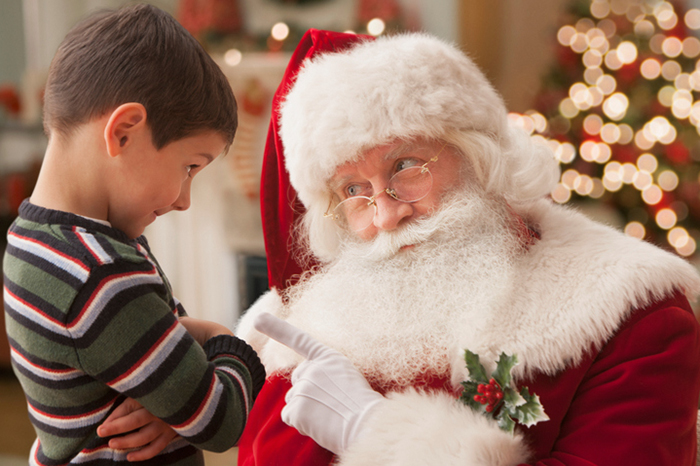 The main reason that encourages modern moms and dads to debunk the good legend about a bearded grandfather with a bag of gifts in the background is a reluctance to lie to his own children. At first glance, the aspiration is commendable.
After all, it is ugly and shameful to deceive, and this is what we have been taught from childhood on. But if to argue in this vein, then fairy tales should be declared a gross distortion of reality.
Well, the truth is, where has it been seen that pikes talk, cats walk in boots, hens carry golden eggs? Still, parents are loyal to fairy tales, and there are more and more claims to Santa Claus.
The reasons for not loving one of the kindest wizards, paradoxically, are gathered not so little. Someone claims that the cute New Year's tradition implies a double "betrayal."
First, the child is forced to believe in a miracle, and then they say that all this is not true. Particularly scrupulous parents simply refuse to lie to children on such an immoral scale.
Others fear that at the moment of enlightenment the child will learn a bad lesson and will also begin to lie with enthusiasm to adults. But these fears are groundless.
The tale of Santa Claus can not be called a hoax. Its main purpose is not to mislead children, but to make them a pleasant surprise. In addition, most often the kids learn the truth about Santa Claus at the age of about 8 years, when they are already able to distinguish a good lie from an evil one.
Thanks to this skill, parting with a legend is painless for most children. They are not angry with their parents for betraying them, and they do not begin to think that from now on they too are allowed to lie.
On the contrary, many children are very happy that they have become "big."
Sometimes the reluctance to attach children to the cute New Year's tradition is dictated by unpleasant memories from their own childhood. Usually this happens in cases where the child is not yet ready to learn the truth, but for some eloquent details (unglued mustache, father's voice) he realizes that he was deceived.
The feeling of insult is so strong that you no longer want to play Santa Claus with your own children.
Some parents find it difficult to fantasize and break away from reality. As a rule, they are pragmatic persons who are accustomed to living by the rules and taking everything literally. To support the child's fantasy is simply not possible.
There are those who, starting from birth, prepare the child for a hard life. The stories about Santa Claus and other fabulous "nonsense" do not fit into this pedagogical doctrine.
Belief in miracles begins to take shape at the age of 2.5–3 years, thanks to fairy tales, games and the legend of Santa Claus as well. During this period, children have the ability to fantasize.
Fictional plots help them figure out where the real world is and where it is invented. The child quickly begins to realize that everything is possible in the magical looking-glass, but the reality is completely different.
This awareness gives rise to a sense of humor, which implies the ability to see the second plan behind words, gestures and metaphors. Trying on the roles of different characters ("Let's play Batman!", "Today I will be a fairy fairy!"), The child learns abstract thinking – trying to predict the behavior of other people and analyze their own actions.
Of these fantasies, by the way, sensitivity to other people's experiences is later formed. A child with a developed imagination will easily determine that a person is upset, even if he says that everything is in order, and will be able to support him.
So the belief in miracles and introduction to fairy tales are necessary for every child. And if one legend becomes more, and he will believe in Santa Claus, nothing wrong will happen to him.