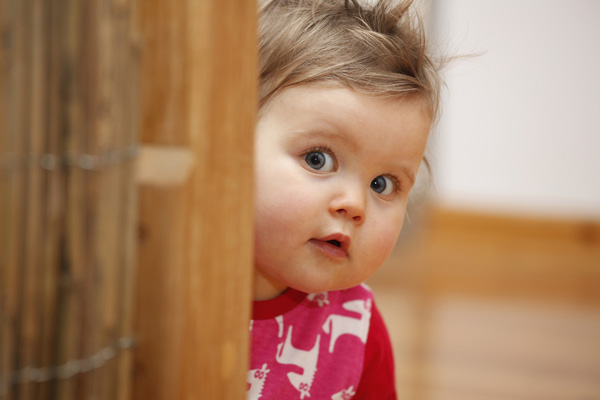 From the moment of birth, the reproduction of gestures and actions of an adult is one of the favorite activities of children. In very small children, imitation plays a very important role: by observing the faces of parents and reproducing their facial expressions, babies learn to communicate. By copying us, and later trying to repeat the sounds we make, the kids get involved in communication and master the speech.
Moreover, children of different linguistic affiliation babble differently: their first sounds are already attempts to follow the words of adults.
As soon as children acquire autonomy in movement, they try to take over everything that we use. When a child sees this or that object in someone's hands, he has a feeling that the body of another person with this object is more "finished" than his own. And he wants to take possession of him, to complement himself.
The curiosity and observational abilities of a small child are endless: thanks to them, he grows up. Of course, he repeats our gestures and movements awkwardly, but with obvious pleasure and great enthusiasm. Especially if his achievements make us laugh: he will try to imitate us again and again.
But it is important to remember here that young children aged 1–1.5 can feel whether his parents laugh heartily or make fun of him that can hurt him.
Does the baby suffer from the fact that it does not act as dexterously as we do? According to experts, no: up to 2 years, the child feels that he can do everything very well – even better than us.
Some things the children really succeed: watch the baby, if he is adroitly controlled through his age with the remote control from the TV or VCR when he wants to watch his favorite cartoon.
Copying adults is also a way to find out about your sexual identity. This period starts from 3 years and becomes for the child an opportunity to see himself in the future, to identify himself with an adult of the same sex – an adult person, which he will become in the future. Girls are painted, put on shoes with heels and mom's decorations.
And the boys put on his father's tie, take his laptop and "go to work." True, in the modern world, things are not so simple – stereotypes are changing.
The children see their fathers preparing dinner or changing the diaper to the child, and the mothers working on the computer.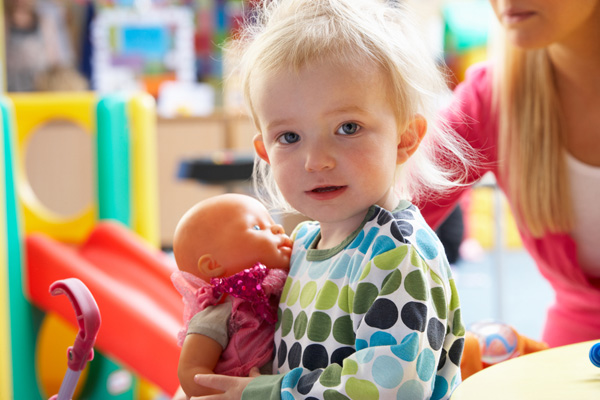 One and a half year old girl feeds a doll. And since that mouth does not open, the baby with each new spoon utters a loud "yum-yum." Does she understand that all this is not real?
Not yet. She believes her doll has actually eaten.
At this age, the real and the imaginary are mixed, intertwined. Only by 3 years old will the child be able to distinguish reality from imitation of it.
When our little thinker learns to take into account reality, to distinguish it from the game, new horizons will open up before it. It doesn't matter that there is nothing in the saucepan, the daughter explains that she cooks soup and gives us a few spoons of food. In the third year of life, the child realized that real power was in the hands of adults.
He is aware of his weakness. Output? The only way to have at least a piece of amazing power is the game.
When children play as an educator in the yard, they speak it with phrases, but pay attention: they behave more strictly than she does. So they are trying to master the absolute power that they think adults have.
In the same way, the baby comes, who is forced to eat what he does not like: he repeats it with the doll, ordering her to eat. This is a way to "tame" the problem and educate your parents, showing them what not to do!
Copying adult behavior is not just a game. Ultimately, imitation allows our children to truly help us, of which they are terribly proud!
The ability to set the table, do the dishes, water the flowers, feed the hamster gives the right to a new status. It also allows older children to separate from toddlers who can't do anything.
truly and deprived of privileged rights. Do not forget to show your approval.
And do not forget to emphasize its ingenuity and originality. Repeating for elders is useful in order to become an adult. but this does not mean that you should copy others all your life!
In the first weeks of life, the baby copies the face of the mother and her smile. This is his way of communication.
Starting from 9 months, the child grabs various household appliances (telephone, nail scissors, comb) and tries to use them. This is an unconscious imitation caused by curiosity.
At the age of 1, the baby takes a spoon in his hand and wants to eat on his own, copying his parents.
From 1 to 2 years old, he thinks that he can do everything, like us, and even better. Trying to repeat all our actions, albeit embarrassing.
For about 2 years, a child is able to truly help parents by performing simple tasks, and is very proud of it.
After 3 years in imitation games, he takes on a sample of an adult of his own sex: in this way he identifies himself with the adult he will eventually become.