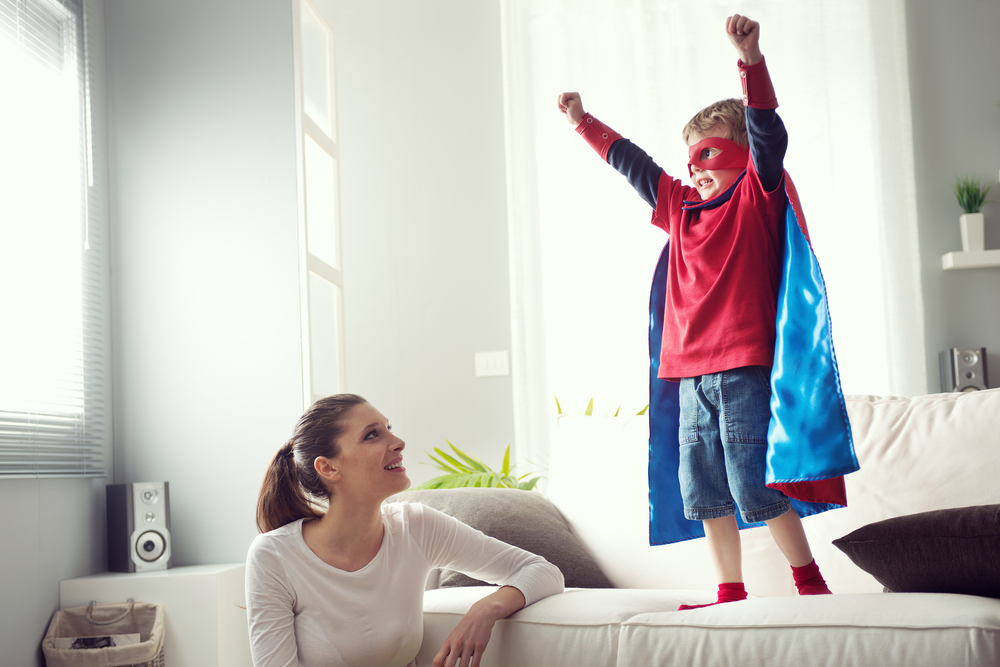 For a small child, mom and dad are the real superheroes who not only can do everything – they control the whole universe! As you know, representations of 3- and 4-year-old children about God practically do not differ from the image of parents and are almost always ambivalent, since they are painted not only with love, but also with fear. In order to oppose something to the omnipotence of parents and adults in general, the child must become equal in strength – at least in his fantasies.
Identification with a stronger one is a common type of psychological defense, with the help of which a child overcomes frustration. And here the image of a superhero who can do anything, anytime, turns out to be irreplaceable.
No one can force Spider-Man to eat vegetable puree and collect toys every evening! One movement – and he is already far, far away, saves someone from evil.
A three- and four-year-old child who learns by imitating others and copying their behavior, you just have to imitate the characteristic gestures of your favorite character in order to arrogate to himself his superpowers. But a complete reincarnation, of course, cannot be done without a costume.
A waving cape, intriguing mask, spectacular belt, gloves – these items really have magical power, because they allow the child to connect the imaginary world with reality and release his "inner" Batman into the real world. But what will he have in this world?
The heroes of our stories are lucky.
The five-year-old Vasily is an active and sociable boy, a very popular person in kindergarten, a real ringleader. When I had to sit at home because of illness, I was very bored with the company, I was completely exhausted: it was boring to play alone, and my parents allowed to watch their favorite series about mutant turtles one series a day. The computer also turns on for a maximum of half an hour.
Nytya and bribing did not give anything, and a smart boy decided to interest his mother with a plot – to prove to her that the cartoon about ninja turtles is "useful for development" as much as her favorite books about Cheburashka. The first argument struck my mother outright: "Mom, but Cheburashka is also a mutant!" While Mom came to her senses, Vasily tried to briefly retell the plot of the series. And got his way!
Mom even agreed to buy figures of all the main characters – Raphael, Donatello, Michelangelo and Leonardo. True, she didn't go to the store right away, but at first she talked about famous artists for a long time, the names of which, it turns out, were assigned to heroic turtles and showed pictures on a tablet.
Basil liked some of them. Inspired by her son's interest in classical painting, her mother agreed to play a little with Vasya in new figures. Vasily appointed his mother a sensei, and took the role of Michelangelo for himself, but during the game he reincarnated in all four friends in turn.
And mom was forced to admit that her child's passion for strange anthropomorphic creatures is not yet harmful. She did not even suspect that her baby could not only artistically depict the emotions of the characters, but could also analyze the characters and even predict how each of the characters would behave in new circumstances. Especially mom liked one game that came up spontaneously: to find features of cartoon characters from real relatives and friends.
Vasily immediately determined that his father resembled Leonardo: he is calm, and he likes to invent something new; Grandma sometimes behaves just like a touchy Raph, and Vasya is as cheerful as Michelangelo. It turned out that the son is familiar with the concepts of "leader", "aggression" and even "sarcasm"!
It turns out that these turtles are not only fighting and teasing each other … In general, the mother's opinion regarding her son's hobbies has changed. However, she did not agree to increase "television time". But she began to offer herself as a spectator of performances, which Vasily plays with a set of figures, and co-author in the development of new scenarios.
And Vasin's dad is thinking about using multicolored turtle bandanas as a variant of "thinking hats" by Edward de Bono.
Virtually all science fiction films and even superhero cartoons include a large number of complex special effects and psychotic scenes of violence that traumatize the psyche, and therefore are not suitable for preschoolers. Therefore, even if parents do not consider it necessary to completely abandon the animated series, their viewing time should be strictly limited.
In addition, adults should be close to the child. Vasily's mom showed an enviable hardness, limiting "television time," however, judging by the fact that the characters of the series were unfamiliar to her, she simply left the child alone with the screen before the events described.
Unfortunately, even such sensitive and enlightened adults, such as parents of Basil, take lightly to the recommendation of psychologists to control not only the viewing time, but also the content of consumed video production. There is nothing wrong with such censorship. Superhero cartoons, anime and movies are designed for children of much older age, and if you sometimes use TV as a babysitter, you should choose a more inoffensive genre for this purpose.
As for Vasily, he and his mom have time both for analyzing the characters, for inventing their own stories, and for searching for correspondences between the fictional life on the screen and reality, which means that the favorite TV series doesn't really pose a danger to the child's development. The ability to relate to the cartoon character is a very important stage in the development of the child's self-consciousness and thinking.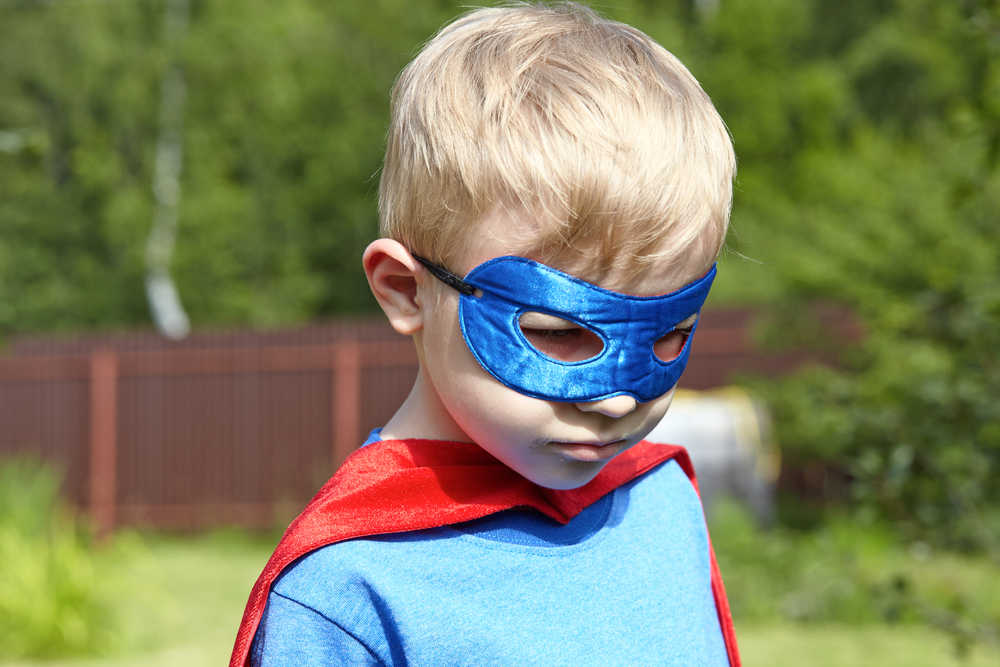 Anton is a tall, handsome boy. He will soon be six years old. In the family he is considered shy.
It seems that in the company of Antosha is not too in need and he feels best when he plays alone. He likes to draw, play chess and other board games with his parents.
Sport is not interested. Cartoons love. After watching the cycle about Batman with my dad, a fan of Tim Burton, I drew only the characters of the film for a whole week — Batman himself, Catwoman, Joker and others.
And then I came up with a suit for myself for two weeks. The slightly creepy comic turned out because Anton drew how a costume (a costume, without a face) fights dragons, flies to Mars and just hangs out with Spiderman and the Hatter from Alice. The suit changed in the course of the complication of the plots.
In the end, from the original idea (it was almost exactly copied Batman's outfit) only the base was preserved – a black mask and a raincoat (true, the raincoat turned silver). Fragments of images of other heroes were added: a black hat, a royal stand-up collar, a medallion with a red crystal, a magic ring and a blue Jedi sword. For his birthday, the costume was made by his mother himself, as no one tried to find such a ready one, of course.
The boy looked inimitable, and all the household fully shared his delight. But when Anton wanted to go out into his yard in his outfit, his mother became worried.
My son and so difficult to develop communication with other children. What if he was ridiculed, it's such a trauma … However, she made an effort, a few deep breaths – and she agreed: in the end, she will be ready to help her superhero at any moment. But this did not happen even once, although from that day until the start of the cold weather, the child agreed to walk exclusively "in costume".
Mom was shocked on the first day. Her timid and cautious boy, who had previously preferred to watch the games of other children from the side, easily and actively joined the "war", and then for more than an hour, together with other boys, built a hut in the park.
The next day, he himself rang the door of the apartment opposite and called the girl for a walk, with whom he was even embarrassed to say hello. He finally had friends.
And when dad asked if this year the boy would be engaged in a chess club, the son, beaming, answered: "Of course! And at school of fencing! "
The boy did not just demand to buy him a costume of a movie hero, but he carried out an ambitious creative project. The creative method, the "implementation strategy" developed by the five-year-old artist is amazing. First, he in his drawings in detail recreates the world of fictional images that inspired him (draws all the characters in the film).
Then he copies the costume of the character with which he relates himself, as if he creates a scheme of the future image. This phantom leads on several plots, in the process of which he acquires individuality.
The following stages – the development of parts, performance, dress rehearsal and – the premiere.
What can I say – the child is lucky that his father has good taste and he chose a decent product for family viewing, and his mother is able not only to build a magical outfit, but also to cope with their own fears. And parents are lucky – they have a real creative personality.
Maxim is 5 years old. He was always mobile, active.
Already a year and a half engaged in karate. Parents hoped that playing sports would help Max to become calmer, "throw out aggression".
From the very beginning, the child was delighted with the classes, but there was no less aggression. Quite the contrary … Maxim was practicing techniques not only at home in front of the mirror, but also in kindergarten – on other children.
And the teacher, and the trainer, and the mothers of the beaten kids talked with the boy and their parents more than once, but the problem was not solved. Maxim's father – a strict man, a supporter of "male education" – promised to take measures, but apparently his harsh methods did not work. Mama drove Max to a neurologist (no abnormalities were found), and Grandma threw up her hands in the hope that she would "grow over".
For the summer, Max and her mother went to rest in the Crimea, where they met a friendly teenage girl Marina. She told Maxim the story of the Hulk. Seeing once on the beach, as Maxim with a terrible scream fearlessly rushes at the sand castles erected by other children, and leaves no stone unturned, Marina exclaimed: "Max, you're just a Hulk!" And then she screamed in unison with Maxim.
This was the beginning of a great friendship. The children rushed along the beach together for hours (Max's mother couldn't rejoice: she was supervised by little children!), And then they drew something for hours in Marinin's numerous notebooks.
Or rather, Marina was painting mostly, and Max watched and listened with interest. Then other children of different ages appeared in their company: Marina, carried away by manga and anime, invented a separate character for everyone. Max who was burnt and strengthened, returning from the sea, frightened him with a menacing roar of "I am HaaaaLx!" Surrounding pensioners, still climbed the roofs of garages and hung on trees, but he almost stopped fighting.
The teacher in the garden did not recognize Maxim: now, from time to time, he even "helped" her — reconciled with those who had quarreled, invented games and comforted losers. "You have been substituted!" – burst out from her once. "I could not restrain myself before," answered Maxim seriously, "and now I try. I'm like the Hulk! "
Too severe style of education in the family, where the child is often and unjustly punished, often leads to what psychologists call identification with the aggressor. A child can begin to perceive the world as a source of constant threat and try to assert itself in any situation, challenging everyone around.
Threats and notations usually only exacerbate the problem. In the story of Maxim, the girl, obviously a gifted teacher "from God," showed a benevolent condescension and sincere interest in the younger comrade, performed a miracle.
She helped the boy to project an internal conflict on the character of the comic, and, apparently, the improvised art therapy was very effective.