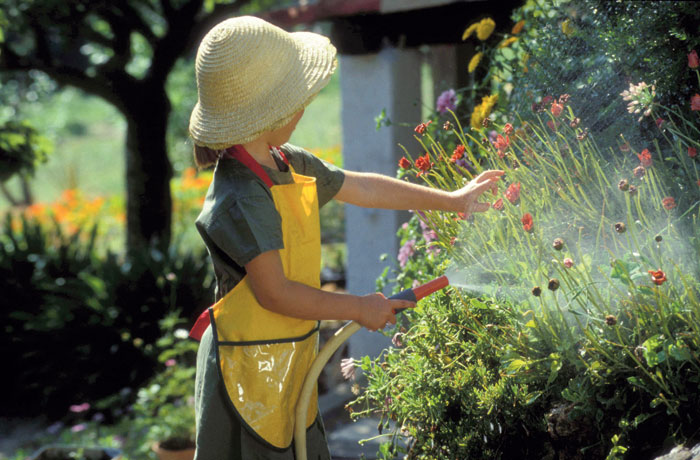 From the beginning we put on the apron. Then gloves.
Well, we already look like a professional gardener. And the work begins.
Watering can or hose – what happiness to water the beds and flower beds! One doesn't have to beg: is there a big joy for the kids than digging in the ground, getting their hands and clothes dirty, firmly knowing that no one will blame them for that! Gardening – a great way to take the kids in the country, which is also educational in nature!
A child learns about the world in all its diversity, sees how a flower or a spicy grass bush grows out of a tiny seed of unprecedented beauty. Having before his eyes clear examples, the kid will be able to understand the essence of the cycle of life: seed, sprout, bud, flower, wilt.
It should be remembered that the baby must have its own, children's garden tools.
Keep adult rakes, hoes, secateurs in an inaccessible place. Do not leave the child alone with the seeds.
Some of them, such as seeds of wisteria or sweet peas, are poisonous. To avoid the risk of poisoning by plants, the child needs to be explained that it is impossible to take unknown berries, leaves and flowers in your mouth without permission.
Unfortunately, children under three years old will not scrupulously follow your instructions, so their gardening activities must be monitored.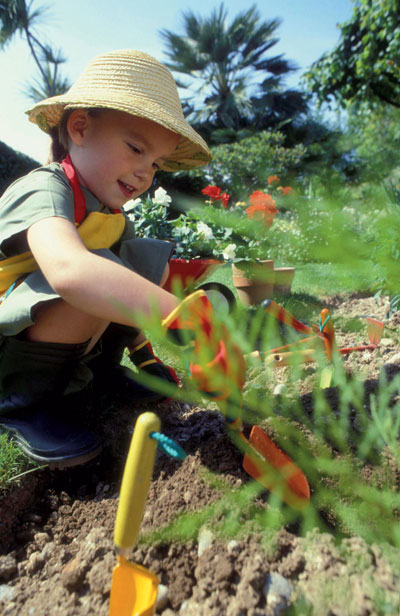 Household bed or flower bed – an opportunity to teach a child to respect nature. A pipsqueak, regularly watering his garden bed, will never stomp grass and flowers and break tree branches.
How important it is to accustom the baby to responsibility, is known to all. Your bed, which needs to be watered every day, should be fertilized periodically (the baby should do this strictly under your strict guidance, since the fertilizers are toxic).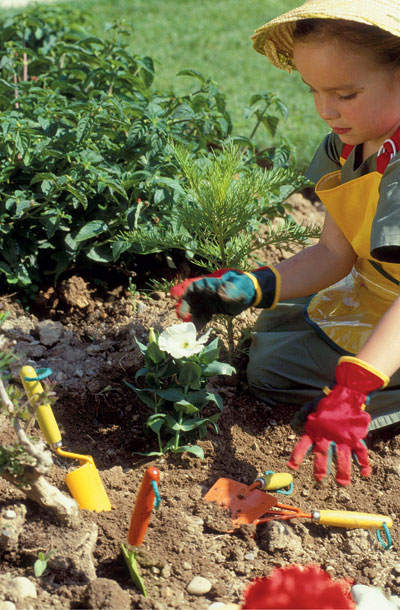 You do not even need large areas: after all, even in the city you can plant flowers or spicy herbs in pots on the balcony. If you have a cottage, take the kid a small personal corner. What to grow?
That quickly sprouts. After all, little gardeners usually do not differ by patience. Flowers: bells, marigolds, herbs: dill, chervil, chive.
With what pride your baby will carry a bunch of "his" parsley to the dinner table! If you have a cat, the child can be charged with growing cat grass: this way he will feel his personal responsibility for the four-legged family friend.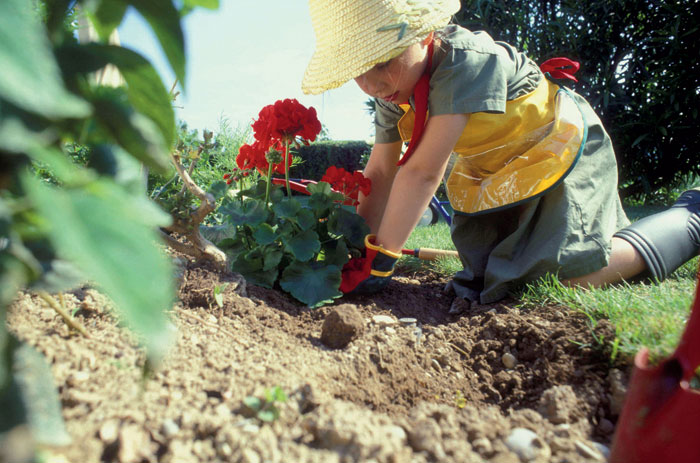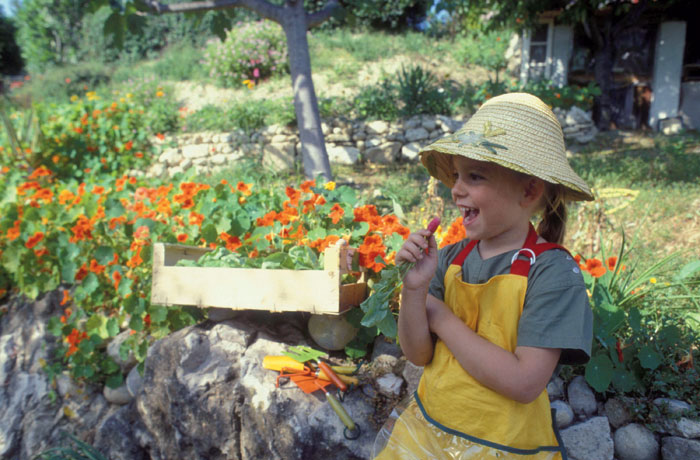 Children readily perform simple flower care jobs. And every day the baby will be happy to rush with the watering can to his favorite bushes.
Remember that most garden fertilizers are toxic. Therefore, watering the flower beds and beds with water should be used to feed the plants to young children, under the guidance of adults.