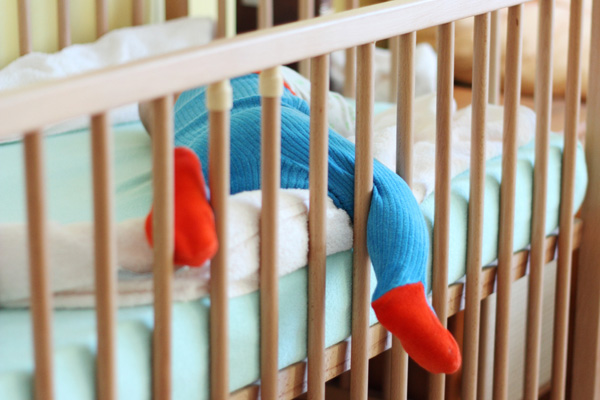 Until the baby is 5–6 months old, his bed can stand in your bedroom. Proximity to the mother will calm the baby, and it will be easier for you to feed and change him at night.
But, of course, if the loud sounds that the baby makes at night really prevent parents from sleeping, it is better to move the crib to another room and buy a "baby monitor". In this case, the door to the nursery must be left open.
For kids, the neighborhood with mom and dad in the first six months of life is considered useful. According to statistics, children who sleep in the same room with their parents, wake up less often in the middle of the night and generally behave more calmly.
Parents manage to "intercept" the crying of their offspring and accomplish what he asks, without even letting him finally wake up. In close proximity to each other, the whole family (both moms and dads and babies) sleeps more soundly.
In addition, if the cot is right in the bedroom, it is more convenient for parents to share the night cares for the child.
At first, the baby sleeps a lot, but it wakes up often. Sleep protects its nervous system from overload and exhaustion, helps it develop harmoniously, and debugs the system of biological rhythms.
In order to sleep, a newborn needs 19 hours a day, a 3–5 month old crumb– 17, a half-year-old toddler – not less than 15 hours.
By about 6 months, the child will learn to sleep at night for 6–7 hours in a row, without waking up. At this point, he can move to a separate room; Moreover, doctors strongly advise parents not to delay the transfer of the baby.
Otherwise, the constant intimacy of the safety net will become a habit with which the child will be difficult to part. Although any rule has exceptions.
So, if the little one is sick, nothing prevents the parents from leaving him for the night under their wings, returning his cot to his bedroom for the time being.
To baby slept well, use the advice of experts.
1) Always put your baby to bed at the same time.
2) In the crib, the baby should sleep on the back without a pillow and blanket.
3) Maintain the room temperature at 18–20 ° C.
4) Try not to muffle a child: at home there are plenty of vests and sliders (or body), and on top – an envelope that fits the size.
5) Protect the baby from any annoying sounds: it should fall asleep in a comfortable silence.