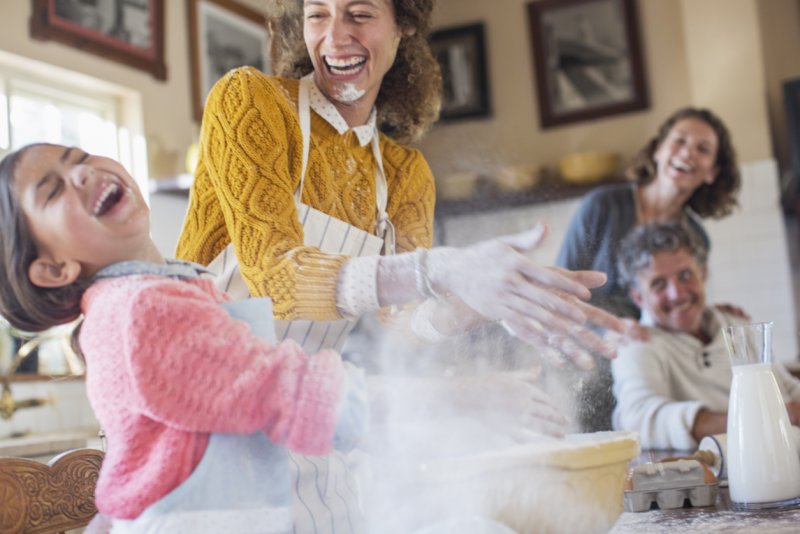 Children's culinary classes are not just a way to calm down a child for a while, but an entire developmental program. Firstly, the activity in the kitchen is an important step for the child on the way of growing up, because there he acquires a lot of new skills (he learns independence, responsibility, basic rules of hygiene and safety). Secondly, it is the lessons of mathematics (he counts the number of spoons of sugar, butter, eggs, and also keeps track of time) and geometry (he knows different figures).
Thirdly, the expansion of horizons (the baby gets a lot of information about the products, and while cooking with parents from national cuisines of the world, it discovers geography). Fourth, the development of creative potential (little kids love to invent and decorate).
Finally, cooking together is a great way to feed the little ones, because the food cooked with your own hands is always tastier!
To culinary creativity was not only productive, but also comfortable, prepare in advance the necessary "props":
a large, deep, unbreakable bowl;
a convenient spoon, cutting board, cookie cutters, skewers or wooden sticks;
low stable stool that will help a small chef to reach the cutting table and sink;
kitchen scales and measuring cups / spoons (with their help, you will quickly teach your child to weigh and measure the right amount of food);
After bringing the workplace to full combat readiness, proceed to business, guided by the following rules:
eliminate complex dishes, the preparation of which requires more than half an hour (the little chef simply does not have enough patience to finish the job);
Prepare in advance all the ingredients in the right proportions (vegetables, fruits, eggs, rinse thoroughly);
Before the process, "equip" and wash your hands;
at the end of cooking, make sure the kitchen is in order. It is important to offer your child to clean up together. For example, say this: "Let's remove the table together so that it becomes clean and beautiful and we can drink tea with our cookies here!"
A four-year-old child is an attentive student, as well as your assistant and assistant. Teach him to follow simple instructions, follow the basic rules of "kitchen" hygiene (wash hands, tie an apron, clean up after yourself), introduce products and basic cookware.
Children at this age are incredibly curious, and it will not be difficult to entice them with cooking. You need to start with simple dough dishes, which guarantee an easy process and quick results, and which are so fond of children (pizza, cookies).
Do not scold the child if he failed to complete the task the first time, if he scattered something and even broke it – this may discourage him from further culinary exploits.
What can be charged: mix food, sift flour, salt and add sugar, taste it, mix it with hands, cut out cookies or make sausages out of dough, tear salad leaves with hands.
What should be excluded: recipes, the cooking time of which exceeds 20 minutes, the use of a knife and automatic household appliances (the sound of a food processor, an electric meat grinder or a mixer can scare a crumb).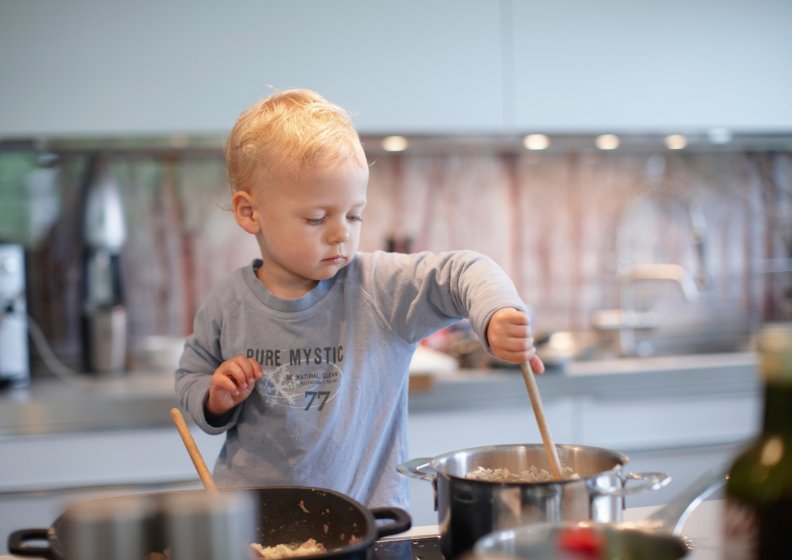 Dmitry Romanovsky, Culinaryon Studio Chef:
Since the year children are interested in knowing what is happening in the kitchen, the task of parents is not to frighten off this interest, but, on the contrary, to stimulate. A young child, of course, cannot concentrate for a long time, so cooking a complex dish from beginning to end (say, 40–50 minutes) is impractical, but why not give him a chance to tinker in flour or knead dough?
Introducing a child with cooking is best in a game form. It is good when there are children's dishes, toy products and a small kitchen at home: the kid can start playing "chefs" on his own by copying his parents.
And when he becomes older and starts cooking with them, it is desirable that he has his own kitchen accessories (apron and board). In his own "outfit" the child will feel like a full-fledged cooking participant.
As practice shows, it is best to start culinary classes with dough products: children like to knead the soft mass in their hands (and this, by the way, develops fine motor skills!). Then you can acquaint your child with products depending on their interest: fruits, vegetables, cottage cheese.
After all, you should start working with meat, poultry and fish. And, finally, the "golden" rule of children's master classes: in no case do not force!
If you see that the child is tired, do not force him to complete the culinary experiment by any means. "
There comes the perfect moment to connect to the cooking process of the imagination. The child is already quite confident in the basic manipulations: he can mix and mix, sprinkle, knead in his hands.
Introduce him to new kitchen accessories: confectionery syringe, stencil and brush, silicone spatula, colander, skewers, rolling pin. Teach to use the measuring cup and kitchen scales – this is a great opportunity to "work out" math.
Hone skills and give your child the opportunity to show imagination (in the modeling of pies, the "invention" of salad, the supply of soup, etc.).
What can be charged: roll out the dough, decorate cookies and cakes, "assemble" sandwiches and canapes, set the table.
What should be excluded: complex recipes with lots of ingredients, cooking and working with products that the child does not like.
It's time to demonstrate their independence and acquired skills. At the same time, the boundaries of opportunities are expanding and new horizons are opening up: teach your child to use a knife (a table knife with a rounded end and a jagged blade is optimal) and a grater, be careful when frying (cutlets, pancakes), read recipes and clearly follow the sequence of steps.
Tell that the taste of the finished dish is improved by seasonings and sauces. A little later (at 9–10 years old), you can show your child how to use more complex kitchen appliances (blender, microwave, oven, dishwasher).
What can be charged: chop cheese, ham, bread and other relatively soft foods, roll up rolls and make dumplings / dumplings, cook simple dishes (for example, vegetable or fruit salad) without the help of an adult, decorate cooked masterpieces.
What should be excluded: coercion (fraught with a complete loss of interest in the culinary process), long cooking time (little cooks, as a rule, want to try their own cooked dish immediately), potentially dangerous ways of cooking food (for example, deep-frying).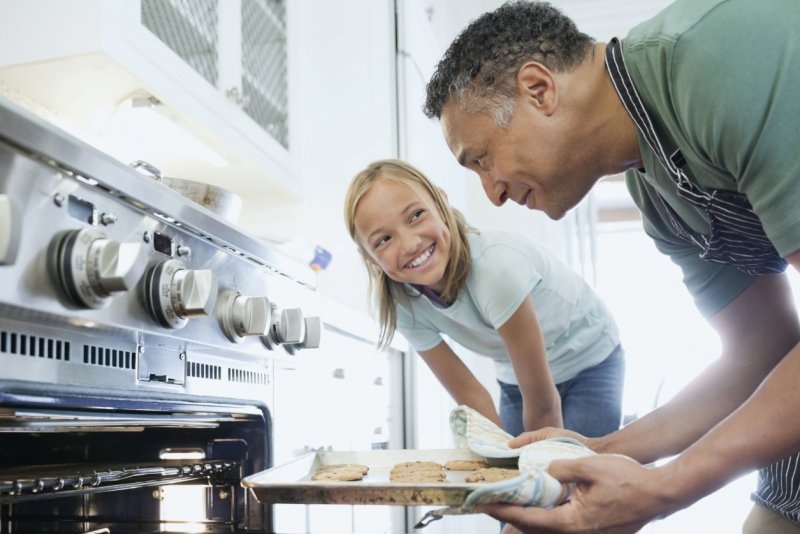 Edible beads (from candies, dried fruits, dryers, asterisks and dry breakfast ringlets), toadstools from halves of boiled eggs, ladybugs from tomatoes and octopuses from sausages can do, perhaps, all moms. We offer some more simple, but interesting "children's" recipes that will perfectly decorate the New Year's table.
"Snowmen"
You will need: 300 g of Adygei cheese, 100 g of cheese, 2 tbsp. l butter, vegetables and herbs for decoration.
Mash softened butter with cheese. Rub the Adygea cheese on a fine grater, divide it into two parts and add one to the oil mixture. Knead the cheese mass with your hands.
Have the child roll balls of different sizes from it and roll them in the remaining grated cheese. Put for 15–20 minutes in the freezer. Together with the baby, collect snowmen, fastening the balls with toothpicks or skewers for canapés.
Decorate them with pieces of olives, sweet peppers, boiled carrots, parsley stalks.
"Colour pencils"
You will need: 100 g of butter, 200-250 g of flour, 1 tbsp. l sour cream, 100 g of icing sugar, 1 yolk, 1/2 tsp. vanilla sugar, food colors
Cream butter with icing sugar, add sour cream, yolk and vanilla sugar. Mix the resulting mass with sifted flour – you should have an elastic dough.
Divide it into three parts, two of them put in the refrigerator for an hour. Divide the rest into pieces in which the food coloring is mixed.
Help the baby roll the dough into thin flagella and put in the fridge. Cool the dough with a beaten egg and cut into strips approximately 3 cm wide.
Put the colored dough harness (rod) on a strip and roll as if you were making a roll. Put the pencil on a baking sheet and coat with a beaten egg
In the same way make the rest of the "pencils". Bake in the oven at 200 º for 15–20 minutes.
Cool the "pencils" and gently sharpen them with a knife.
"Chocolate Medallions"
You will need: milk chocolate, raisins, confectionery dressing, nut or coconut chips.
Melt chocolate in a water bath. Cover the tray or chopping board with parchment paper. Let the crumb pour a small amount of chocolate onto the parchment with a spoon, forming circles (or any other pieces he likes).
Decorate the medallions to your liking and refrigerate.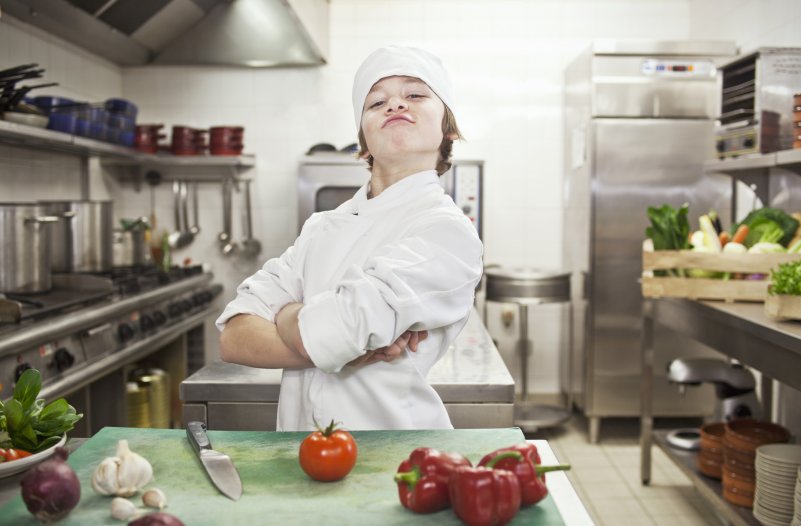 The best movies and cartoons about cooking and food that are worth watching with a child.
"Ratatouille" (0+) is a funny story that asserts and confirms the axiom "everyone can cook" (and even rats!)
"Cloudy with a Chance of Meatballs" (6+) – a fascinating story of what can happen when food literally starts falling from heaven to earth
Charlie and the Chocolate Factory (6+) – a delightful journey into the sweet world and a real guide to action for future chocolatiers
"Cook's Adventures" (12+) – an instructive story about how difficult it is to get along with a priceless gift — to be able to easily cook any dish literally from nothing.