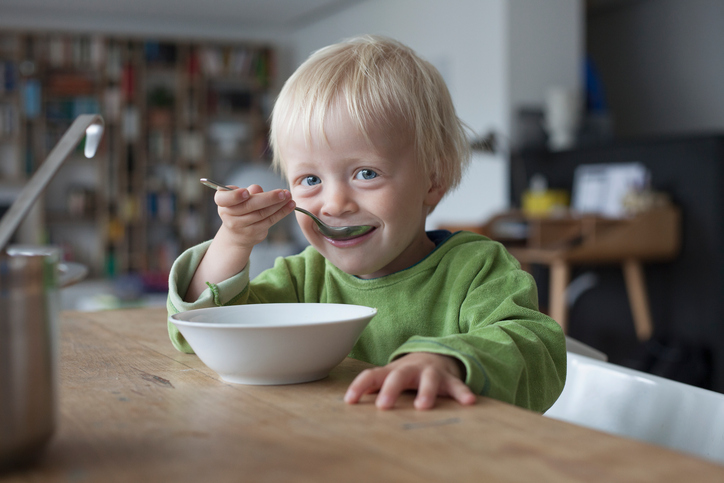 Modern nutritionists recommend introducing soups into the diet of a baby after 1 year. First, it should be vegetarian soups, and closer to 1.5 years, the first dish can already be cooked in meat or fish broth.
We should not deviate from this scheme, because in such soups the concentration of extractive substances is much higher than in vegetable ones. And since extractives have a great stimulating activity, they create an overload for the immature digestive system of the crumbs.
That is why the recipe for such soups, especially in meat broth, will have to be conjured.
If you cook meat broth in the usual way, the concentration of extractive substances in it will be too high. The "correct" soup should be thin and light. Due to the fact that there are practically no nutrients, vitamins and mineral salts, it will not create problems for digestion.
Moreover, he perfectly fulfills his main mission – to stimulate the production of gastric juice and thereby significantly facilitate the assimilation of subsequent dishes. In order for meat broth to acquire such beneficial qualities, it is required to be cooked in a "second" broth, in which the concentration of fat and extractive substances is much lower. To achieve this effect, it is necessary to pour the meat with cold water and immediately after boiling, when most of the flavoring substances will go into the broth, drain the broth and again pour the meat with cold water.
If you put the key ingredient in boiling water, the resulting protein foam will prevent this process and the decoction will not be so tasty.
To make the soup "right", the original products must meet certain requirements. Meat broths for children should be made from lean and always filet of beef, veal or pork.
Fat lamb and bones are not suitable for such purposes. From the fat and bones digest harmful substances to the digestive system, which complicate the work of the pancreas and gastrointestinal tract.
But the turkey, chicken and rabbit can be safely used with bones: they are small (just remember to remove the skin from the chicken). For the first fish broth, choose low-fat varieties: cod, perch, perch.
You can cook the fillet or just the head and tail. Before serving, any fish soup should be drained to remove small pieces of bone.