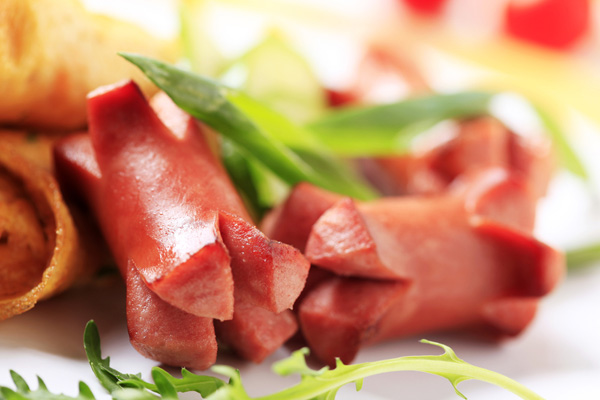 There is no single answer to this question. Sausages are different: boiled (sausages and wieners fall into this category), half-smoked, smoked, liver and stuffed.
In addition to calories, protein, beneficial unsaturated fat and B vitamins, they contain harmful saturated fat, a lot of salt and nutritional supplements. The latter can provoke not only allergies: some chemical seasonings are capable of forming carcinogens that can cause cancer.
As the child's digestive tract matures gradually, it is difficult for him to cope with fats, spices, and nutritional supplements. That is why it is impossible to give meat delicacies to babies up to a year under any pretext, and after that – only a little and very carefully.
Especially it is necessary to treat the hams, smoked sausages and smoked sausages, which include too many harmful ingredients. In addition, up to 3-5 years old, you do not need to offer smoked homemade products to children, including kebabs: together with the delicacy, particles of ash and smoke can get inside.
Instead, offer the child ordinary (not smoked) sausages (preferably special children's), boiled pork or boiled doctor sausage, which, by the way, even those kids who have stomach problems can afford. It is prepared mainly from low-fat pork and beef, and for "taste" they add only sugar, salt and cardamom, therefore there is no pepper or hot spices in it.
In addition, the stuffing in the doctor's sausage is very well wiped, from which the kids only benefit.
To meat delicacies do not harm the small body, it is important to follow a few simple rules.
Introduce a child with a new meat product should be gradually: first give him a try a small piece, and then carefully watch his well-being. If you do not notice any disturbing reactions (skin rash, abdominal pain, vomiting, digestive disorders), continue to "experiment."
At the same time, do not offer your baby meat delicacies more often 2 times a week, and allow to eat no more than 40–50 g of sausages a day, so as not to overload his pancreas and liver. Do not forget that sausages are a protein-rich product, which means that after them you do not need to give the child cutlets, fish and eggs.