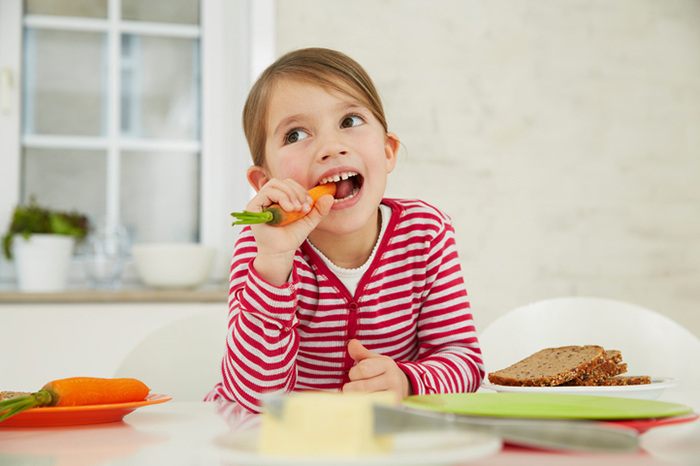 Children need nutrients. But what and how much?
Among the trace elements have their kings. They need to know to not get lost in the abundance of information.
Unfortunately, childhood can hardly be called carefree, stress is part of human nature from birth. The child grows, goes to kindergarten, school, the load increases every year, control, exams, misunderstanding and conflicts in the family and the team.
The adaptation mechanisms of the body are included in full force. At such moments, there is a sharp release of hormones and depletion of magnesium reserves, and in the management of stress, this miracle mineral is necessary. It perfectly increases the level of adaptation of the child in all situations.
In addition, magnesium intake helps regulate the proper intake and distribution of other vitamins and minerals in the body, without normalizing its level, intake of any vitamin supplements and drugs is often not effective.
Recommended magnesium rates for children according to the Food and Agriculture Organization of the United Nations (FAO) *: 0–0.5 years – 26–40 mg, 0.5–1 year – 50–60 mg, 1–3 years – 60–80 mg , 4–6 years – 80–100 mg, 7–9 years – 100 – 150 mg, 10–18 years – 220 – 350 mg.
He is magical! Have you noticed that after the warm summer days the children stop being ill? Their solar batteries are fully charged, they are full of strength and energy.
And this sun inside sometimes warms the whole winter. But most often it is not enough, and a lack of vitamin D increases the risk of developing diabetes, obesity, autoimmune diseases and does not adequately absorb other vitamins and minerals.
According to the study "Spring" **, which was attended by employees of scientific educational institutions in many cities of Russia, only every third child has a sufficient level of vitamin D. It turns out that one sun for recharging solar batteries is not always enough. The point is the specifics of UVB rays, which are necessary for the production of vitamin D. Unlike UVA rays, they are partially reflected on the way to the ground and are not so accessible. In order for the body to properly synthesize and assimilate this vitamin through the skin, it is necessary to observe a number of conditions.
First, the sun needs to be in its peak hours, since it is at this time that UVB rays are available. Secondly, you need to be unprotected, since most commercial creams interfere with the synthesis of vitamin D. In addition, if you live at a latitude of more than 35 degrees, the necessary rays appear only at certain times of the year, and in cloudy weather a significant portion of the rays dissipates.
Therefore solar vitamin comes to the rescue! But fat-soluble vitamins accumulate, and their excess is harmful, you say, and you will be right. What to do?
How to take this vitamin? Do not guess, check. Take a blood test called Vitamin D 25 (OH) or Vitamin D 25-hydroxy, and consult with a specialist about the results.
Remember, the lack of solar vitamin is not less harmful than its excess, and its level is easy to control.
To regulate metabolism, children need fats, high-quality, natural, unrefined. A special place among the beneficial fats undoubtedly occupy Omega-3 fatty acids.
If your child is sad, does not show interest in games, fights with children at school or shows aggression, perhaps he lacks precisely these fats.
In the countries of Scandinavia, there is a state program, according to which children receive Omega-3 in a dosage of 900 mg per day. And don't let that amount scare you. According to the European Scientific Committee (SCF) *** this dosage is minimal.
What is not a reason to introduce a similar program within your family? Omega-3 is used to be called fish oil, but now there are effective preparations from algae.
But the most important nutrient, the queen of kings, is water. Everyone knows about her, but she is constantly forgotten or not very serious about her.
And without adequate water intake, adequate and complete absorption of vitamins and minerals will not occur. In addition, water is necessary for the removal of toxins and proper metabolism. Have you noticed that children are almost never offered water?
Therefore, the task of parents is to help the child learn how to correctly recognize the signals of the body. It is not difficult. Offer a glass of water in the morning when the child comes running from a walk or is simply looking for something to chew.
Do not refuse. Asking for a sweet drink?
Offer water first. After it, he will forget about soda or drink it much less.
As you can see, the answer is simple. Most often, children eat everything and gain weight only because the body is trying to fill the lack of essential nutrients.
Do not hide, do not select. Better offer and let's.
Believe me, the child himself will give up harmful sweets and stop looking for buns in the washing machine.
* Food and Agriculture Organization of the United Nations (FAO) – Food and agricultural organization UN. Details document: Human Vitamin And Mineral Requirements.
Chapter 14. Magnesium.