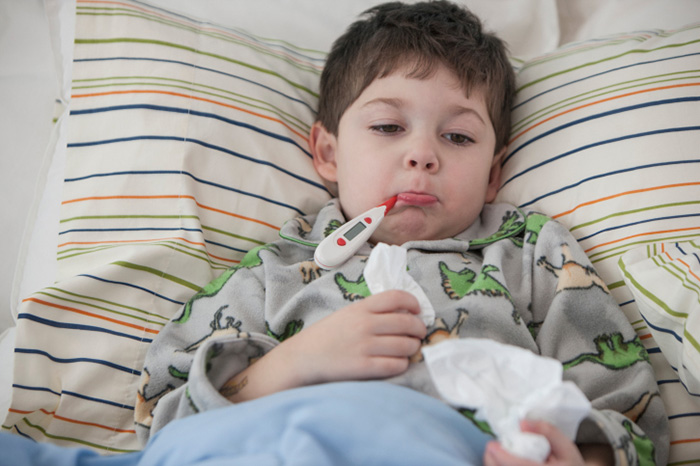 Viruses are the most primitive, non-cellular, form of life. Viruses cannot multiply outside the body of a person or an animal, and their penetration into another organism always leads to the development of diseases: influenza, smallpox, hepatitis, herpes, etc. Moreover, each virus can only infect a certain type of cell.
For example, the rabies virus infects nerve cells, and the hepatitis virus multiplies only in liver cells. Such microorganisms can enter the body with water or food, with the saliva of a sick animal at a bite, with air through the respiratory tract. So the flu spreads.
The disease begins to develop when the virus is introduced into the cell. To prevent the invasion of "outsider" should special proteins (interferons). At the same time, phagocytes are activated – cells on the skin and mucous membranes, devouring viral particles. Immunoglobulin A helps them fight the enemy.
If at least one of these barriers is violated, the virus begins to multiply actively. Children in this respect are much more vulnerable than adults, since their immune system is imperfect.
For example, immunoglobulin A is produced only closer to 5-6 years.
Viral infections are easier to prevent than to cure. Antiviral drugs do not always give the expected effect, and antibacterial agents that are not capable of destroying virus particles are useless in the fight against such illnesses.
Only vaccination can prevent viral infections, so pediatricians insist on prophylactic vaccinations. That is why doctors recommend on the eve of the season to be vaccinated against influenza.
Breastfeeding helps to increase the defenses in children under one year old. After all, many protective antibodies baby gets with my mother's milk.
Bacteria are, in contrast to viruses, single-celled organisms that can multiply by cell division themselves. Most of them are harmless to humans, and some, such as lactobacilli, are even beneficial. But there are pathogens.
When they reach the skin, the digestive tract or the internal organs, an infectious disease can develop: intestinal infections, conjunctivitis, tonsillitis.
Secrets of the oral mucosa (saliva), stomach (gastric juice), intestines (intestinal juice, bile) and immunoglobulins (antibodies) help maintain the balance between harmful and beneficial bacteria inside the body. For very young children, they do not work in full force.
Breast milk protects them from infections, in which mother's immunoglobulins are found in large quantities.
If the immune system cannot cope with harmful bacteria on its own, doctors use antibiotics. They kill the "invaders" themselves, but the body fights with the consequences of their destructive activity either by itself or through other means.
With a bacterial infection, as soon as the child gets better, parents often stop giving him antibiotics. And pathogenic microbes that are more resistant to such drugs come to life and begin to multiply.
Since the growth of normal microflora, which suppresses harmful bacteria, begins later, complications develop – otitis, sinusitis, etc. Therefore, always take a course of antibiotics prescribed by a doctor until the end.