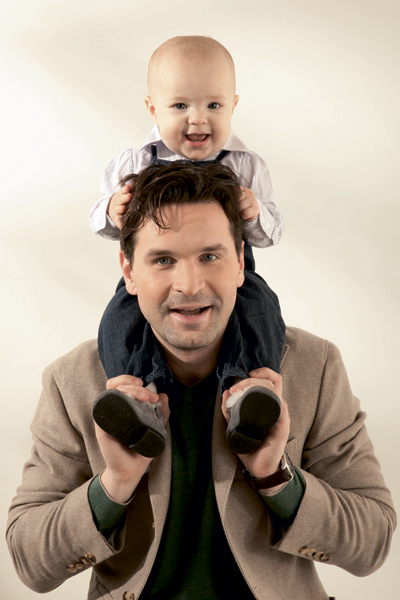 HAPPY PARENTS The first year of a child is called the most difficult for parents. Was it hard? VICTOR DOBRONRAVOV It was not difficult!
It seems to me that a lot depends on how you set yourself up. You can also get tired of work, complain, how difficult, how hard …
S.R. And the nights slept? V.D. By the way, for some reason we were constantly asked: "Well, don't you sleep?" – "We are sleeping!" – we answered, because Varya has been sleeping very well since birth.
It is generally magical, wonderful, the most beautiful, fantastic! I get great pleasure from everything connected with her. Yes, of course, a small child – it is always difficult.
Now Sasha works a lot, and I often have to stay with Varya. It's complicated. The hardest most likely energetically.
After all, Varya, like any child, is an energetic vampire, in the sense that she knows the world and absorbs energy from her parents. And where to get it, if not from us?
And from this in the evening, of course, you get tired. But this is such a sweet tiredness.
I agree to feel so tired all my life. ALEXANDER TORGUSHNIKOVA I also cannot say that it was somehow particularly difficult. You know, when I was in the maternity hospital, I was surprised how many young mothers are restless, unhappy, how sharp they are, even on the phone as they aggressively communicate with their husbands.
And I was so good, so calm! Next to me lay this little long-awaited little ball – Varya. How can something be bad in such a situation?
Of course, the feeling of any situation depends on the approach. Naturally, there are moments, peaks, when fatigue accumulates and a splash of emotions occurs: tears, irritation. But this is natural, and if you know this and know both, then everything will be fine.
Therefore, we are ready for any difficulties.
S.R. Did you want a girl? V.D.
No, not exactly. I wanted and will want someone whom God will send.
Of course, in the future I want a boy, but there will be another girl or two more girls – and that's fine. The main thing is to be alive and well. It is most important.
And the rest … Let's do it!
S.R. And Victor was present at the birth?
V.D. Not.
A friend of mine who was at the birth of his wife, very much advised him to go, saying that the world would turn over, everything would change. But … I don't need to change anything.
The birth of a child is a sacrament, and let it remain for them. A.T.
Knowing Vitya and his nervous system for a long time and well, I understood that he was not the person who should attend childbirth.
S.R. Are you really familiar yet from school? V.D.
Really. As I met, I do not even remember, it was a long time ago. We studied together in a music and theater school, where I came at the age of 14, and Sasha, accordingly, turned 11.
We were children. A.T. I don't remember how we met either.
There was a boy Vitya Dobronravov, whom everyone appreciated very much: both children and teachers, and who, I remember, was distinguished from childhood by a great responsibility, simply hyper-responsibility. And Vitya and I were always in the same company.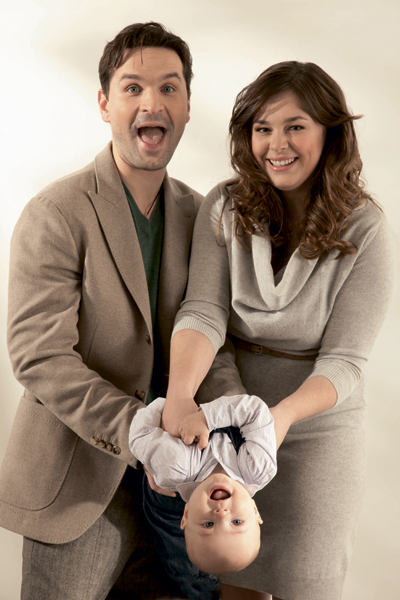 V.D. … And then fate so happened that I suddenly realized: for Sasha there is no person closer to me. I discovered the secret of happiness for myself. Just all you need to do in life is fair.
To be one hundred percent honest with yourself, first of all, and with everything you do: in work, in life, in love. And then everything is so simple! And then, two years ago, when I decided all this, I felt that wisdom began to come to me.
I suddenly realized that all year round I was fine. Before how?
You live and think: well, soon the summer or spring would come! And you are always waiting for something … And then suddenly I felt: autumn is great! Mushrooms, leaf fall, smells, crazy time, eyes charm!
Winter is great! It's snow, cottage, walks, snowmen, New Year! Spring is awesome!
Every season there is something to rejoice. And it is so great to enjoy what is already now and not to expect anything. Here and now – very good!
This feeling arose with the appearance of a family in my life: Sasha and Vari. And you ask if it is hard.
Not hard! I have everything that a person needs for happiness, and even my parents and Sasha — they all help us.
When my parents raised me with my brother, we lived in Voronezh, in a hostel. And no grandparents to you.
That was probably hard for them. And it's easy for me, I'm generally in chocolate.
S.R. Sasha, you also have a creative profession. Isn't it difficult for two creative people to live together?
A.T. Yes, I am a cameraman by education, but in recent years I have been working in photography, for the Vakhtangov Theater I have been shooting, for example.
As for creative people … We are creative in different directions. Vitya is in the frame, and I am behind the scenes. And there is a balance in it.
I used to be "for", to embody my inner world, myself through photography. That is, it is normal for me when people do not look at me, but at something that I have done.
And Vitya is an artist, he is on stage, he is bright. And of course, that attention is constantly directed to him.
S.R. Daughter's name came up together? V.D.
With this name the story was the most amazing. We had a huge list of names, but the name of Barbara stood in it in the first place.
So, the doctors put the term for the birth of their daughter on December 5th. This number comes – Sasha does not give birth, the 10th does not give birth, the 15th also does not!
And as a result, December 17, on the Day of St. Barbara, Varya was born. And we all understood: she was just waiting for her birthday.
S.R. Tell us about Barbara.
What is she like? V.D. Cooking is a very inquisitive girl, very kind.
Chews an apple and will surely stretch it to everyone. Both I and Sasha are cheerful, and the daughter is the same.
But I realized that you can "take a cry" for your parents: I want it and that's it! Here I am very worried that such whims do not become the norm. I am very grateful to my parents for the way they raised me with my brother.
Thanks to the family, there are some textbook things in me: "thank you", "please", other "magic" words that we have been taught from childhood and which are extremely important in communication.
S.R. Who would like to see her?
V.D. I think it should only be sent.
You know, the tree is growing, and the twig has gone somewhere somewhere – it must be tied up. We will certainly, of course, give it to a music school, because music is a necessary part of human development. To start the piano, but we'll see.
Of course, we will be engaged in sports, but not professional. Because if, suppose, at a figure skating competition, Varya does not twist a trick, my heart will immediately stop.
S.R. Are you planning more children in the near future?
V.D. Yes, I already say: come on second. A.T.
With pleasure!