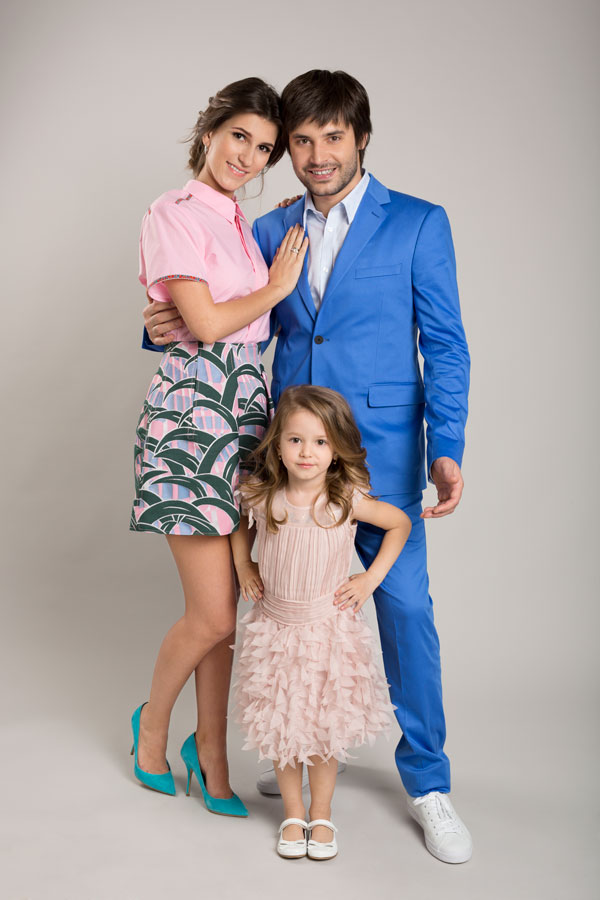 HAPPY PARENTS Vasilisa – this, of course, in honor of the Pope?
MARINA KIREEVA Yes, of course! And Vasily wanted exactly the girl. And I am a boy.
All my life I dreamed of having an older brother, so I thought that maybe it would be possible to provide them with at least a future daughter. And she was upset when, on the 8th month, on the ultrasound they suddenly said that there would be a girl, they said that it was a boy. I was a little sad … And Vasya was glad!
Now, of course, I don't care who I have, especially since we would like two more kids.
Vasily Kireyev I also wanted a boy until Marina got pregnant. As soon as this happened, he immediately wanted a girl. And it turned out like this.
I talked with one doctor, the most important in the whole of Mordovia, and also a very wise man. And he told me that the boy is very good.
Cool! But the girl is a different quality of life. This phrase has sunk into my head – that's all.
I wanted this other quality.
S.R. And what is this quality?
VC. I can not even convey in words.
This doctor seemed to give me some kind of energy during the conversation. Then, when Vasilisa appeared in our family, this feeling only strengthened.
S.R. And how did your family start, how did you meet?
M.K. When they arrived in Gnesinka.
But only Vasya then went to the "Prime Minister", and I finished it at the faculty of jazz vocals.
S.R. Marina, do you sing too?
M.K. I am a vocal teacher, I teach mostly in adults. I also sing in the group "Kraski", write songs, do administrative work, travel business … And I have a solo project "Maki".
Vasily helps me with the project, here we have a creative tandem.
S.R. How do you do everything?
M.K. I have one answer: thanks to my husband.
If it were not for his help, his time and support, I would have failed.
S.R. And Vasilisa also sings?
VC. There is a rumor, but so far it does not follow the purity of the notes well. She has good rhythmic abilities, she understands very well on the go and even composes good lyrics with logic.
From the nursery, but with logic. Rides, for example, on a bicycle and sings a song of his own composition.
S.R. And at home, all three, sing?
VC. It happens when the whole family gathers at the table, grandmother and grandfather arrive.
I have a very loud voice from my mother's side. Tinned throats! And all the voices are clean.
When we sing all together, four voices are easily laid out. But in general, singing in our family is perceived more as work than entertainment.
S.R. Vasily, what is happening now in your work – in a group?
VC. We recorded a new song, in my opinion, very interesting, it is called "It doesn't hurt me".
In my opinion, this is a song that claims to hit. You know, literally creeps.
S.R. Remember the moment when you decided to become a singer?
VC. Let me remember … I sang from childhood, I always liked it, and when they asked me who you want to become, I answered: what, is it not visible?
I always knew that I would be an artist, I would sing on stage. And I never thought that show business is something that is on another planet.
Even when I was still living in Saratov, it seemed to me that all this was very close. I was sure: it is worth coming to Moscow, I will immediately become a star. In general, it turned out this way: he came to the capital and in two weeks got into the group.
Apparently, I just really wanted this. He came to the teacher in Gnesinka, said that, well, they say, I Vasya, I want to sing, I want to be a star, so let me have a free place. The teacher, to put it mildly, was surprised, but she advised whom to ask for help.
That person sent me to another, another to the third. So, actually, I found myself in the group "Prime Minister".
S.R. Was Vasilisa as confident and assertive?
Like dad?
M.K. She is a complete copy of dad.
Only a girl.
VC. She is very characteristic, very strong-willed child. According to the sign of the zodiac – Aries, for the year – a tiger.
If she has her own opinion, then it is almost impossible to change, she does everything, even to her detriment, just to not give up. She, like a real ram, goes horns ahead and sees nothing.
He does not even see the rake, which is about to come. And I do not give tread on this rake. By the way, I'm also Aries.
So, when we encounter, we argue, just sparks fly! I do not know what will happen next … Probably, a war of minds, a war of characters!
But, due to the fact that I am a man, dad, I have to yield. It is not easy for me, and at this moment I can become enraged.
But not for long. I love her very much.
S.R. Marina, Vasily good dad?
M.K. Great dad! Sometimes I look at him and think: do such dads still exist in nature?
To mess with Vasilisa as much as he does, I have not enough patience. For example, he had already taught her all the letters, their correct pronunciation.
Instead of a speech therapist worked.
S.R. And at the birth, probably attended?
M.K. Present.
It was his desire, although I was against it. I was all cheered up: what are you, is it possible? A man to give birth?
Then you and he will be all bad! Of course, all of this scared me so that when Vasya expressed a desire, I tried to dissuade him. And for him it was a matter of course, that is, it could not be otherwise.
Then I found a delivery video and showed it to him. I myself sat with my eyes closed, suddenly I heard beside me almost sobbing. I turn to him: "What are you?" "This is so cute," the husband replies.
Well, we agreed with him to be present only during the bouts. To hold the hand and all that … As in the movie show. But at the crucial moment that it was not.
As a result, when I jumped onto the patrimonial chair and saw that Vasya, in a cap and a dressing gown, everything was near, she no longer turned him out.
S.R. Did it help you?
M.K. Highly! And moral support, and in some details – drinking water, getting down from bed, putting warm socks on – he helped me a lot.
And now I can not even imagine what happens otherwise.
S.R. Basil, why did you want so much to attend childbirth?
VC. Firstly, to support the spouse, and secondly – just children's curiosity.
S.R. Not disappointed?
Weren't you scared?
VC. In no case! Many men are afraid that it looks ugly, there have been cases when people were divorced.
And in my opinion, this is wonderful. It is natural, it is wonderful!
This is the same significant event for dad as for mom. I first saw Vasilisa.
She was taken out, laid down … They say that the children immediately after birth have an unfocused look – Vasilisa did not have anything like that. She stared at me: eye to eye.
I do not know, maybe this is a random trick so coincided. Frankly, I was scared, right up to tears.
So wise look. And someone said that children are all wise at birth, and then everyone forgets …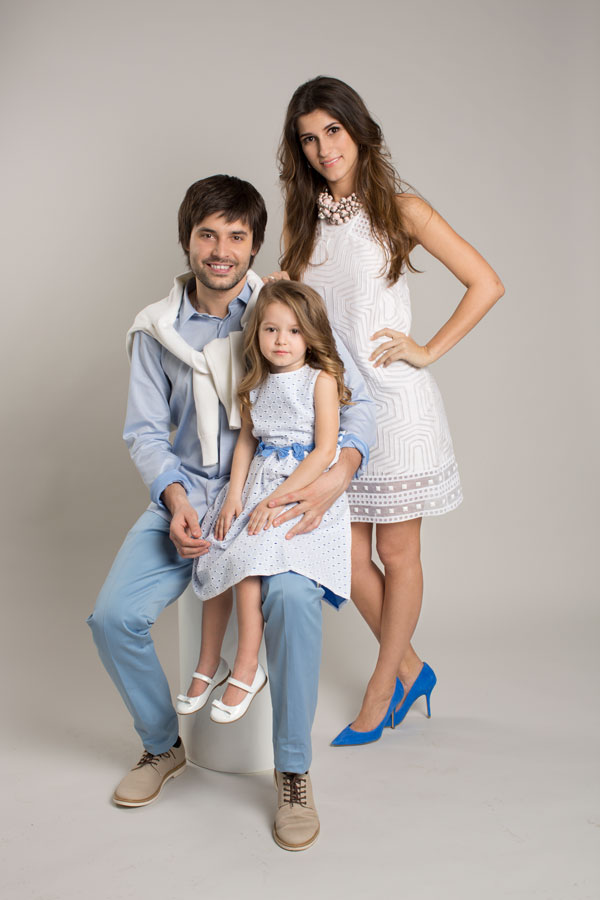 S.R. What else do you consider to be a significant event of your life?
VC. I hope not all the most significant has happened! I look ahead and I see that 30 years is not far off, then 40, 50 … And now I'm at the age of my parents.
Somehow time is too fast. What is already made of the fundamental?
We built a family. Very strong family.
S.R. How did you manage it?
VC. Huge diligence.
This is hellish work. Everything was not easy.
And many in this way surrender. Rented at the household level, at the level of postpartum depression. There are many moments when people cannot cope with themselves.
The same bachelor desires that knock out rut and do not allow to build something in common … But my parents instilled in me the understanding that the family should be whole.
S.R. Do your parents live in one marriage?
VC. Yes.
And Marina, too. But, I repeat, there were times when I wanted to live alone, I did not want any children.
S.R. How did you fight yourself?
VC. Broke himself by force of will.
And nothing else. I voiced Marina wishes that I had, she told me hers, we talked about them, and they quarreled because of them. But we stepped over them, sometimes performed them by mutual consent, we burst through them.
Understand that all this compared to the family baby talk.
S.R. But there are desires that it is unpleasant to listen to a partner about …
VC. Of course.
But. We can say we all tried the forbidden fruit. They tried, threw away all unnecessary.
And, without going through this, in my opinion, it is impossible to build a very strong family, because until the end of days you will regret that you have not tried something.
S.R. Is it easier to maintain the family foundation with this experience?
VC. Certainly, because in the past a lot of energy and emotions were spent on resolving nonexistent problems, some trifles. Now, for example, we have disappeared bytovuha.
We understood who needed what, and learned to give in to each other.
S.R. The same understanding was in a difficult time after birth?
M.K. It was not so difficult. Only the first three months.
And only because life has changed radically and it is impossible to prepare for it at all. But Vasilisa was such a calm girl that I wondered if she could cry at all. She ate and slept.
Guests came to us, we had a feast, we went to shish-kebabs … And Vasilisa woke up, ate and fell asleep again.
S.R. Who helps you with Vasilisa?
M.K. We are both from different cities, Vasya from Saratov, I am from Saransk, grandmothers do not live with us, but they come and help.
VC. I believe that in the upbringing of a child, besides mom and dad, the presence of a grandmother and grandfather is desirable.
Then the child understands everything in general, because mom and dad still do not know everything, not everyone can explain. They are still in the middle of the maturation stage, and grandmother and grandfather are wiser. We live like this.
Although our grandparents in other cities, they take a very active part in family life. We constantly communicate via Skype, Vasilisa spends the whole summer with her grandmother, great-grandmother, grandfather in a village in Mordovia.
M.K. No, it does not suit us.
You know, sometimes my own mother doesn't cope with Vasilisa, and I don't understand how it will happen to a stranger. I do not think that even a super professional can have such angelic patience.
S.R. That is, first Vasilisa was quiet, quiet.
M.K. … And at the age of two children changed. They changed them so much that we began to watch all the programs about children, to consult with psychologists.
They explained to us that this is a crisis of three years. True, we have had it in two years.
In the evenings we sat down in front of each other and asked: what to do? It was difficult.
But when she was four years old, it became clear that you could find a common language with Vasilisa and come to an agreement.
VC. And if you have difficult questions, we climb into the Internet.
Or consult with other families. And it helps us. For me the most difficult thing is when a child is hysterical and it is not clear what the reason is and how to calm him down.
Again – google help.
S.R. Vasilisa goes to kindergarten?
M.K. Not. She goes to "Domisolku", children's musical theater.
And she expresses wishes, where she wants. I wanted to learn English, Chinese, I wanted to sculpt, draw and dance. This is all in our plans, instead of kindergarten.
In the fall and begin.
S.R. Can you be called strict parents?
VC. Very strict. And both.
Vasilisa feels all our love, but if she does not obey, she does something on purpose, you can be sure that she will receive it for it emotionally.
S.R. What does it mean – emotionally?
VC. This means a serious conversation, a serious explanation.
As with an adult.
S.R. Do not put in a corner?
VC. There were moments when I had to resort to light violence such as slapping. But … This is from your own powerlessness, when you cannot cope with your emotions.
And then you yourself regret, ask for forgiveness. So the right thing is a serious, strict conversation.
S.R. Who would you like to see your daughter in the future?
VC. Happy To do what she wants.
And something useful, of course. I would not want her to do something dangerous.
S.R. And what, there is such a possibility?
VC. Since she learned to walk, she began to jump.
She did not go, but jumped, and we thought that, probably, she should be given to the trampoline. A trampoline is a dangerous sport. And if she really likes it, she can become an Olympic champion, and maybe, God forbid, get hurt.
That's what bothers me. I am not against the sport, let it go, but – in the safe.
S.R. Basil, in my opinion, you are very reverent dad.
Will you not be jealous of Vasilisa when the young man comes and takes her out from under your wing?
VC. On the contrary, I will be glad! I tell her that she will have her own family, her man and the like.
She, like many girls, wanted me to be her husband. I had to dissuade. So, when I think about her future, I imagine that someone will love her, it only pleases me.
S.R. You said you want to see her happy.
Do you think parents can somehow contribute to the happiness of children?
VC. In my opinion, a child like Vasilisa should simply not interfere. She has a lot of her healthy ideas that just need to be guided.
And emphasize her good qualities. As parents came to me, who all my life just protected me from dangers, but did not interfere with making my own choice.