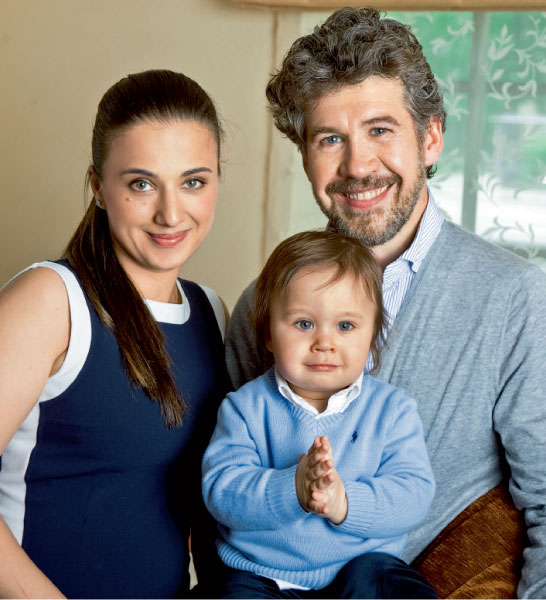 HAPPY PARENTS Valery, have you ever worked on a film set with small children? VALERY YAREMENKO Yes, I have this experience.
In the film directed by Grammatikov, "Greetings from Charlie Trumpeter," I played a man whom the boy chose as his father, and, quite simply, "parted" him. But my hero believed that he was a dad, and he had real paternal feelings in him. During filming it was very important to find contact with the boy.
We walked together, joked, told jokes. In general, I take this experience as very serious – in the end, everything turned out well. And just recently I was filming a movie where you had to play with a two-year-old girl, just a baby.
It is very interesting and difficult at the same time: after all, nothing can be explained in words, so you need to be extremely truthful.
S.R. How to prepare for the role of the father already in real life? V.Ya.
I began to prepare for this a long time ago: I looked at other people's children, identified myself with a man who once would have to be a dad. It so happened that I became a parent at forty-six, so I have a serious experience of waiting.
It seems to me that I simultaneously combined in myself the love of both fathers and grandfathers.
Before the birth of Kuzma, we went to school for future parents. I remember the first time I was there and saw pregnant women – blissful, calm.
In my opinion, men should at least occasionally communicate with pregnant women. This is a special category of women from whom you can get so much positive that you are becoming much better than you really are.
I was preparing very seriously, I read special literature, which was advised at school, I learned diapers, diapers. And now I can boast that I masterfully cope with all this – as a second-year soldier who parses the Kalashnikov assault rifle!
I still cut my own nails Kuzma, I do not trust my wife. At first I almost did it under a microscope.
Cope with the child so that he gave them to cut, and in any case not to hurt the finger – this is a serious skill.
S.R. Anna, of course, it was pleasant for you to see Valeriya in that very school … ANNA YAREMENKO Certainly!
We went to school for about three months, and my husband because of the tour missed only a couple of classes. And since Valera was the only man among us, I was very proud of him.
But this is not all that can be proud of. He is a terrific father, probably no more.
It seems to me that the husband treats the child not only as a father, but also as a mother. As soon as I stopped feeding Kuzma at night, only Valera began to stand up to him. It doesn't matter if he came from a performance or came from a tour, he still gets up at night.
And he does it primarily because he himself really wants it.
S.R. Valery, what feelings have you, a man of rather mature age, experienced at the sight of a tiny "lump of happiness"? V.Ya.
The first sensation was close to what happens to the heroes of mystical films: when a person, being in a state of clinical death, seems to be looking at himself. My condition was akin to that. I noticed not only external similarity, but also felt as if I had the opportunity to live my life anew.
It was a sense of identification with the son. In those days when Anya and Kuzma were still in the hospital, for the first time I truly realized what the phrase "Love your neighbor as yourself" means.
And maybe even more than himself.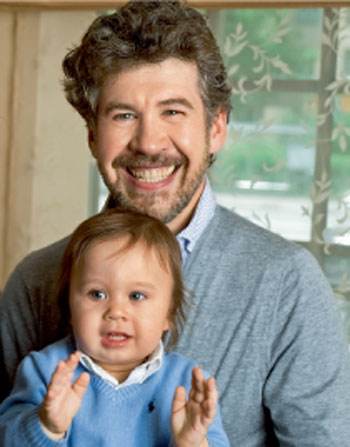 S.R. Have you been together during the birth?
AND I. We planned that Valera would be next to me. Even his schedule was based on this circumstance.
But I had to do an unplanned cesarean section, and therefore, unfortunately, at the most important second he was not with me … V.Ya. I played the play, already knowing that the baby would be born soon. We drove in such a way that Sergey Yuryevich Yursky then said: "Let Anya give birth constantly, because we have never played so succinctly and beautifully in this performance."
AND I. Nevertheless, it was Dad who first took Kuzma into his arms.
Literally five minutes after the child was born, Valera was already in the ward, and he was given a newborn.
S.R. Valery, how do you feel about the fact that fatherhood caught up with you right now, and not twenty years earlier?
V.Ya. In my youth, like many of my peers, my first problem was not to become a father. When I was young, I was extremely happy, but poor.
This is not to say that I am very rich now, I just realized that without money I could not be a support for a family with small children. On the other hand, at that time I, probably, had not yet met a woman who could overcome the stereotype and convince me that this is not the main thing for the birth and upbringing of a child.
That's when I met such a woman, then everything connected with me organically.
S.R. And where did you meet the one and only?
V.Ya. We have a long history. We met ten years ago in the Orlyonok children's camp, and at that moment I was still married.
I noticed Anya, met her. By that time, I already knew that you could be friends with women. And it was not at all Don Juan who decided to seduce a young creature.
No, I just noted for myself that after all, someone in life will be lucky. Then, after a few years, my relationship ended in a previous life, and I became absolutely free.
And Anya was ready to be not just a woman he loved, but to become a wife. And this miracle happened – we got married, and our child was born.
S.R. What unpleasant moments – from those that you had to experience yourself – would you like to protect your son?
V.Ya. These are those traits that did not allow me to become what I could become. All those complexes and obstacles that I built myself.
And all because there was no person who could help. After school, I flew into adulthood, remaining, in fact, a child in need of fatherly wisdom.
I will try to be a sensible person who does not put pressure on his own child, and on his own mistakes explains what is good and what is bad. And the son will listen to me or not, this is his story.
I want to be not a monster, but just a friend.