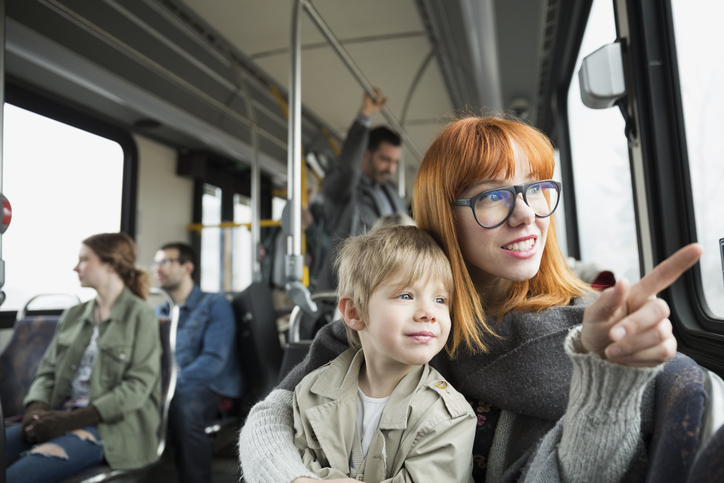 Parents want their child to be socially adapted, that is, they feel calm and confident among people. And in interaction with others, it is very important to observe the norms of behavior. The bus, trolleybus, tram, metro are places where there are always a lot of people.
And there you can practice useful skills – for example, politeness and quick response. The child must clearly understand how it is permissible to behave in transport – and why.
Public transport is a place of heightened danger. Adults rarely think about it, because they already observe the necessary rules on the machine: do not stand in the aisle, go forward quickly, take up free space, etc.
For kids, the possible problems are not obvious. You can avoid them if you follow the rules.
But immediately to bring down the lecture on the baby, what is possible and what is impossible is meaningless. Therefore, parents should gradually introduce it.
Common picture. Subway, a child sits on an empty seat.
As soon as the train starts moving, he climbs onto the seat on his knees, facing the window. And while he looks at the dark tunnel with mysterious lights, the soles of his shoes can touch his neighbor on the right or left.
This is clearly unpleasant, he moves away, and the child does not even suspect that he is doing something bad to someone.
If the mother perceives the situation as normal, then later she or her child can get an unpleasant, but well-deserved reprimand. Such a turn of events is easy to avoid.
It is enough to bend over to the child and quietly say to him: "Sit down, please, normally. Otherwise, your shoes will stain other people's clothes. " For the same reason, you can not eat ice cream or any other food that can smudge others and crumble.
If the baby is too small to understand this, you should try to distract him with a toy or a book. And even the game on the tablet (in headphones) does not hurt him much.
But in a crowd (in the queue for an escalator or in transition to another station) people can be pressed against each other – and this is not a violation of someone's boundaries and not a reason for insults. There is nothing to do here.
That's life.
Passengers with children – this is a preferential group, they have the official right to sit. You can put the baby alone, and the very stand next.
The child gave way? Then invite him to say "thank you" to the person who did this.
However, the child is able to make room for an elderly person or a disabled person – but only on condition that his dexterity allows him to stand confidently, holding the handrail. The younger child may continue to sit.
Another thing is if the mother is sitting next to the child – then you need to pick him up and free up the next place.
It happens that strangers offer to hand a child to them – "let him sit". Do not agree, even if it is a good-natured grandmother. It is better to politely decline this offer, motivating your refusal like this: "We would not like to burden you".
The child must be clearly understood that he is not obliged to please someone else's adult with his consent.
The same can be said about the moments when some passengers are trying to talk to a child. Just because he is cute. Warn the baby in advance that you should not talk to strangers.
And if someone tries to talk to him, apologize and restraint explain that your child is embarrassed and therefore will not speak with strangers.
How to explain to a child why in transportation it is impossible:
… scream and act up? First, the noise can distract the driver (for example, if we ride the bus) and an accident happens. Secondly, and this applies to any type of transport, people use the time on the road to rest – someone napping, someone reads.
And your immense fun or whining can interfere with them.
… put your favorite bunny or bear on the seat? They may get dirty.
We do not know what kind of person was sitting on this seat before, was he neat? You do not want us to wash the hare or bear in the washing machine?
If we do this, then it will not be so fluffy and beautiful.
… pick up a fallen toy on your own? Vehicles moving with acceleration, you can fall and hit.
Be sure to tell me about this incident if I do not notice.
… stand in the aisle? Passengers enter and exit at each stop.
And if we stand in their way, they will push and stumble us. It is unpleasant for everyone.
For the same reason, you can not immediately enter the transport: you must first wait until the passengers leave.
… why should the bus, trolley bus be bypassed in the back, and the tram in front? When we go around the bus behind, we see the entire direction and we can choose the time to go when there are no cars on the road or they are at a safe distance. Car drivers will also see us and be able to stop in time.
The tram should be bypassed in front because in parallel there are rails of the opposite direction, and you have to be sure that there is no other tram going on them.
Gradually, the child will get used to the trips in public transport and will understand that during them you can occupy yourself with something interesting – and not disturbing others. And travel time will fly quickly.