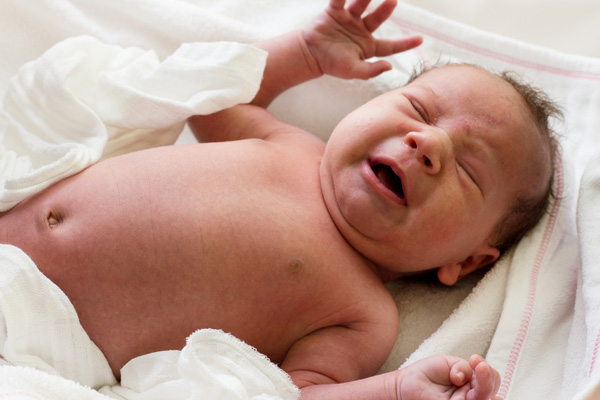 With tremor in babies, the chin and lower lip are usually trembling, less often lower or upper limbs. Shivering may occur asymmetrically when these parts of the body tremble separately. For example, the chin and the handles can be shaken at the same time, or one handle and one leg.
However, if the tremor is symmetrical, but light, it is also a variant of the norm. The movements in both cases will be small, rhythmic. Physiological tremor lasts only a few seconds.
Shivering usually occurs during crying or after nervous tension, for example after bathing in a bath, but sometimes it starts completely suddenly. Tremor may first appear or slightly increase after the first month of life. Up to this point, there is an adaptation period, during which the crumbs must be protected from any active external influences.
After a month, the child can already take air and water baths, the mother begins to give him a gentle massage, so the load on the nervous system during this period increases markedly.
As a rule, with the appearance of tremor, most moms immediately begin to sound the alarm. However, up to 3 months, tremor is considered physiological and is caused by the immaturity of the nervous system. In infancy, the nerve fibers are just beginning to be covered by a special myelin sheath, which is responsible for the speed of transmission of nerve impulses to the muscles.
The faster the transfer occurs, the more smooth the movements of the crumbs and the less pronounced the tremor. Nevertheless, any manifestations of tremor must be paid attention by a neurologist.
The first two scheduled inspections fall at the end of the 1st and 3rd months. If the tremor increases, the episodes become more frequent and longer, you should contact the doctor earlier.
Tremor can be a symptom of various neurological disorders (perinatal encephalopathy, hyperglycemia, hypocalcemia, hypomagnesiemia, etc.).
The baby is born into the world at once with several inborn reflexes. Some parents are touched, others – cause concern.
Most often adults are frightened by the so-called Moro reflex, which parents in their everyday life call shudders. This innate reaction consists in a sharp rise of the handles slightly bent at the elbows when the body position in space changes. This picture can most often be observed if you lift the baby from the changing table or put it on the bed. The "spontaneous" Moro reflex, in which the raising of the handles occurs suddenly without changing dislocation, can also be physiological.
However, if such "habits" become more pronounced and persist after 4 months, the baby must be shown to a neurologist.