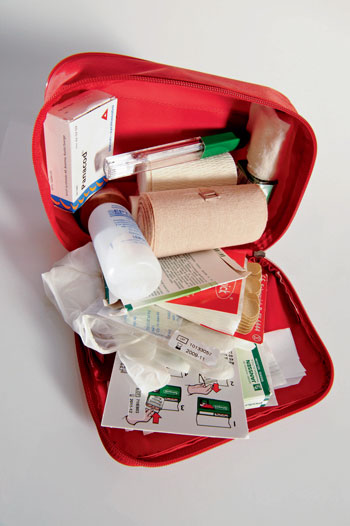 Means for cleansing abrasions, scratches, wounds: 3% hydrogen peroxide, potassium permanganate (potassium permanganate) or furatsilin (0.1 tablets are dissolved in 500 ml boiling water before use, 0.02 in 100 ml).
Disinfectants for treating scratches and wounds: solution of brilliant green (green paint), chlorophyllipt or iodine 5%; panthenol (they can be treated and burns, including solar), antibacterial ointment Baneotsin (Sandoz).
For bruises and sprains: Balsams Lifeguard (LLC Lumi), Golden Star (Danang) – from 2 years, ointment Troksevazin or Arnica (Homeopharm).
Tablets for water disinfection – in case you are not sure of its quality: Pantotsid (Irbit Chemical Factory); 1 tablet is diluted in 0.5–0.7 l of water and incubated for 15 minutes.
Children's cosmetics and hygiene products: soap, shampoo, cream, powder.
Sunscreen with SPF 30 or higher.
Remedy for sunburn: for example, Pantesol Spray ("Alcoy").
Cream for diaper rash and skin irritation: Mustela Stelactiv (Laboratoires Expanscience), A-Derma Exomega (Ducray), Bepanten Ointment for Babies (Bayer) or Stopdiathesis ("Our Mother").
Sterile bandage, cotton wool, gauze and alcohol wipes in individual packaging, adhesive plaster in a roll, bactericidal plaster in the plates.
Wet disinfectant wipes for hands (it is also convenient to wipe with them toys and baby things).
Drops in case your baby turns red or eyes water: 0.25% eye chloramphenicol drops or Sofradex (Sanofi-Aventis).
Drugs that remove harmful substances in case of poisoning: activated carbon, enterosgel or Smekta (Beaufour Ipsen).
Saline solutions that compensate for salt loss during diarrhea: Regidron (Orion) or Touring (Polfa).
Preparations against intestinal infections: enterofuril or furazolidone. They will help with severe diarrhea.
Rubber pear – with constipation.
Vapor tube for children up to a year.
Antihistamines for allergic reactions and insect bites: Fenistil in drops (Novartis), Suprastin (Egis) – from 1 month, ketotifen – from 6 months; Tavegil or Claritin syrup (Schering-Plow) – from 1 year; Fenkarol (Olain Farm) – from 2 years.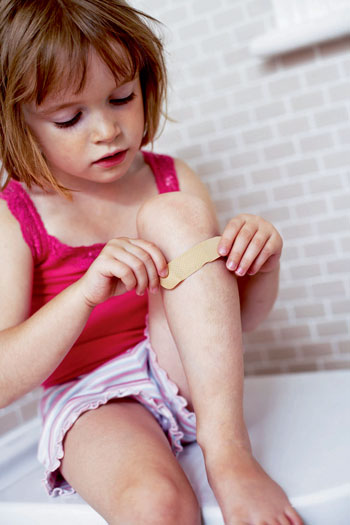 Antiallergic ointments – for the same problems: Fenistil gel (Novartis), Advantan (Schering AG) or Celestoderm (Schering-Plow).
Against fever, pain and inflammation – drugs based on paracetamol and ibuprofen safe for children: Efferalgan (Bristol-Myers Squibb), Panadol (GlaxoSmithKline) or Nurofen for children (Boots Healthcare). Keep in mind that aspirin should not be given to babies.
Means based on sea water for rinsing the nose with a cold and for prophylaxis: Marimer (Gilbert), Humer (URGO) or Aquamaris (Jadran).
Breathing-relieving vasoconstrictor drops: Otrivin baby (Novartis), Nazol baby (Sagmel), or Nazivin (Merck).
Remedies for sore throat – from 3 years old: sprays Hexoral (Parke-Davis) or ingalipt, resorption tablets Septolete (Krka) or Strepsils (Reckitt Benckiser).
Preparations for cough, diluting the sputum – from 1 year old: ACC (Hexal), Lasolvan (Boehringer) or Gedelix (Krewel Meuselbach) in syrups. Suitable if the child has difficulty coughing; but in the case when the cough lasts longer than 2–3 days, you should consult with your doctor.
Pear to clean the nose for babies.
Ammonia in case the baby loses consciousness: apply a couple of drops on the cotton wool and bring it to the nose of the child. Make sure that alcohol does not get on the skin and mucous membranes.
Tincture of Valerian, Valocordin or Corvalol: help to improve breathing and heart function. Children are given at the rate of 1 drop per year of life.
Mosquito net on the windows and the pram.
Protective cream or mosquito spray: choose the one on the package of which there is an inscription "Safe for children". If you are not sure about the safety of the product, lubricate the clothes around the baby's exposed skin or stroller.
Another option: put a repellent bracelet on your child's arm – it will suit even babies.
Electric fumigator: turn it on in the nursery for 1 hour to kill mosquitoes, but do not leave it for the night.
Drinking soda: reduce itching from mosquito bites: 1 tsp. dilute in 0.5 cups of water.
The box for drugs should be airtight (many drugs become unusable with high humidity), durable and light.
The first aid kit must not be accessible to children!
Keep her away and make sure that the baby can not open it himself.
Before the trip, check the expiration date of all medicines.
In the first-aid kit there should be no medicine without a name on the package and instructions for use.
To quickly find the right tool, arrange medicine in bags in groups.
Insert a leaflet in the first-aid kit with instructions on how to act in critical situations: for example, if the baby is injured.