"Everything that a child masters in a game is useful for both boys and girls," said psychologist Elena Sheina. "You'll never get away from nature, and from a very young age, children begin to show sexual differentiation, differences in the game of boys and girls, their addiction to toys, are becoming more and more noticeable. And gradually, designers and cars take the main place in the boy's bedroom, and dolls, furniture and dishes become dominant in the girl's room, which increasingly begins to assume different roles (mothers, cartoon characters, etc.). "
According to most psychologists, each child needs a variety of dolls for a harmonious and holistic development of the personality from infancy. Initially, it can be dolls and dolls.
When your baby grows up a little, you can buy her a big baby doll with which she will be happy to babysit: bathe, feed, put to sleep, roll in a carriage. After 3 years, a new stage of the game begins, when the child acts simultaneously as both a director and a performer of all the roles.
At this time, all the toys come to life in the hands of the baby. They talk to each other, go to visit, travel, get sick, recover, fight and make peace, celebrate holidays together, play weddings, go shopping. You can play kindergarten or family with small naked babes.
For such games, small toys with a height of 5 to 10 cm are more suitable. It is convenient to hold such dolls in your hands, to play with them whole performances. A little later, when the child can already assume the role, larger dolls that are close to the child in age will do.
They are convenient to comb, change clothes, tie bows, teach the mind and learn together with them, learning various life experiences.
Little girls love to play daughters-mothers with dolls, but Barbie is no longer a daughter. It is also difficult to imagine her as a girlfriend or a peer of a young child. This doll, unlike most others, imitates not an infant, but an adult woman. "Of course, Barbie allows you to lose a lot of life situations, but the action is no longer done on the doll (swaddling, feeding, bathing), but on its behalf.
And this is a completely different stage of the game. Barbie doll in the game can act not as a daughter, but as a mother.
Therefore, it is better to buy such a doll to a girl of school age, which is gradually beginning to be developed in the adult world, "says Elena Sheina.
In the doll farm, various objects will be useful: baths, towels, blankets, bed linen, doll beds, houses, dishes, clothing; puppet vehicles – cars, strollers, etc. However, these items should not be too much and, importantly, not all of them should be exact small copies of the real ones. Otherwise, the game will turn into the usual manipulation of objects, which will not allow the child to develop the imagination.
After all, the more perfect the toy, the less it leaves room for creativity. So, along with the new-fashioned carriages, irons and washing machines, so similar to "mom's", the girl should buy a set of wooden dishes with which you can not only play, but also paint it at will.
One of the most attractive toys for both boys and girls is the doll house. You can buy it or make it yourself, together with your baby, from the improvised material: cubes, designer parts, all kinds of boxes. "A home-made house usually evokes a greater emotional response in children than a purchased one," says Elena Sheina. "Besides, designing together with an adult develops imagination, thinking, fine motor skills."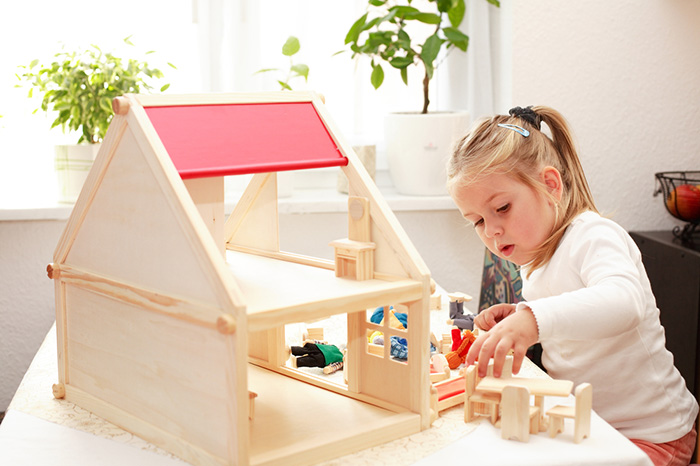 In addition to all the toys listed, the baby should be allowed to play with household items. Such games are taught to perform the simplest homework.
If the daughter, in her mum's dummy, tries to sweep the floor, she shouldn't forbid it, even if the garbage is not removed, but scattered throughout the kitchen. "It is better to encourage the interest of the child and continue working with him. After all, if he does not try, he will never learn to do it.
Even if the child does not work well, it is necessary to praise him, thereby maintaining an interest in homework, "says Elena Sheina.
"My daughter Katya in her four years does not play at all in dolls, she loves soft toys and different techniques. Her fleet is no worse than that of any boy. Our friends gave Barbie, so she is not interested at all … "
If your daughter prefers "boyish" toys, you should not forbid her to play them. There is nothing terrible in it, – psychologist Elena Sheina considers. "However, if this really bothers you, try including puppet characters in the game with the cars."
Or buy her some soft doll. She is similar in quality to a soft toy, perhaps the girl will play with her.
Today, children's jewelry sets and cosmetics are on sale, which include everything that a little woman of fashion may need, from combs and shampoos to lipstick and perfume. Unlike decorative cosmetics for adults, they do not harm children's skin.
Such kits are offered for girls from 3-4 years. However, do not abuse it – at this age, children still do not need to use it. Such a need appears in adolescence.
Do not emphasize also this aspect of adult life, so that it does not become the most important thing in life for a child.