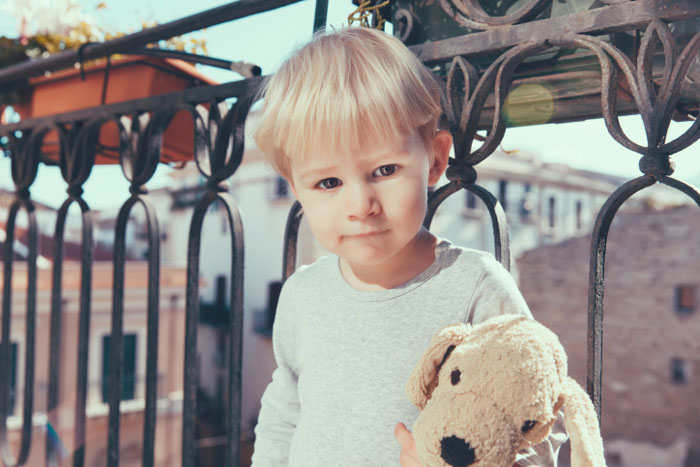 Gone are the days when your offspring easily gave away the good brought from home and could not even notice that someone was playing with his car or bucket. Now the child begins to get angry and upset as soon as the other kid dares to touch his toys, stroller or even … mom. And yet do not rush to blame the kid in greed.
The fact is that the development of human self-consciousness goes through a series of stages. One of the first to become the separation of the child from the outside world.
Initially, for the baby, he and all the objects around him are merged: for example, the crumb believes that mother and he are one. The separation process is easily recognized by the words "I" and "mine" appearing in the baby's vocabulary.
He begins to realize that there are his desires, personal belongings – to understand, of course, at a very simple level, what is property. Since the process of awareness is still at the very beginning, the baby can perceive objects, such as toys, as an extension of himself. To give your things to others for a child means losing a part of yourself, your still fragile integrity.
Hence the violent emotional reaction. Childish "greed" may have other motives: self-doubt, jealousy, the desire to imitate an adult. For example, mothers of little girls often face the fact that their lipstick, keys, and phone move from the bag to the most unexpected places.
And usually the baby is not ready to return the treasures, which she already considers her own, the legitimate owner. Most likely, you will have to repeat to your daughter more than once that these are items you need and purchase a handbag for her in which she can carry her own things – a bottle, a book, a doll.
Biennial children are just beginning to understand the nuances of the concept of "property". Often, the kid is not ready to treat him with an apple, to let his doll play, but at the same time, if he likes someone else's thing, he just takes it for himself. A child quite sincerely believes that his desire to possess this or that object will be fulfilled if he simply takes it and presses it to himself. Here you can give only one piece of advice: firmly explain to the child that this behavior is unacceptable.
It is always necessary to ask the owner of the toy for permission to take his thing. If necessary, the explanation needs to be repeated, but the most important thing in mastering the concept of "someone else's" is training.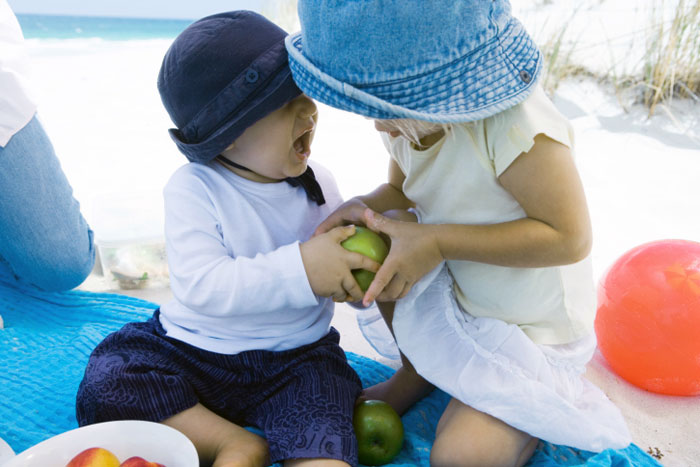 1. Do not call the child "greedy." Thus, you inspire the baby that he is. It is better to suggest the opposite: what is generous, what it wants to share, in a pinch, that it will soon want to.
Believe it yourself.
2. Greed is bad, as is the inability to respect one's property and others. Offer to share, but do not force. Let your son or daughter decide for yourself. The right to choose should remain with the child, because the toy is his thing.
Personal. In addition, generosity from under the stick ceases to be generosity, because this concept implies the desire, the need to share.
3. One of the most effective ways to resolve a difficult situation is to learn to change.
4. Emphasize how well and, most importantly, it is beneficial to be generous (for anyone who is prone to hoarding and greed, this is the most powerful argument). For example, explain, or rather just demonstrate how fun it can be to play together, exchanging toys.
And, no matter how much you want to sit on the bench, watch the quiet children's game, you will first have to join the game. Firstly, children of this age do not play together, but "side by side", your task is to organize an interesting, exciting joint game. The game should be such that the kids are distracted from sharing toys and finding out the relationship.
Secondly, it is quite possible that, at first, it is not easier for children to transfer toys directly to each other, and through an adult.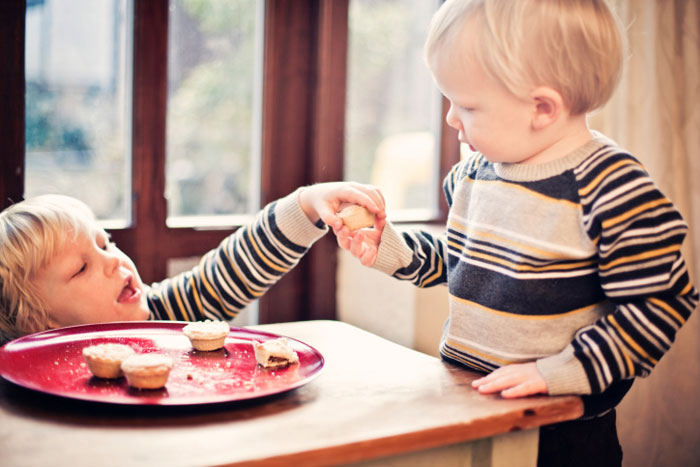 5. Sometimes, when confronted with children's conflicts, feeling embarrassed in front of other parents for not giving in to any persuasion of a child, parents decide to bypass children's playgrounds. In fact, you need to give your child the opportunity to communicate with children as much as possible. Only in this case will he gain the experience of playing together, in which it often becomes necessary to share, change, and agree.
6. Do not take with you for a walk just bought a toy. The kid can not part with a new thing for him, but, playing enough, he will be calmer to respond to the encroachment of other children. In addition, it is better to leave expensive, easily broken toys at home, as well as those that are most valuable, emotionally painted for a child.
At least it is necessary to warn him that other children may want to play with a thing precious to the baby. For example, you can say this: "If you do not want other children to take your bear, let him wait for you at home and take this Hippo with you (airplane, owl, etc.), you will share them and play with other guys.
7. If, after all, your baby is asked for an item that is important to him, try to intervene in the dispute and suggest a replacement for the child's friend: "Take this bucket better, it's bigger, and the cake will be big". Most likely, the conflict will be settled, since for very young children it is important to play with something new, and what specific a bucket or machine is not so important.
8. Some parents, assuming in advance what non-children's passions can boil on the playground, take several cars, dolls or paddles from the house at once, hoping that in this case sharing is much easier. This move may work, for example, in conjunction with this argument: "Three toys will not fit right in their hands, let's give someone a chance to play." But this technique does not always work.
After all, a child can perceive one mold, and all ten as "mine and mine only".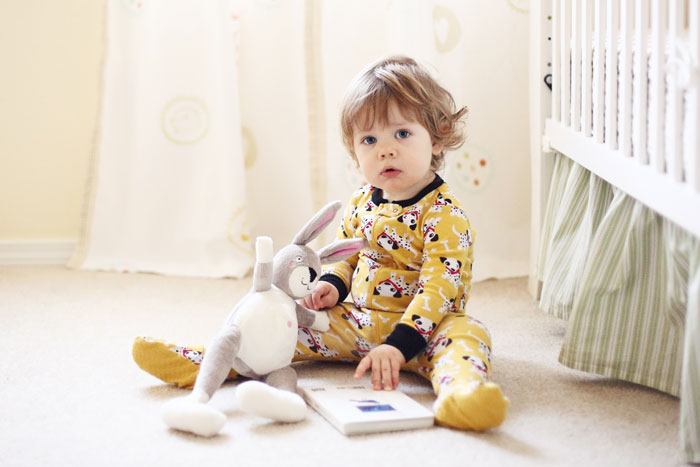 9. Rules and regulations are "known" and enforced. And between these species is sometimes the abyss. How together preschoolers assert that they need to share, how greedy from fairy tales and cartoons menacingly condemn.
But in real life, they are far from always fulfilling the rules that they know by heart. Learn not only in words, but also in specific situations. You do not have to wait until the appropriate case arises – you can create a model.
For example, let your teddy bear ride your favorite bike, then dad, then brother. The house and loved ones are "familiar territory", and it is easier for the child to begin to master the rules of generosity to the child.
10. Sometimes it seems to the child that the mother's thing that he took will help to delay the mother at parting. In this case, exchange the necessary items for your handkerchief, bracelet or pen. When you are not together, the baby will have a piece of you – he will feel calmer.
11. Having played, the crumb can not hear the words addressed to him, therefore it is better to conduct preventive conversations at home or by taking the child away from the scene.
12. If the situation has gone too far, the parties concerned are shedding tears and do not agree to compromises; you can simply withdraw the subject of contention.
13. Even a very young child try to explain the motivation of the actions of other children, otherwise he may perceive their actions as unreasonable and incomprehensible aggression.
14. Remind the baby that before leaving home he will definitely take all his things back – it seems obvious to us, but the child may not understand the difference between "letting play for a while" and "give it away for good", donate.
15. Wait and do not demand the impossible: for one or two hikes in the sandbox to figure out where is mine, and where is someone else, when to share, and when to defend, not under strength.