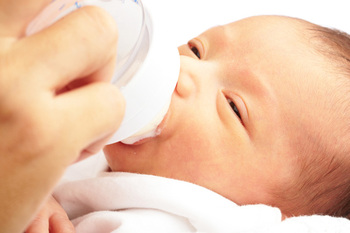 Lactase deficiency (as doctors call this condition) occurs when a child lacks lactase, an enzyme that breaks down milk sugar lactose. In the smallest, it arises from the fact that the pancreas, which is responsible for the production of lactase, cannot yet work at full strength.
And the level of its other "producers" – Escherichia coli, bifidobacteria and lactobacilli that live in the intestines, often changes within 1 year of a baby's life. As a result, dysbacteriosis occurs, and lactase is in short supply.
It is no coincidence that the signs of lactase deficiency and dysbacteriosis are similar: the baby cries after eating, he has bloating, foamy loose stools (frequent or with constipation). If lactase deficiency occurs due to dysbiosis and poor pancreatic function, it is likely that with age it will pass by itself.
Many children are helped by special preparations that normalize the work of the pancreas, as well as the intestinal microflora.
It happens that the crumb inherits the lack of lactase from the parents – this situation can persist for a lifetime. Then mom will have to exclude from the menu fresh milk (fermented milk products are allowed).
And if she is breastfeeding her baby, to refuse milk herself and limit herself to sweets.
Doctors who do not tolerate dairy products, doctors recommend low-lactose or lactose-free mixtures (such are in the series "NAN", Nestlé; "Nutrilon", Nutricia; "Enfamil", Mead Johnson) and therapeutic baby food with probiotics (Agusha Gold, Wimm-Bill-Dann, Nutrilak, Nutritek, NAN Fermented Milk, Nestlé). But the mixture of hydrolysates, in which milk proteins are split to make it easier to digest, are not suitable for lactase deficiency.
They weaken the body's enzyme system, impair the work of the already "problematic" intestines and cause dysbacteriosis.
Can lactase deficiency be able to feed a child with dairy products: breast milk and mixtures?
The exact answer will be given only by the doctor. First, he will find out how much the baby lacks lactase, and this shows the analysis of feces for carbohydrate content. Usually doctors advise to act as follows:
if the baby gains weight normally and feels good, continue to feed it with breast milk or formula, regardless of the level of carbohydrates in the analysis;
if the baby is gaining the right pounds, but he is restless, he doesn't sleep well, he has loose liquid stools – the child's milk menu can be left unchanged, but before each feeding, give him a lactase preparation (for example, Lactase Baby, NEC);
if the weight gain is small, then the milk is poorly absorbed and it may be worth replacing it with special products with a low lactose content.