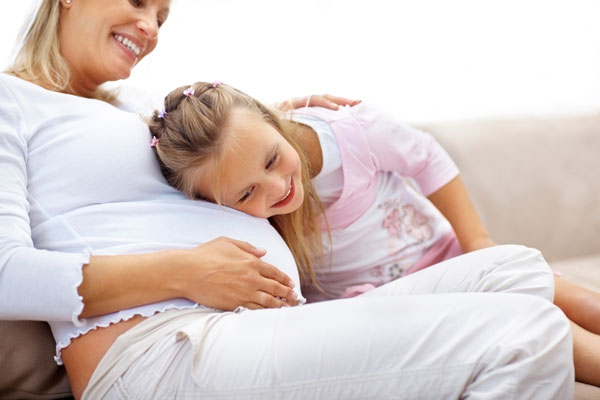 However, conversations with the stomach are not easily given to all parents – to some they seem silly and unnatural. And there is a reason for this! Despite the fact that anatomically the organs of hearing are ready to work long before the birthday, even an already born baby still has to spend some time trying to understand that speech sounds are a way of communication and learn how to distinguish them from surrounding noise.
For this, it is very important that the baby is not only talked, but also looked at, touched during the "conversation", responded to changes in his facial expression. For the same reason, playing audio or video recordings with speech to infants of the first year of life does absolutely nothing for the development of speech.
However, there is a way of communication, which is available to kids even in the stomach, – this communication through touch. The fact is that before birth, babies enjoy using this method with pleasure!
Scientists were able to find out by observing the intrauterine development of twins. It turned out that already in the II trimester, the little brothers and sisters with each other are much more willing to pull at each other than themselves, the umbilical cord or the walls of the uterus. And they can be understood – the umbilical cord, with all the desire, cannot be a very interesting conversationalist.
But parents – easily.
The way to communicate with the unborn child through touch is called haptonomy. This is a technique that special instructors teach moms and dads in Europe. But, like many other good psychological techniques, it simply recreates what is happening in some families.
Haptonomy as a method of emotional communication through touch was developed by the Dutch physiotherapist Franz Veldmann in the 1970s. Despite the fact that the practice is aimed not only at children, it received the greatest popularity precisely as a way of communication between parents and a child not yet born.
Most certified haptotherapists work in France, in neighboring European countries, as well as in the French-speaking part of Canada. Before bedtime
On courses for pregnant mothers often talk about the "games" that they manage to play with the baby in their belly. They notice that it is easiest to "detect" a child in an active, sociable state just before bedtime, in the late evening.
They lie down and wait until the child makes itself felt by a kick or somersault. If the baby is timid, the mother "invites" him to talk, putting her hands on her stomach.
Sometimes dad takes over. The first time in such sessions of communication is difficult to distinguish some pattern – it is rather entertainment for mom and dad. But gradually the parents begin to think that the child really seems to be responding to them.
If you put your hand on the belly to the left, he can move in her direction, as if hugging her. Daddies often behave with kids more playfully and notice that children move more actively in response to their touch.
In response to the restrained mother's stroking, they can move barely. This is how haptonomy sessions look like.
In order to learn how to communicate, the baby (whether it is in the stomach or already born) must learn the principle of dialogue. In haptonomy it looks like this: one of the parents initiates contact, stops and waits for a response from the baby.
Sometimes, especially at first, in order to wait for a return movement, you have to repeat the "first phrase" several times. Over time, the pause between the greeting of the parents and the baby's response will decrease. "After listening to the child's response, the parent" utters "the following phrase, for example, strokes the stomach from the side from which the baby sticks out most intensely, or tickles the place where the child has just pressed.
This is again followed by the child's response.
If mothers enjoy such communication sessions, this is reflected in what hormones circulate in her blood, and the child receives the same hormones from her: oxytocin, a hormone of tenderness, or endorphins, hormones of pleasure. So the kid is set up to communicate not only his own interpersonal skills, but also the hormonal cocktail that he receives from his mother.
His body remembers that communication with other people brings pleasure and satisfaction.
Try to communicate with the baby when he usually does not sleep. Most children have some kind of intrauterine regimen, which mothers somehow notice.
To make your game quite interesting, it is worth holding regular communication sessions – this way your baby will understand better what you want from him.
Be patient: shy babies sometimes need a few days of passive communication in order for them to respond.
Do not forget: all this makes sense only if you get pleasure from it. If not, do not worry – you still have a whole life to communicate!
Haptonomic communication can be continued after childbirth, attaching speech and a look to touch.
Take the child so that he was comfortable looking at you. It is important for babies to see adults smile from time to time, so when you notice that he was able to focus on your face, tell him something sweet, smile and pause.
The answer is not only some sound from his side. In response to your cue, it can, for example, change the expression of the face. This is his "phrase".
You can say to this: "Are you frozen? Do you hear what mom says to you? "
After a while (sometimes quite briefly), the child will always get tired of such intense communication and lead the eye away. This is a sure sign that he is tired and that if he does not fall behind, it may end in weeping.
According to the rules, future brothers and sisters should touch the belly not where adults are, so that the baby can distinguish who is who. But according to parents, this can be neglected: the touch of a small pen is felt differently from the touch of adults.
In addition, they are usually accompanied by the chirping of a high childish voice, so that it will be extremely difficult to make a mistake here. By the way, about the voice: there are cases when the eldest child not only touched the baby through the stomach, but also sang songs for him, and then after the birth it turned out for the younger child with a soothing "magic wand" in situations when he was upset about something.