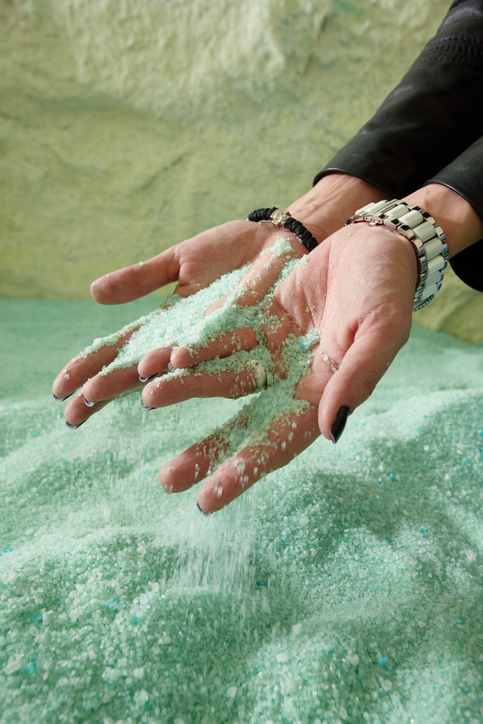 Now it is very fashionable to go to the salt caves. The main clients are parents who are already desperate to treat a child with medicines, and those who remember this type of physiotherapy since Soviet times.
Salt caves today are really popular. They can be found not only at polyclinics, sanatoriums and health centers, but also at some private and public schools and kindergartens, and sometimes they are found even in ordinary beauty salons.
But if they really are effective, for many there is a big question.
In medical language, salt caves are called halochambers. "Halo" in Greek means "salt". There is another type of salt therapy – speleotherapy. The principle of their work is the same: the therapeutic effect is achieved due to the effect of an artificially created microclimate, more precisely, by air, which is specially enriched in salt vapors.
But the differences are still there. The speleochamber is a room whose walls and floor are lined with sylvinite natural material.
This is a millennial sediment taken from the bottom of the ancient Perm Sea. Silvinit itself is a mineral of complex composition: it contains magnesium, potassium, and calcium.
The essence of the method is that the patient, being in the speleochamber, simply inhales the air soaked in useful salts. In a relaxed atmosphere, preferably in a relaxed position, sitting or lying on the couch, with relaxing music or the sounds of nature. Speleological chambers, as you might guess, is a direct prototype of natural salt mines, where our ancestors went down to not so long ago to "heal".
Halocamera is the most modern and progressive method of "salt" therapy. Instead of silvinit layers, a halogenerator is used here – a special device that sprays dry aerosol of sodium chloride.
There is a more targeted version of it when the patient uses an individual halo-inhaler and inhales dry salt spray through a mask. If we compare both types of "salt" therapy, halochambers have a more active effect than speleological chambers, and their effect is higher.
The main indications are inflammatory (including chronic) diseases of the upper and lower respiratory tract: pharyngitis, tracheitis, laryngitis, etc. But only in the remission stage: during exacerbations, and even more so at elevated temperatures, "salt" therapy is contraindicated.
Very well, these two types of therapy help with a wet cough. Salt vapors have a powerful mucolytic effect, due to which sputum is diluted faster and removed from the body.
Also speleotherapy and halotherapy is prescribed for certain allergic conditions, for example, for pollinosis. As in the case of diseases of the upper and lower respiratory tract, allergies, too, there is swelling of the mucous, and its salt vapors are well removed. However, it is possible to begin a course of treatment only after consulting a doctor.
The specialist should evaluate the patient's condition, because with an atrophic mucous membrane, that is, with a prolonged dry cough, a high concentration of salt aerosols in the air can cause deterioration.
But the most important plus of halo and speleotherapy is the achievement of a long therapeutic result. It has been scientifically proven that after visiting salt caves, the fighting capacity of immunoglobulins, protective cells that protect the mucous membranes of the mouth and nose from viruses and harmful bacteria, improves. Clinical experiments have already confirmed that among schoolchildren who were sick on average at least 10 times a year, after undergoing a course of halotherapy, the risk of respiratory diseases is reduced by 2 times.
This is indicated by the results of swabs from the pharynx and mucous before and after the start of the experiment. So, scientists have found that, thanks to the "salt" therapy, the pathogenic flora is sharply reduced, and harmful microorganisms are noticeably weakened.
However, this effect is not achieved immediately and subject to several conditions.