The three years of my son is the first conscious age that we decided to celebrate. Ivan already knows how to speak and be an active participant in games, has his own hobbies, which means that you can make the holiday interesting for him and his little friends.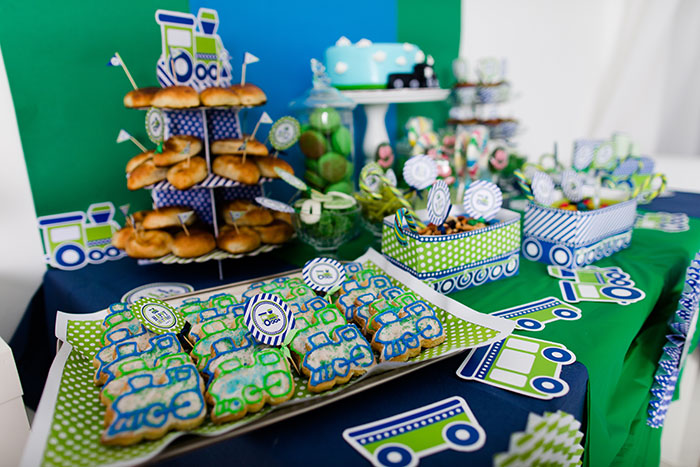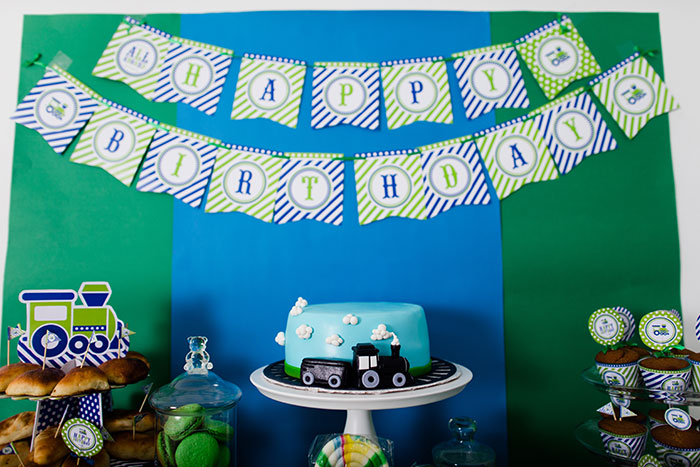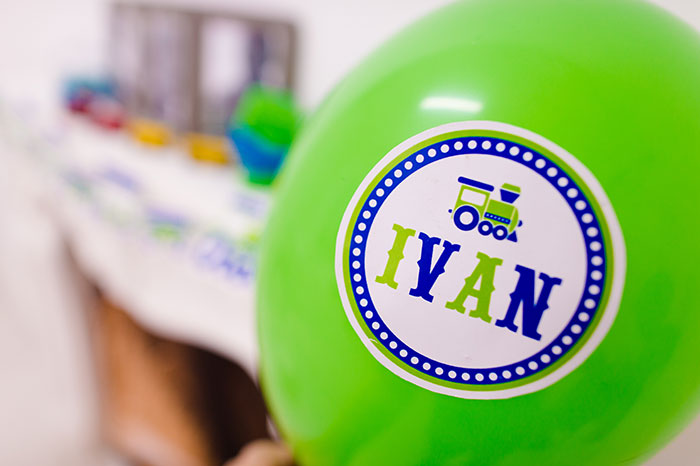 It is very important to choose the format of the event, and for me, obviously, the traditional feast will be of little interest to children, and our apartments, unfortunately, cannot accommodate a noisy company of three-year-olds and their parents.
Games are what children like so much, and when there are more than one children, then you need a lot of space. Therefore, I chose a photo studio as a venue for the celebration.
The space of the studio is safe, roomy and neutral, which will decorate it as you like. What to do if you are already rather tired of pirate parties, and the choice of thematic holiday accessories is small ?! Where to look for inspiration?
Of course your child!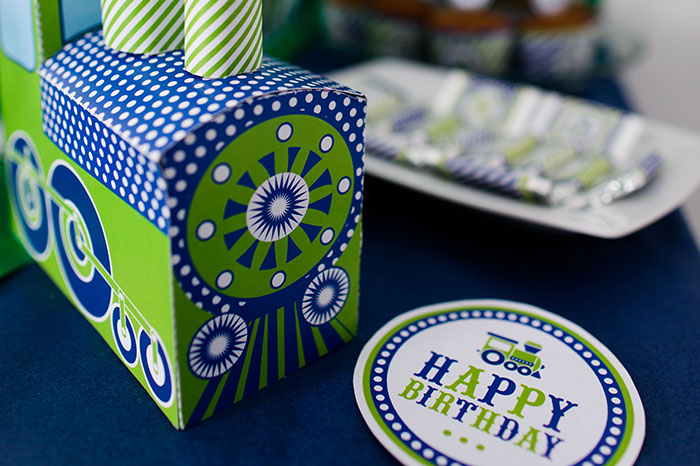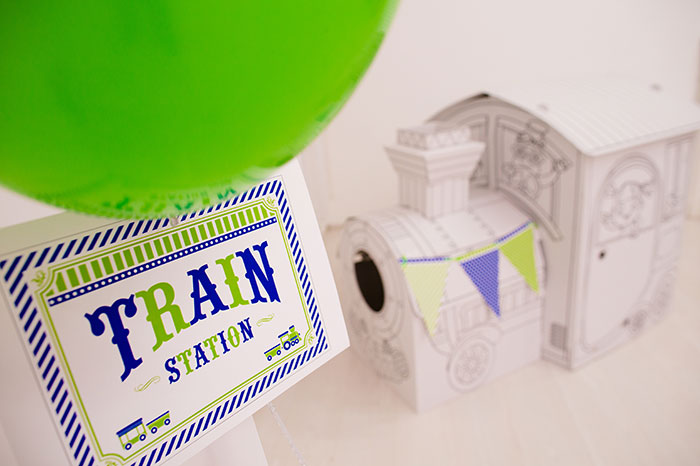 My son is very passionate about trains. The train, railway, train drivers, passengers, tickets and a barrier for him are no longer just words, books or toys.
This is the first and very passionate boyish hobby. For me, all this was the idea for registration.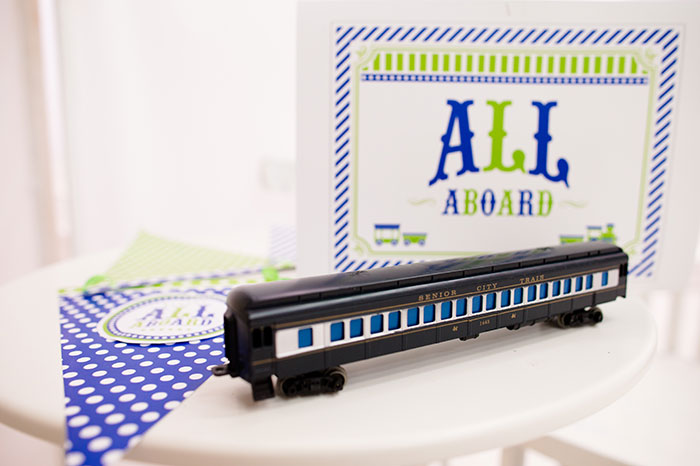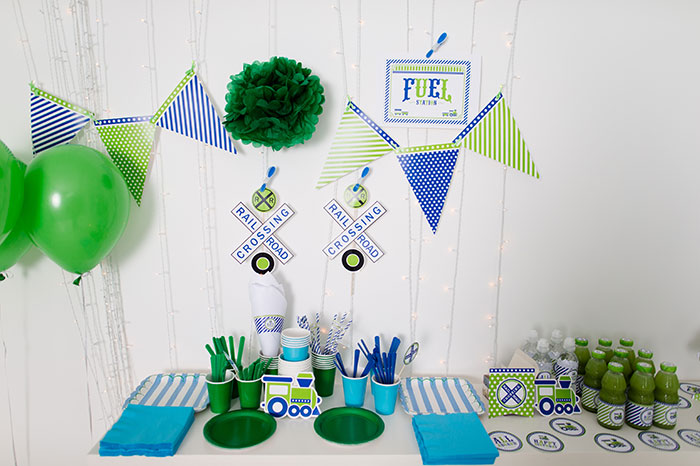 It's great to come up with a topic, but how can all this be realized? Modern mom comes to the aid of the Internet.
For a week, with the help of search engines, using English, I saw a lot of design ideas – a photo of a tunnel in a fireplace, a toy cardboard train, goodies in containers, wagons and others.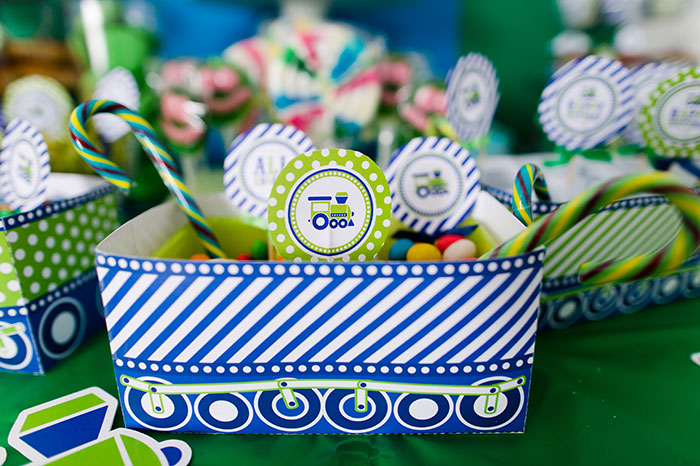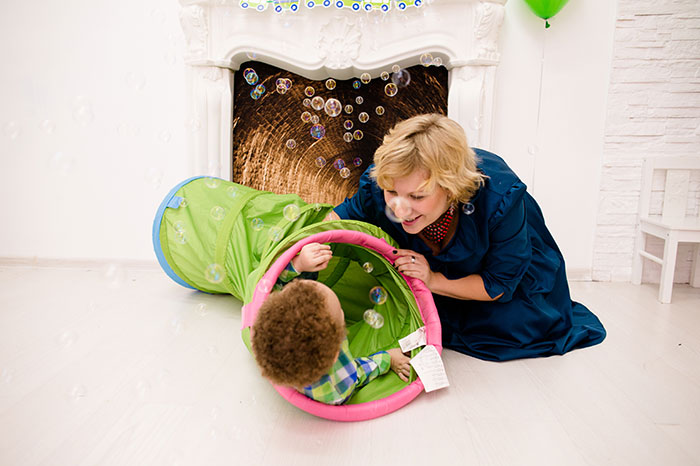 But the most important find is the themes for decoration, which can be bought (files) and simply printed on a home printer or in a print shop.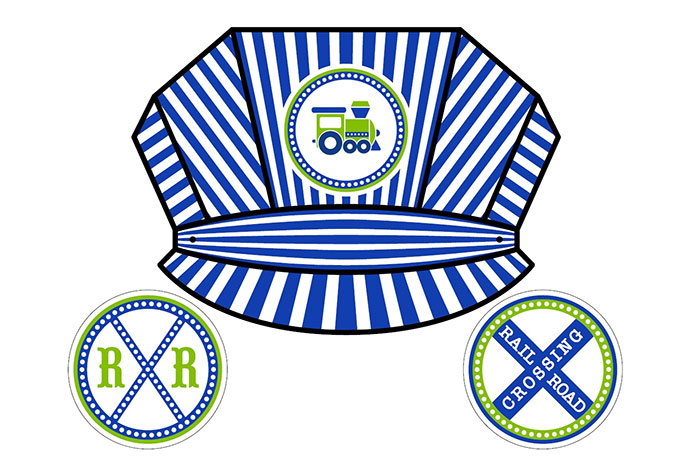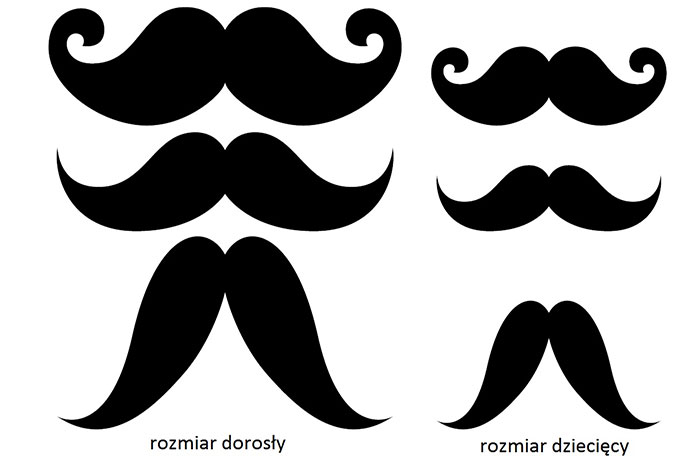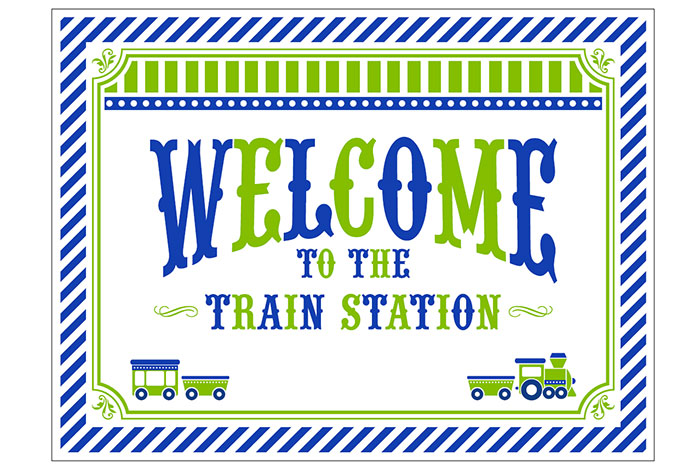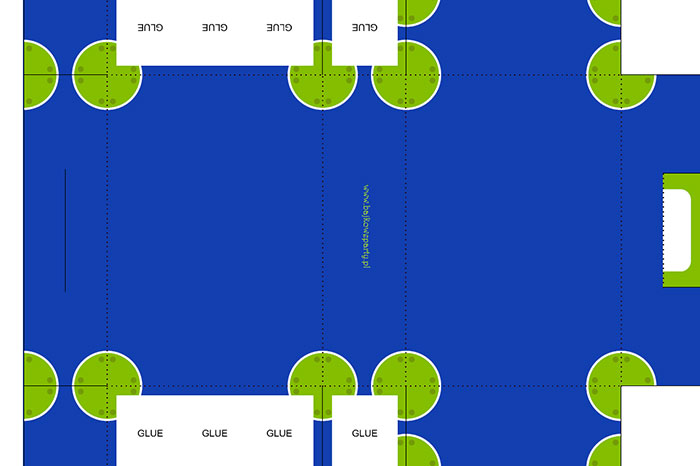 So I found the theme "Green Train", by the way, my son's favorite color.
Designers have already invented not only "Happy Birthday" garlands, but also a set of themed photo accessories in the form of caps and a driver's mustache, the luggage is the suitcase-compliments for children's memory, invitations, decorations for treats and many other bright attributes of the holiday.
In addition to the files on the site there are photos, tips, how to arrange a birthday.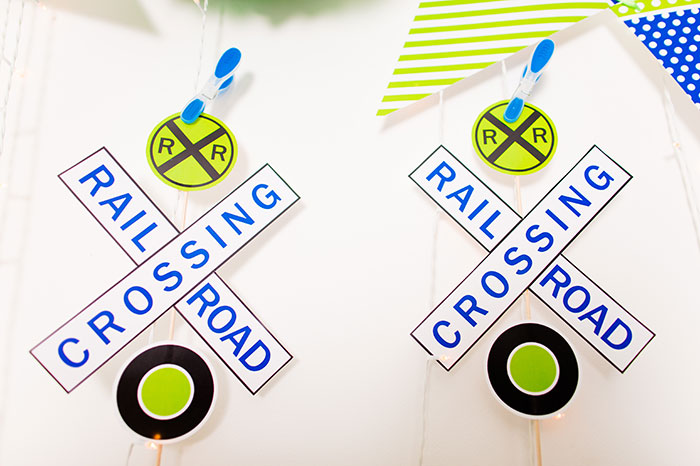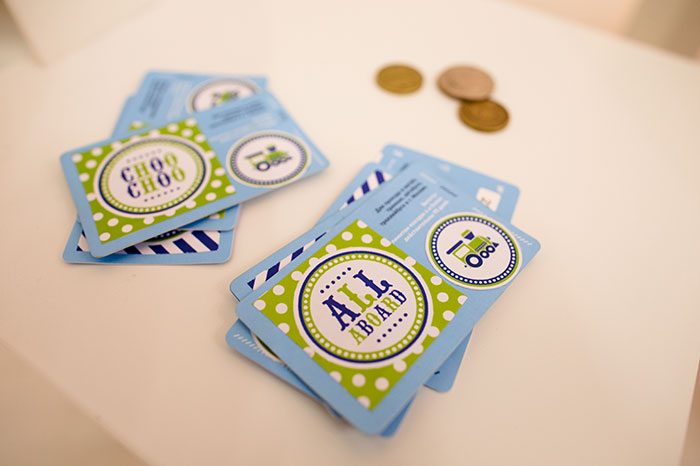 It is very important that someone helped you, and it is best to take invited children as assistant moms and dads. So, for example, Alice, the mother of 2-year-old Mira, helped me look for information, glue up the attributes of the holiday at night – there were so many of them that we divided the work in half.
Ilya, Alice's husband, helped a lot with delivering props to the studio and assembling cardboard decorations. Nina, not only the mother of 3-year-old Maxim, she is also a pastry chef, so we had the most delicious treats at the party. She even baked us cookies in the shape of a train, and we decorated it with multi-colored icing.
Be sure to attract your friends, because to create a holiday together is not only easier, but also more interesting!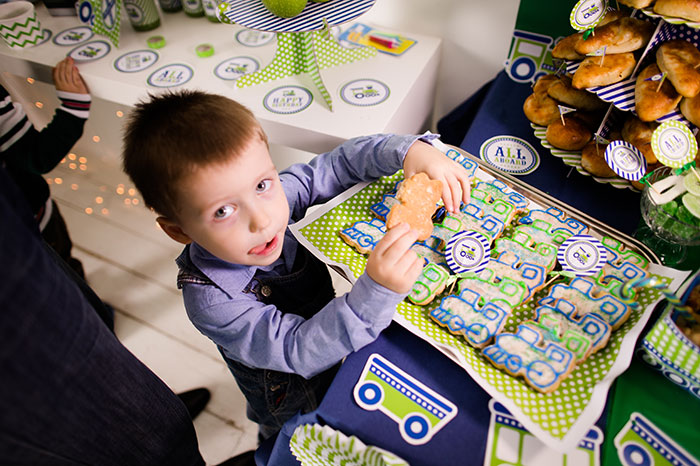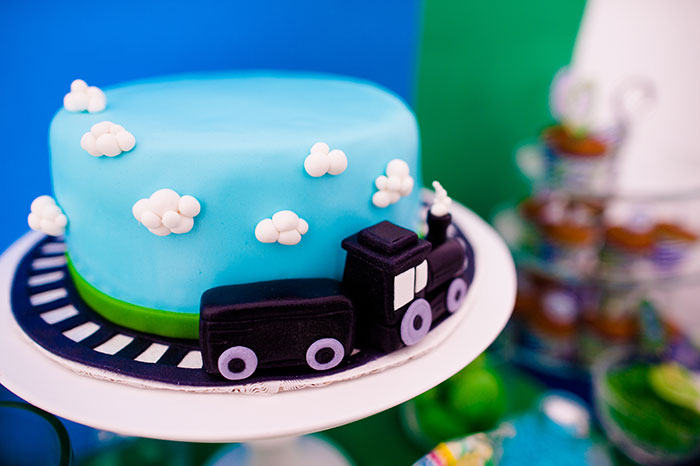 I emailed the parents of all the children I sent invitations in which I agreed on the colors of the guests' clothes, indicated the address and time, and other details of our holiday.
To make the birthday itself not boring, it is better to spend it in a playful way, and here it is important to involve both adults and children in the game from the very doorstep.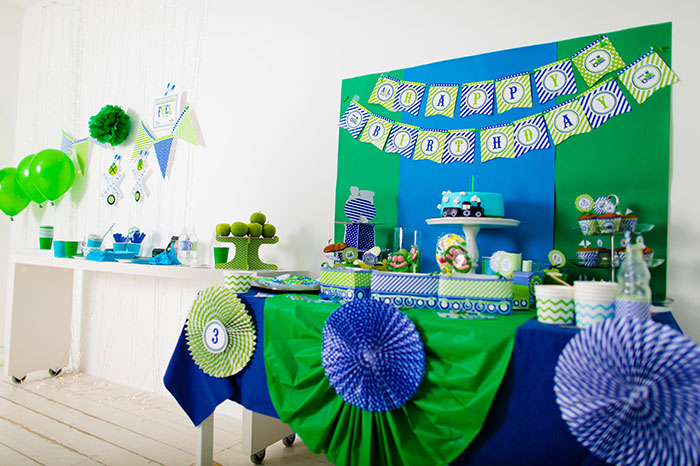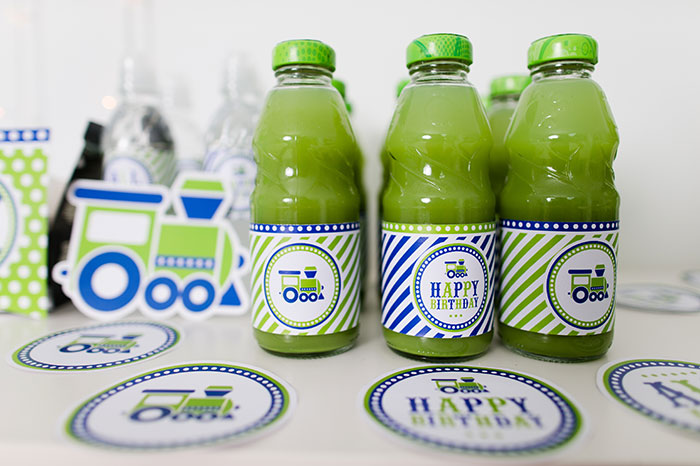 On the birthday all the guests turned into passengers, and at the entrance the little guests came up to the ticket booth and, having paid a coin, bought a ticket. Adult passengers received badges in which they entered their names, thus passing the registration for the flight.
It really helped to acquaint all the adult participants of our holiday and help them communicate, because even if you forgot the name of the interlocutor, you can easily spy on it!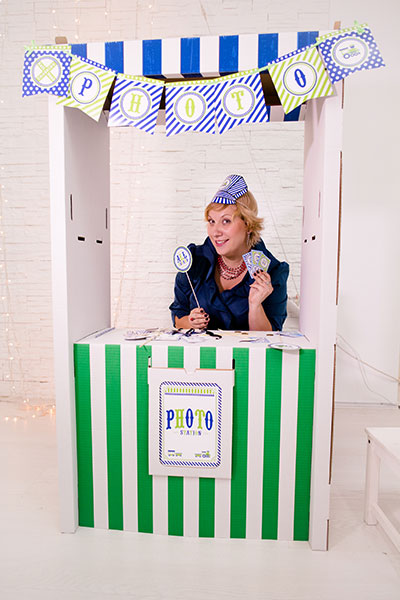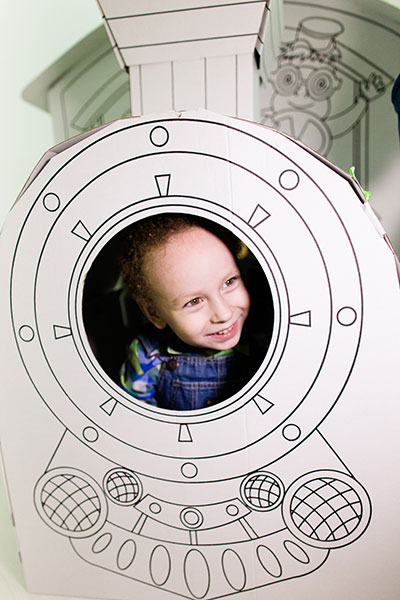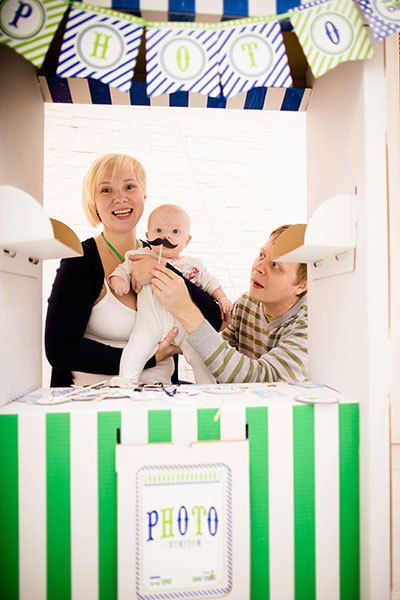 Little passengers passed through the barrier and got to the railway station – our cardboard train was very interesting to all boys!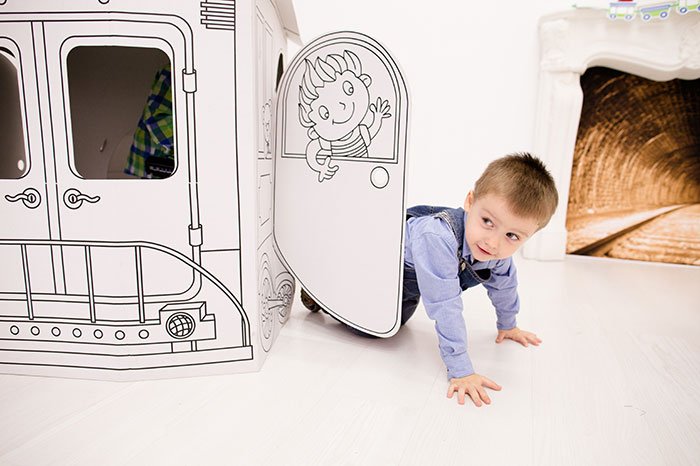 I bought part of the props in the Ikea store, so the cardboard counter was first a booth for the ticket collector, and then "Photo Station", where the prop was for shooting – mustache and machinist caps, toppers (pointers) with the symbols of the holiday.
The toy tunnel from Ikea was interesting for all boys without exception!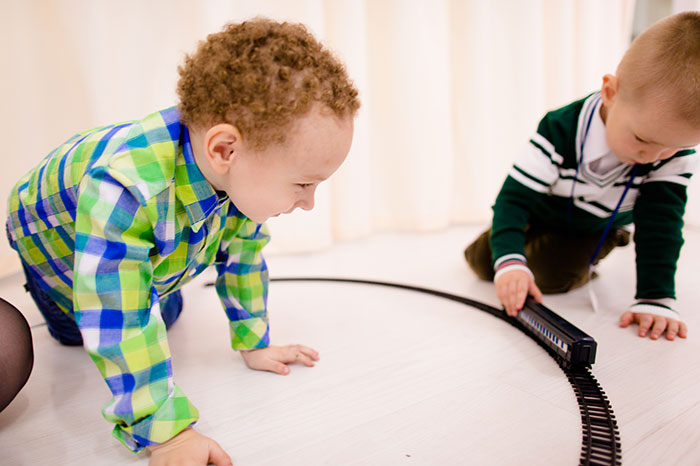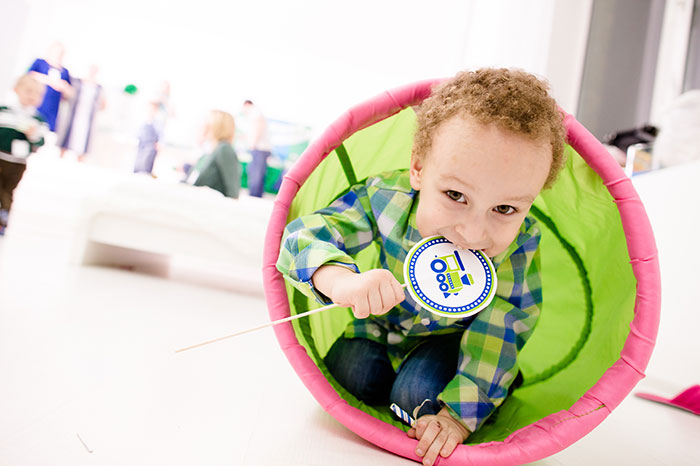 In addition to outdoor games, it is worthwhile to come up with entertainment and a more relaxed character for contemplative children or for breathing hyperactive. Coloring pages with felt-tip pens and soap bubbles, books about steam locomotives, a blanket with a drawing of railway cars and small trains will switch children from active games to quieter ones.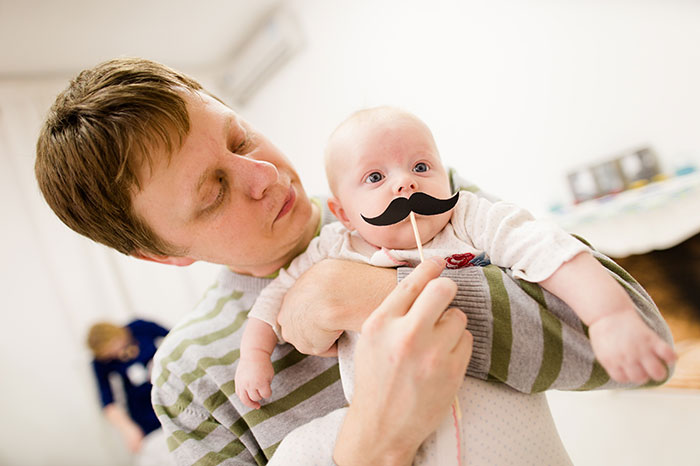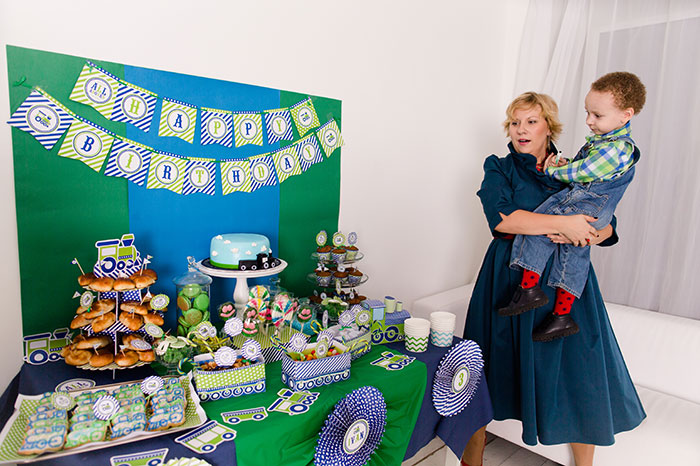 I decided that for children once a year it would be much more interesting to have many beautiful and healthy sweets than dull salads and roast from the oven. I told my parents in advance that I invite everyone to the sweet table, which will be very nicely decorated.
And do not think that children will crush such beauty at times – on the contrary, the three-year-olds already understand everything and tremblingly consider and accept the rules (put sweets in your cup, take a strawberry juice 🙂 and even feed the parents the train cookies. It is very convenient to collect delicacies when there are colors and a theme. Bottles with green kiwi juice and small chocolates can be pasted over with company labels, apples, marmalade, pastila, lollipops, dragees and nuts – all this was allowed and agreed in advance with other parents (if someone is allergic).
It may be surprising, but children themselves know the measure and can be responsible even with sweets, if they allow themselves to show.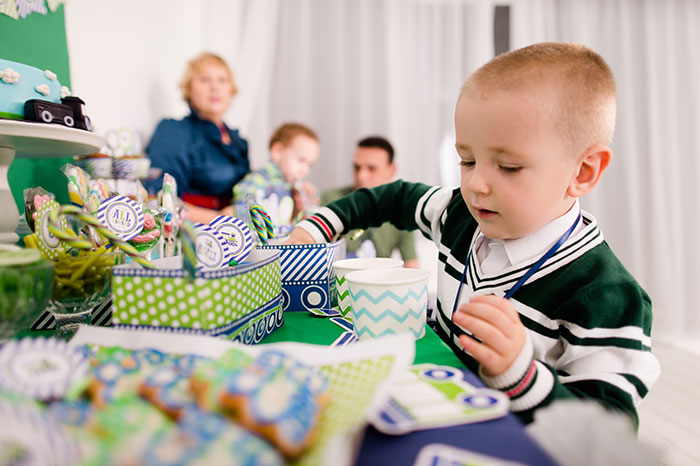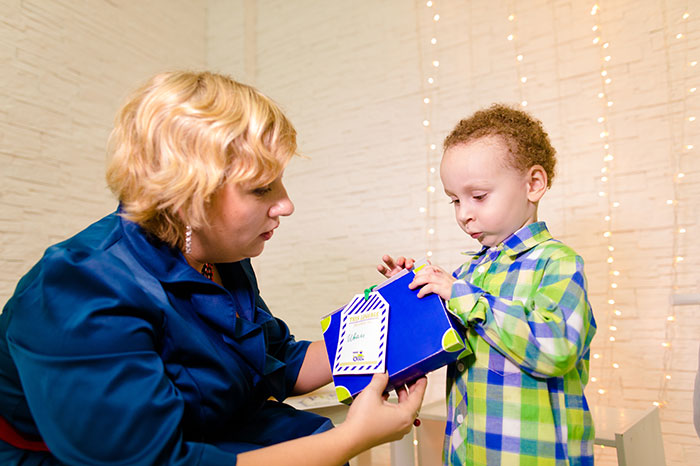 Disposable tableware is the safest option for a children's holiday, you can also buy it in the color of your holiday.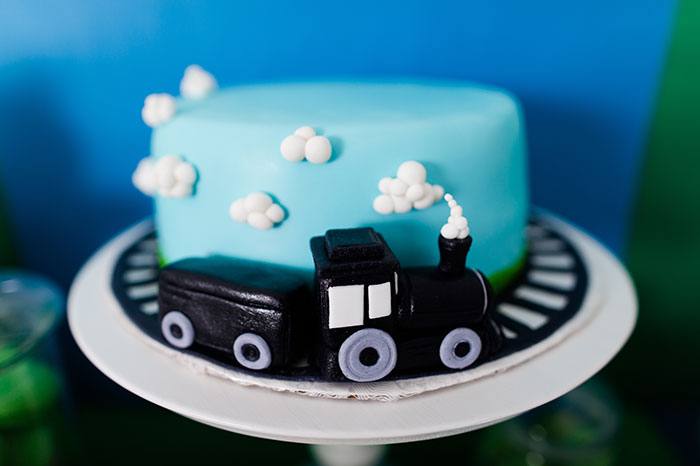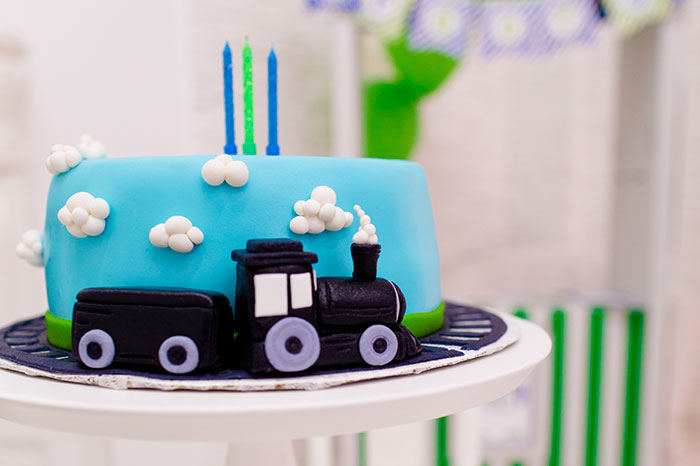 We set it apart, designating it as a "refueling station," and the green, blue cups, plates, spoons, forks and striped paper tubes with the symbols of the holiday looked very nice.
It is very important to leave as a memory not only memories, but also beautiful photos or videos.
In the bustle of the holiday, guests will not be able to shoot everything as a separate special person – a professional photographer or videographer.
On our holiday, photographer Vera Klokova filmed all the children, playing and crawling with them on the floor, all the time being with the children at the levels of their eyes, managing to capture both children's emotions and the decor of the holiday.
In the photo studio there are a lot of professional lighting equipment that will help the photographer to make high-quality photo cards, unfortunately, in no other place there are no such conditions now. Apartments, children's clubs, cafes — all of these places are lost by photo studios in terms of illumination level, and often photographs are dark and inexpressive due to the lack of light.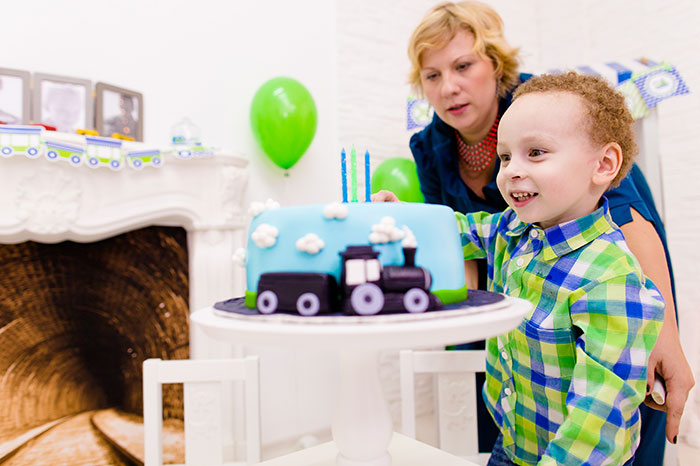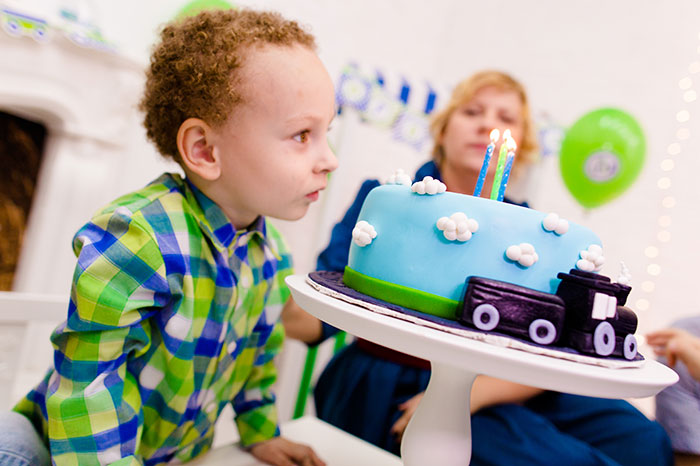 Cake with candles is a spectacular end of the holiday. I found the idea of ​​cake design on the Internet, made a sketch and sent it to a pastry chef.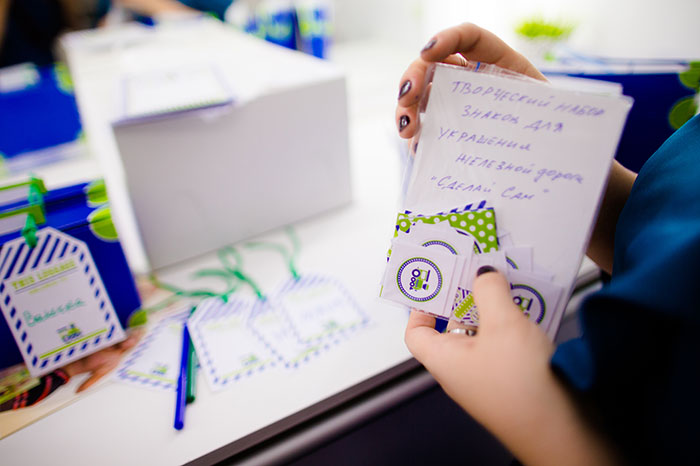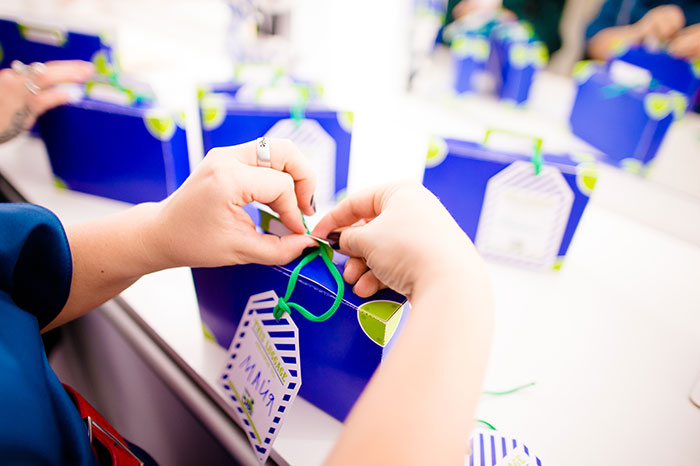 I thanked all those present with special letters in which I noted each participant and his contribution to the creation of the holiday. So nice to say thanks to friends and family!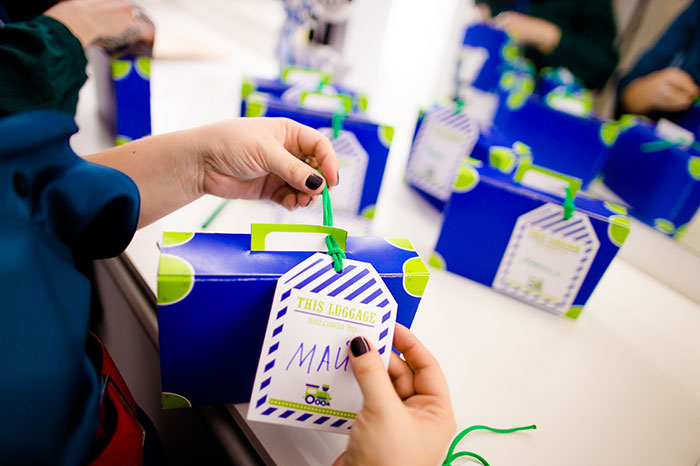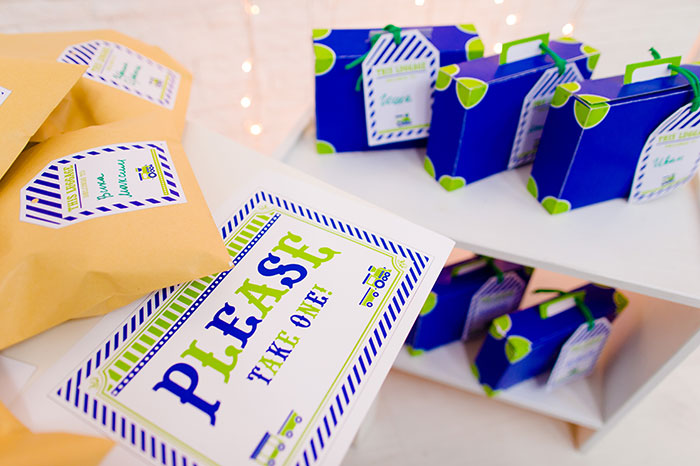 Before going out, the adults were given envelopes with sweets, and the small passengers received luggage — small bags in which we first put keepsakes: a small steam-wagon, plasticine of three colors of our party, soap bubbles in a small bottle, a set of paper decorations to create railway signs, felt-tip pens . Children enjoyed playing at home, remembering this holiday, and what else is needed for children's happiness?
The author of the idea and the organizer of the holiday is Elena Jun.