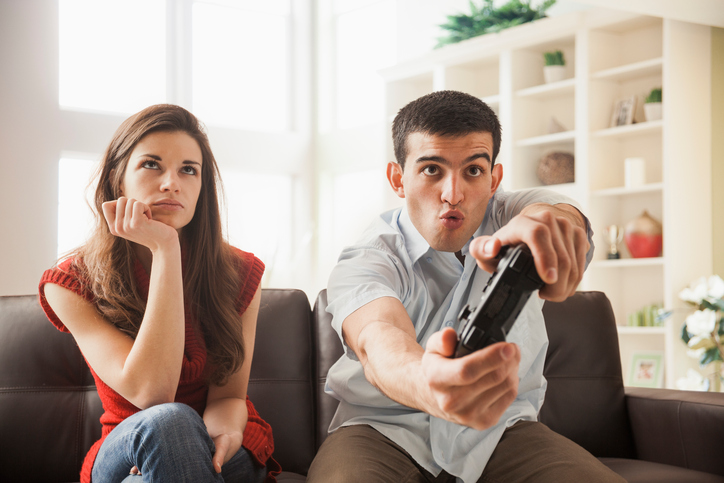 From confrontation to cooperation with your husband – such a shift in your relationship opens the way to finding productive solutions. But it turns out that you seem to be not his wife, but a strict mother, and he is not an adult, but a "stupid teenager."
It turns out that all the responsibility is on you, and you are unsuccessfully trying to control the behavior of your husband.
Your relationship is influenced by the pursuit-avoidance scheme. The more active your admonitions and exhortations are, the deeper it sinks into the virtual world.
In other words, you communicate not directly, but through a computer: the husband loves him, you hate him, but there is a great distance directly between you.
In order to rebuild the system of interactions in your family, you can start with simple things. Try to completely ignore the computer during the week.
For example, a husband spends time with him, and you go about your business and do not react with a word, a gesture or the slightest spiritual movement. For simplicity, assume that the husband is not at home. It is important at this time not to save grievances and irritation for the spouse.
Here you may need an understanding that you are doing the task of a psychologist, which will not last forever. Also, ignoring in this situation does not mean giving up.
Rather, on the contrary, since you personally manage to resist the influence of the computer, there is hope that your husband will cope too.
And in those rare moments when the husband is not in the virtual world, communicate with him in the most pleasant way for both of you. And when you feel that there is more trust between you than tensions, try to understand what is happening to him lately.
Maybe something is not going well at work, maybe he is not completely satisfied with himself, maybe something in his family life does not suit him. After all, people often get stuck in the virtual world because not everything is smooth in the real world.
Winning computer characters or leading them (as, for example, in shooters and strategies) is easier for many than defending their positions in relationships with living people. A frank conversation (without a shadow of reproach on your part and avoiding it) can clarify something for both of you.
If such a plan does not suit you, you can try another tactic. In many computer games more interesting to play together than alone. Ask your husband to teach you and play together.
Then the computer will stop separating you. Perhaps, having united behind this occupation, you together will invent other exciting things that bring satisfaction to you and him.