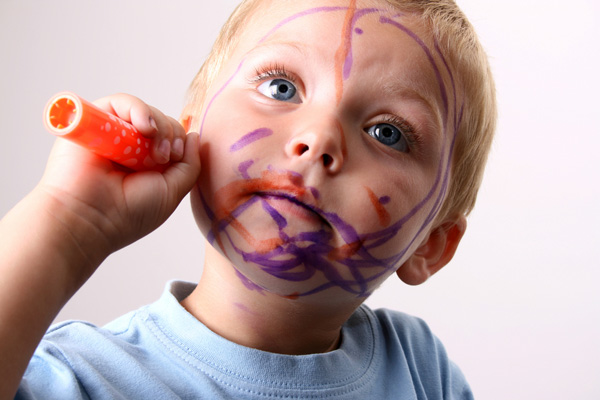 All caring mothers and fathers know that children's toys should be made in compliance with recognized safety standards. After all, a child can take a toy in his mouth, try to tear some small part from it.
Have you ever thought that pencils, markers and even crayons also have their own quality standards, the violation of which can lead to poisoning, injury or just annoying troubles?
"My children love to draw with markers. They like the pictures to be bright and juicy.
Once I left them together for the process of creativity in the nursery, and when I returned, I found that they decided to use felt-tip pens instead of face painting and painted their faces with them! Oh, how long I had to wash their art from the skin! "
Anya, mother of Alesha (6 years old) and Vasya (4 years old)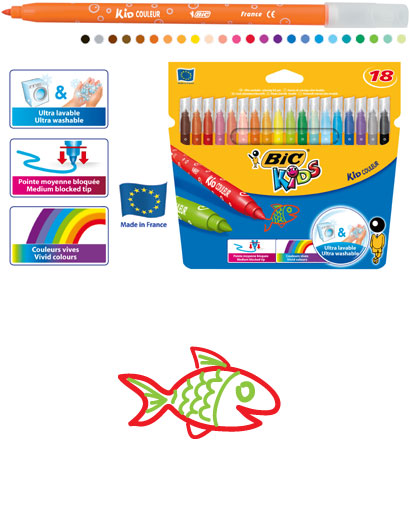 Indeed, when buying markers for children, parents often are guided by the price, bright packaging and the number of colors in the set. But the most important thing for children of preschool age is that the markers, firstly, do not contain harmful substances in the composition of dyes, and secondly, are easily removed from the skin. After all, young children often draw them not only on paper: a child can get dirty about the marker pen, accidentally draw a line on clothes or a hand, or maybe purposefully draw something on his body for fun.
Younger children can put a rod of a bright felt-tip pen into their mouths at all. That is why it is so important that the dyes of felt-tip pens are safe and are easily washed off with ordinary water and soap.
Markers that meet these standards are represented on the Russian market by the French brand BIC®. The BIC® Kid Couleur line with Ultra Washable Inks was created especially for preschool children: bright colors will delight the little ones, and mothers will like the fact that occasional artworks can be easily washed off the clothes, furniture and baby's skin.
Since even at school, children remain children, for them BIC® has created thin markers BIC ® Kids Visa. They are ideal for drawing and writing and at the same time washed away from clothes.
And they also have an amazing property: if these markers are left without caps, which is so often done by our young artists, they still won't dry out and retain their properties for up to three months!
"Sonya is of such age – she wants to do everything herself. Even sharpening pencils do not trust parents.
And here I hear from the baby crying. I come running: the child shows a finger, and in it is a splinter, and not one!
It turned out that while sharpening the shaft of the pencil was split, and one sliver pierced the skin of the child. How many tears there were until all the splinters were pulled out! "
Elena, Sonya's mom (5 years)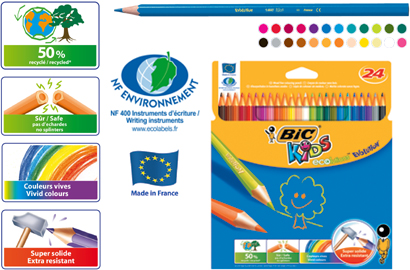 There is a stereotype that the base of the pencil should be wooden. The tree is considered an environmentally friendly product. However, the wood from which the pencil is made also comes in different qualities.
Surely many parents at least once saw how pencils break along the rod and how the wood splits near the slate pencil during sharpening. These are all frequent satellites of wooden pencils.
Is there an alternative to wood? Yes there is.
For example, BIC ® produces pencils for children BIC® Kids Evolution and BIC® Kids Tropicolors from a special environmentally friendly plastic: they are easy to sharpen, they are durable, do not split under mechanical action and do not form sharp edges on a break. And besides, the color coating of BIC® Kids pencils is made from paints that do not have a carcinogenic effect and will not cause poisoning if the baby is in the body, which is very important if the kid has a habit of nibbling pens and pencils.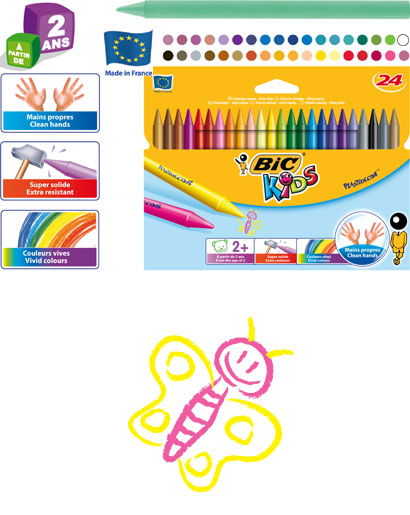 "We often draw with twins. As a result, pencils and markers are a constant item of expenditure.
It is difficult for children to explain for now that if you press the paper harder, the tip of the pencil will break, and the marker will just "go" inside. Pencils still have the properties of falling – and again breaking.
Well, the eternal scourge of felt-tip pens: children regularly forget to put caps on them, and the ink in them dries out. "
Marina, mother of Ani and Polina (4 years)
The pencils break, sharpen, and break again – and so on until small bits of the newly purchased package remain. The situation with the felt-tip pens is no better: who among us has not seen how, due to pressure, the rod suddenly falls into the body and it is no longer possible to get it from there. It is especially insulting to kids when these breakdowns occur at the most crucial moment.
It is very important that such annoying little things not distract the child from the creative process. Now on the market there are pencils and crayons for kids with reinforced rods. For example, BIC® Kids Evolution – thanks to the ultra durable rod, you will sharpen these pencils only when the stylus is written off.
Chalk of this brand – BIC ® Kids Plastidecor have the same valuable properties. For markers, BIC® also has a solution to the problem – a blocked writing node that will not allow the rod to fall inward under strong pressure.
All kids love to draw. And for parents it is important to ensure the safety of this everyday creative process.
In the process of drawing, any child, even the quietest neat, inevitably gets dirty on the coloring base of felt-tip pens, gnaws at the shaft thoughtfully, breaks colored tools of labor … All this makes responsible manufacturers pay special attention to the technical characteristics of drawing products and their chemical composition. However, whether safe quality products in the form of colorful packages of felt-tip pens, crayons and pencils reach small consumers depends on the conscious choice of their mothers and fathers.