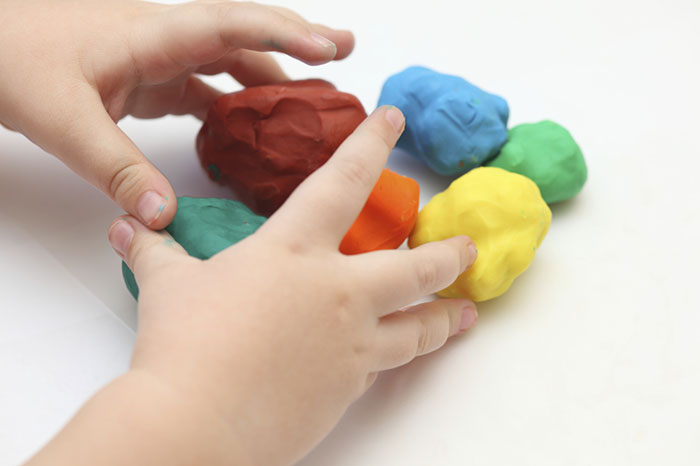 Why plasticine is considered one of the best toys for children? Because games with plasticine develop fine motor skills and sensation, which is especially important for children under 3 years old, fantasy and figurative thinking, attention and memory, perseverance, perseverance and accuracy.
You should always choose the clay manufacturers from proven manufacturers, and for the first classes of modeling – also soft. Specific recommendations depend on the purpose for which it is planned to use clay. Too plastic materials are not suitable for creating volumetric figures – the figure will not keep its shape well, therefore we choose plasticine from the company "Luch" (trade mark "Krokh") or KOOH-I-NOR.
For plasticine (plasticine smearing on cardboard), soft and viscous plasticine (for example, Gamma or Jovi) will do. For rolling out and "cutting out" the figures, it is better to give preference to the masses for modeling (Play-Doh), which do not stick to the hands and working surface.
Regular purchased plasticine does not require special storage conditions, do not just leave it in direct sunlight. You can keep the plasticine in the package in which you bought it, but it is much more convenient to use a plastic container with a lid and small compartments.
If you are going to store the mass for modeling homemade, it must be tightly packed in a plastic bag or hermetically sealed container and put into the refrigerator.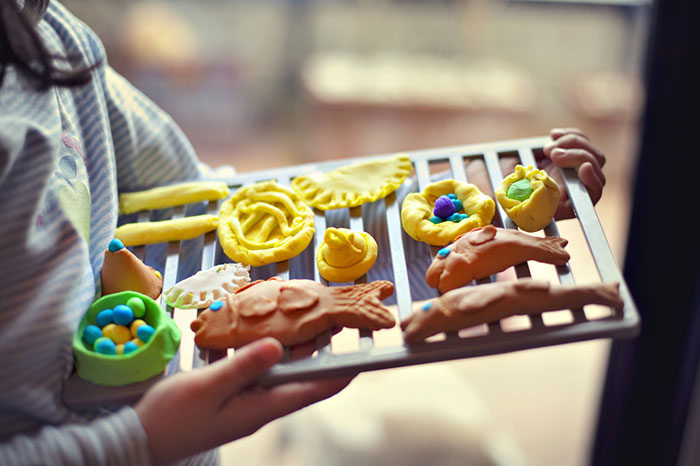 It is not necessary to go to the store to surprise your baby with floating, jumping, glowing, ball clay. Believe me, your kitchen has everything you need to create them.
* Hardening mass for modeling
3/4 cup PVA glue
1 tbsp. corn starch
1 tbsp. l lemon juice
2 tbsp. l baby mineral oil
Mix all the ingredients and cook on low heat, stirring constantly, to the consistency of mashed potatoes. Cool slightly and knead well.
Figures from such a mass for modeling should be dried well in air for 2–3 days before staining.
* Gentle plasticine
2 tbsp. starch
hair conditioner
Stir the ingredients thoroughly, adding air conditioning as needed until a soft, plastic, well-stretched mass is obtained. If desired, food dyes or glitter can be added to the clay.
* Fried plasticine
1 tbsp. flour
1/2 Art. salt
1 tbsp. l vegetable oil
1 tbsp. water
6 tbsp. l lemon juice
food colorings
Mix salt, flour, add vegetable oil and water with lemon juice and dye. Mix everything well and, stirring constantly, fry over low heat until the mass acquires a homogeneous thick consistency. After that, remove the "bun" from the pan and knead a little hands.
Store this mass in the refrigerator in a tightly closed plastic bag.
* Wonderful sand
4 tbsp. clean sifted sand
2 tbsp. starch
1 tbsp. water
Mix all the ingredients thoroughly – you should have a mass that looks like sand, but at the same time rather plastic and well-shaped. You need to store such "sand" in a closed container, and if it dries out, just add a little water and mix again.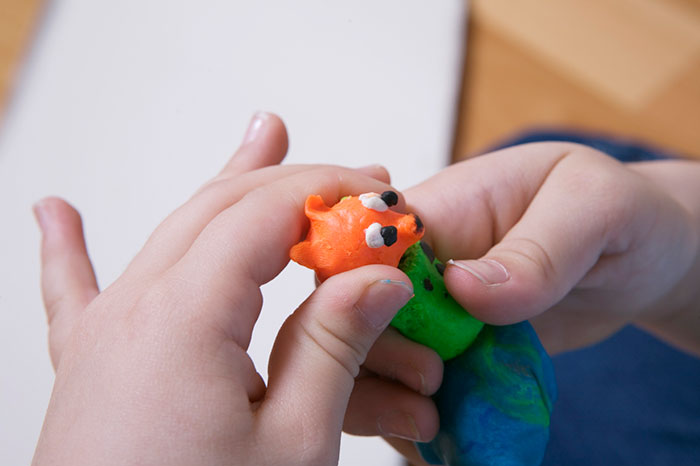 Sculpting classes are simple in organization and bring a lot of joy to children. They also go well with other developmental exercises. For example, you can:
to teach with the child letters and numbers, sculpt them from clay;
to comprehend the basics of geometry, cutting out circles, squares and triangles of different area with tins and comparing them;
to study colors, connecting pieces of multi-colored plasticine.
Baby up to a year only gets acquainted with clay. It will be useful for him to knead the plastic mass in his hands, to tear and connect large pieces of clay, to "poke" the clay with his finger. Here are a few interesting ideas on how to interest clay on a single year:
* Place the soft mass for modeling or salty dough in a bright balloon (you can use a thick plastic bag), draw a smiley on it. Take the handles of the child in your own and show him how to knead the ball.
Pay attention to the crumbs how the ball smiles at him.
* Mix into the mass for sculpting solid particles – large beans, buttons, nuts or acorns. Let the kid ponder it first (these blotches will provide a good finger massage), and then pick up small objects from plasticine – this is an excellent exercise for developing fine motor skills.
* Make salty dough (1 tbsp. Salt, 1 tbsp. Flour, 1/2 tsp. Of water) or clay prints of the palms and heels of the baby, which will be a wonderful gift to family and friends.
In 10 months – 1.5 years
To this, the dexterity of the fingers is also sufficient to proceed to the development of more complex techniques of working with clay. Introduce your baby with the technique of pinching small pieces of a large bar of plasticine, with the flattening of plasticine balls with a finger, palm and fist.
* Draw a sprig of rowan on a sheet of cardboard, roll balls of red plasticine, seat the baby on your knees and, taking his hand in yours, press plasticine balls to the image of berries and crush them.
* Closer to the age of 1.5, try to work with a rolling pin. This may be a special rolling pin, which is part of the kits for playing with clay, or a suitable durable cylinder.
On the layer of rolled mass for modeling, you can draw stacks or a toothpick, lay out patterns with croup and buttons, "cut out" the figures with baking pans, etc.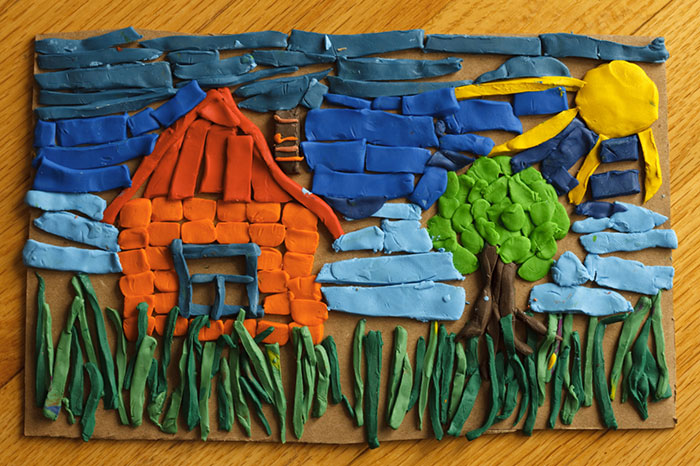 At this stage, the child learns that anything can be molded from plasticine. It is important to support the creative experiments of the child and minimize the number of "useful tips", unless the crumb does not directly ask for help.
The one and a half year old child masters such methods of working with plasticine as twisting balls, sausages, spirals and ringlets, and also makes his first figures of plasticine using the "pulling" technique: from a large piece of plasticine, the head, legs, pens are drawn, and you get a little man .
When a child masters the basic methods of modeling, the key focus of his experiments with clay becomes subject modeling. Fabulous characters and cartoon characters, props for various games (products, money, car parts, people and animals for the table theater) come out from under the fingers of the crumbs.
At this age, it is optimal to acquaint the child with clay and hardening masses for modeling: he will be interested to perpetuate his work in order to use the figures in subsequent games.
Genius workshop
Creating a creative corner for your child in the house, you solve three problems. You protect the rest of the apartment from experiments.
Create yourself a maximum of free time. And most importantly – give the child the opportunity to express themselves.
Every person should have their own living space, where they can be themselves, shouldn't they? Read more
Teach your child to distinguish colors
For us adults, life in color is natural. And for kids it is very important.
Therefore, the mastery of sensory standards, which created mankind – samples of color, shape, size, most often begins with the development of the baby is the color. How to help him in this? Read more
What can and can not be banned child
What word do you often say to your baby – "YES" or "NO"? Both are very important for upbringing and development: "yes" gives a taste of freedom, a sense of trust in life and faith in one's own strength, "no" sets boundaries. Read more