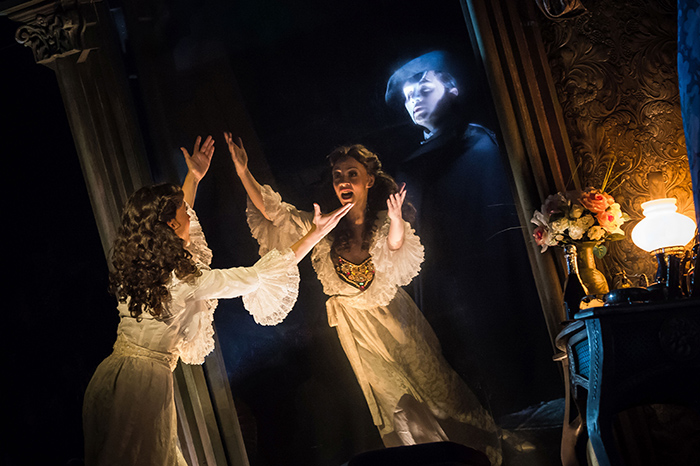 Already next autumn the legendary musical will be moved to Paris.
The entire set of Russian productions, including scenery, costumes and equipment, will be sent from Moscow to the birthplace of the musical performance.
The premiere will be held on October 13, 2016.
"In the anniversary year the musical" The Phantom of the Opera "will be staged in Paris. Thus, the historical injustice will be corrected – for all these years the musical looked the whole world, except France, where the story about the Ghost was born, where all the events described in the novel take place, – says the head of the theater company "Stage Entertainment," Dmitry Bogachev, the producer of musicals.
In 1909, the story of the Phantom of the Opera was born – music geniuses who live in the building of the Paris Opera and hide their faces under the mask. In 2014, the legendary "Phantom of the Opera" sounded in Russian, and in 2016, 30 years after the world premiere in London, the Ghost will sing for the first time in French!
By the end of the two-year daily distribution of the musical "The Phantom of the Opera" in the MDM theater about 700 performances will be played, and the musical will be watched by about a million spectators, which is an absolute record in the history of the Russian theater!
Moscow rentals were accompanied by unprecedented success, love of the public, enthusiastic reviews of critics and the recognition of the international production team, which called the Russian production of the musical one of the best in the world in all 30 years! For the first time in the history of Russia, the musical went with sold out for 2 years without a break in the daily mode, not closing for a week even in the summer!
According to the RBC rating, the musical "Phantom of the Opera" became the highest grossing and popular entertainment event of last year, outperforming Golos and Formula-1 in popularity ratings, Robbie Williams and Justin Timberlake's Moscow concerts, Mariinsky and Bolshoi theater productions, popular exhibitions and festivals.
Dmitry Yermak, Ivan Ozhogin, Elena Bakhtiyarova, Tamara Kotova, Yevgeny Zaitsev, Irina Samoylova, Ekaterina Lekhina, Andrey Shkoldychenko, Maria Ivleva, Alexey Bobrov, Yuri Mazikhin, performing the leading roles in "Phantom of the Opera", became real musical stars, heroes of the capital theatrical scenes. Over the past two years, each has several hundreds of performances and almost a million spectators.
Until April 30, the musical "The Phantom of the Opera" will delight its audience 8 times a week. Hurry up, there are only 20 performances left!