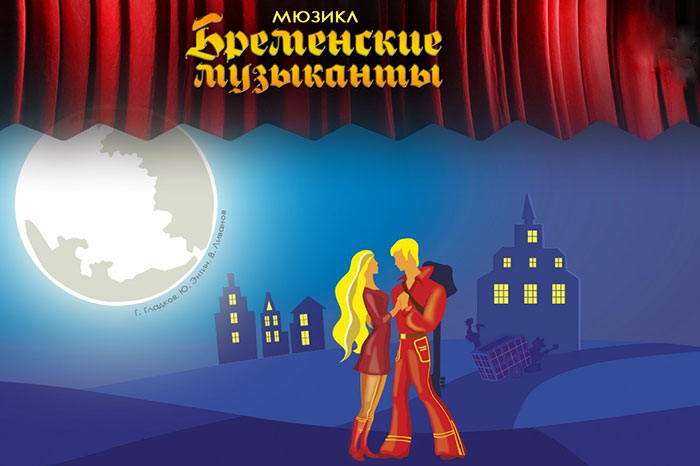 The new version of the musical "The Bremen Town Musicians" is an updated story of the heroes of the legendary cartoon of the same name, in which whole generations of people from our country were brought up.
On the eve of the double anniversary – the 45th anniversary of the release of the first cartoon and the 80th anniversary of the "golden troika of creators": songwriter Yuri Entin, composer Gennady Gladkov, actor and screenwriter Vasily Livanov – this story returns with a bright new production. In the new script of the musical, the plot twists and turns of the cartoon films "The Bremen Town Musicians" (1969) and "In the Footsteps of the Bremen Town Musicians" (1973) are combined with a fragment of the original source, that is, the famous Grimm fairy tale.
This time, viewers will be able to see on the stage not only familiar events, but also a story about how a quartet of unusual musicians formed.
Together with the cheerful Troubadour and his loyal friends, the audience will go wandering around the wide world, meet terrible brigands, a formidable Ataman and a beautiful Princess.
Guests of the musical are waiting for bright acting work, live vocals, colorful decorations, outrageous costumes, modern special effects and acrobatic stunts performed by young artists and experienced professionals in the genre of musical theater. For the first time, the charismatic actor Oleg Goncharov will play the role of Troubadour. The role of the charming and tender Princess will be played by Christina Dudina, and Evgeny Aksenov will appear in two completely different images – the cunning Detective and the fatal Atamanshi.
The director of the musical, Honored Artist of Russia Boris Boreyko, carefully worked on the production, retaining all the bright moments of the cartoon and adding a bit of spice and novelty. Familiar since childhood, the wonderful melodies of Gennady Gladkov will appear in bright modern arrangements.
The performance is designed for family viewing. It will be interesting to see the musical as the first spectators of the legendary cartoons, and their children and grandchildren.
On the stage of the Zuev House of Culture (m. "Belarusian")
December 27-30, 2014, January 2-8, February 21-22, March 6-7, 2015.