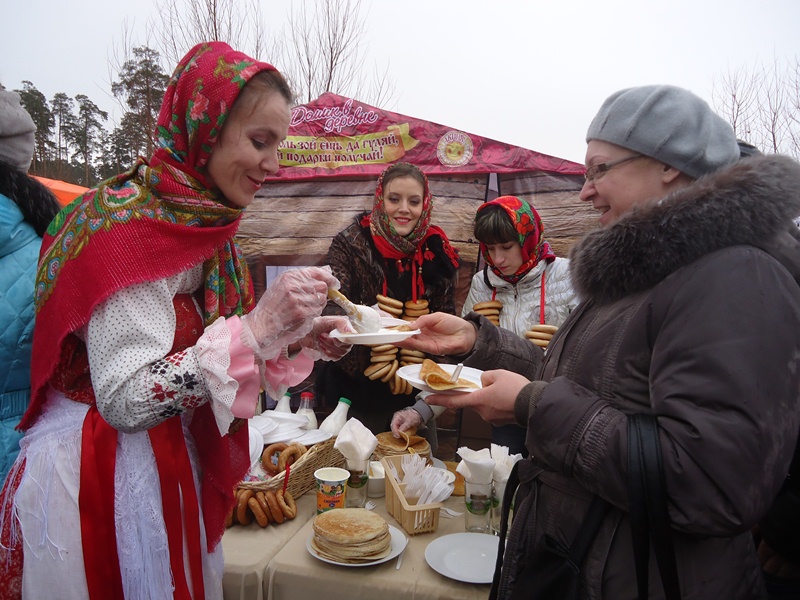 Maslenitsa, a popular folk festival, has long been associated with the long-awaited arrival of spring and the beginning of a new one, because it is not by chance that the celebration of Maslenitsa in Slavic mythology was timed to coincide with the spring equinox, which in many nations was considered the beginning of the new year. Spring brings the heat of the sun, and the Sun, as is well known, is deeply revered by our ancestors as a force that gives life.
Pancakes, as a symbol of the Sun on earth, became the main attribute of Shrovetide week. In 2014, "House in the Village" and "Miracle Yagoda" for the third time will treat all guests who have decided to meet spring in Gorky Park.
Last year, tens of thousands of people met Pancake Day at the "House in the Village" monastery, having tasted more than 13,000 pancakes and drank more than 16,000 glasses of the "Miracle Yagoda" hot juice. Ruddy pancakes "with the heat of the heat" in combination with natural products "House in the Village" became an integral part of the holiday tables of the Russians and a favorite part of the folk festivals.
On March 1, a three-meter scarecrow of Maslenika, the historical satellite of Maslenitsa, will appear on the Maslenitsa courtyard. In ancient times, these characters were considered the bride and groom and symbolized the rebirth of life.
In addition, Maslenik was a hero of the Solstice – the holiday of the birth of the Sun – and accompanied the celebration in honor of the pagan god Veles, the patron saint of animal husbandry and agriculture.
Refreshed on sunny pancakes with "House in the Village" fresh and tasty sour cream and "Miracle Yagoda" hot juices, residents of the city, who came to Gorky Park on March 2, set a new record by participating in the most large-scale Shrovetide procession in Russia under the auspices the village "! The custom to carry out the Pancake Week procession originates in the ancient pagan culture.
A motley crowd decorated with multicolored ribbons with perky songs and dances, dolls and suns in their hands passed through the streets of cities and villages, seeing off the winter and meeting the beautiful Spring. It was not without reason that in the old days they said that the one who most merrily celebrates the Broad Maslenitsa is lucky throughout the whole year.
Come with your family on March 1 and 2 to Gorky Park and celebrate Maslenitsa with your favorite House in the Village products, warm yourself with the warm Miracle Berry fruit prepared according to traditional Russian recipes from natural wild berries and get acquainted with the forgotten traditions of pancake week!