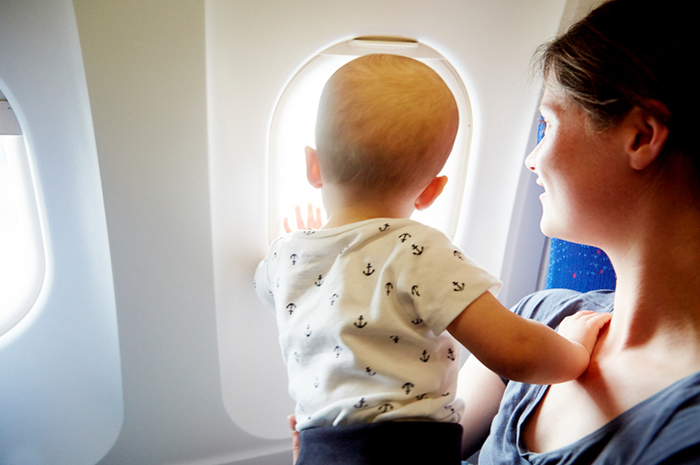 If you have a trip with a child on an airplane on your nose, the first thing to do is to study the rules of travel with children on the website of the airline whose tickets you purchased. Each of them may have its own peculiarities and nuances, so it's worth taking the time to avoid unpleasant surprises during the flight.
Usually, airlines make a special section on their websites, so information will not be hard to find. If you even have questions after reading the rules on the site, or you are uncertain whether to take anything with you on board or not, call the call center and check the details you are interested in.
But all this applies only to the most unusual situations, the basic rules being the same for most airlines.
Children's tickets are of two types – with a separate place and without it. In the hands of parents, babies up to two years old can travel; after this age, they are assigned a separate seat on the plane.
Of course, if it is more convenient for parents not to hold a baby, which is not yet two years old, in their arms, they can buy a ticket for it with a seat and put there, for example, a child seat or a cradle. It is necessary to issue a ticket for a child, regardless of how old he is! The cost of a children's ticket will be up to 10% of the "adult" fare on international routes, and when flying through Russia it will be free.
A ticket for a child with a seat will cost you 50% of the total price, and at this price, children can fly until they are 12 years old.
Most airlines allow you to carry a pram on board for free, and for babies up to two years above the baggage allowance, besides the pram, they carry a cradle or a car seat. "The carriage will need to be issued at the front desk, the employee will register it and mark it with a special baggage tag.
After that, the wheelchair can be used at the airport during the passage of all procedures and handed over at the plane, "notes Svetlana Kulyukina, director of passenger transportation at S7 Airlines. Keep in mind that directly into the salon you will be allowed to take only a compact lightweight stroller (for example, a "cane"), which can be safely placed on luggage racks.
Scooters, bicycles and other favorite "toys" of the child must be checked in according to the rules of the airline.
In case you or your child need some kind of medicine, there is always a first-aid kit on board the aircraft. Medical kits are completed in accordance with the 6th Annex to the International Civil Aviation Organization Convention on International Civil Aviation, and all flight attendants undergo annual medical training, in particular, in first aid.
If necessary, they will be able to provide first aid to the passenger, including the smallest.
For passengers with children up to two years old, who, as a rule, travel without a separate seat, there are certain limitations. The fact is that over each seat in the plane are oxygen masks, which, if necessary, are used in emergency situations.
Four masks are always located above each block of three seats, i.e. one more than the seats themselves. In this regard, only one adult passenger traveling with a child in their arms can be placed on each block of seats.
To strictly observe this rule, special places are located, located near the window or at the aisle.

And if there is no possibility to choose places during the purchase of tickets, then it is worth taking care of this in advance and registering as soon as possible. Online check-in often starts 30 hours before the flight.
Independently, without adults can travel children older than five years. Sometimes it can be very convenient and even beneficial: for example, if you want to send your baby on a vacation to another city or to a children's camp.
To do this, you need to arrange an escort service in the airline when the airport staff and the airline meet and escort the child to the plane, and upon arrival at the destination will transfer it to the person who meets you. For registration of such an independent children's flight, parents need to write a statement (if the flight is carried out on the territory of the Russian Federation), as well as the notarized consent of one of the parents (if the child flies to another country).