Our guest is the soloist of the "Chi-Li" group Irina Zabiyaka, her husband Vyacheslav and son Matvey.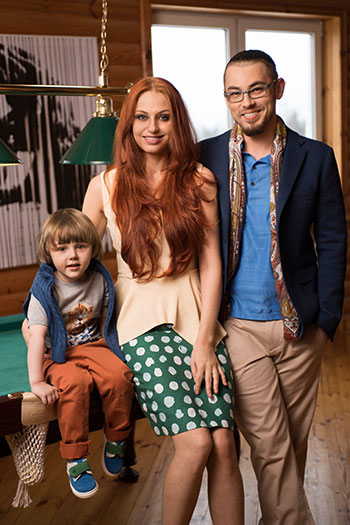 HAPPY PARENTS Irina, your voice is so peculiar that you cannot confuse it with one another. Why is he like that? IRINA ZABIYAKA Judging by the preserved tape recordings, as a child I had an ordinary voice.
When I was 13, I went to the hospital, where I had adenoids removed, and the girls and I sang, and they really liked my voice, which sounded like an adult. I sang from my childhood, I remembered songs easily in kindergarten.
Mom loved to show my skills to the guests, and I always stood in front of them in the most classic way, climbing onto a stool in the center of the room.
S.R. Is it true that you were a rebel in your youth, hippies?
IRINA ZABIYAKA Yes, I passed all this in due time. And for a long time, she even went to the model agency, walked along the runway, learned the hairdresser … But it was our parties with the same guys like me – on the roofs of houses, on the nature – and gave an impetus to creativity, to the fact that I started write music.
Of course, all people like that pass, all teenagers are rebels, it seems to them that the whole world is against them, and they are against the whole world. It's just that someone can become completely out of touch, and I was probably such a positive rebel.
My rebellion was good. It was great for me to live, and I just didn't understand why I should do something for the future, if it was so good. And music … The fact is that I did not choose it, it was she who chose me, she was sent to me.
It is not by chance, probably, among my friends there were always many musicians. I am convinced that what I have achieved has already been laid in me.
Simply, there are people who need to search for their goal and cultivate some qualities in themselves, and there are those in whom everything already exists. The main thing is to awaken and direct them.
If I went to music myself, I would probably learn to play the piano, I would go learn to sing. But no. At some point, I just realized that I had to make music.
And soon our "Chi-Li" group appeared, which will be 10 years old this year.
S.R. How are things going with Chi-Li today? IRINA ZABIYAKA Relatively recently, we released a new album, breathed out for a while and were touring.
And in the spring a new song "I wish you" came out, and our listeners themselves offered to make it as a single. This composition is most often hanged on various greeting and just friendly posts in social networks.
S.R. What happens in your family? They say a woman changes with the birth of a child?
IRINA ZABIYAKA I have never planned a family or children, I thought it was from God, given or not given. And when I met Slava (the husband of the singer Vyacheslav Boykov, the leader of the Mama Band group), we very quickly realized that this is love. After all, what is, in my opinion, love?
God loves everyone. Just like that, for nothing, taking people with all their strengths and weaknesses.
I think that a person has true love. You love a person, too, of everything, entirely, without being jealous of him and rejecting your own ego. And the ego is always the enemy of love, and it must be pacified, for which wisdom is needed … After our meeting with Slava six months later, I became pregnant.
Everything happened quickly and very correctly. Have I changed with the birth of a son?
In the first year when Matthew appeared, I became very sentimental. She could easily cry: from the cinema, from the sight of little children, even small animals. Although before the birth of her son to the children treated without any tremor, quite calmly.
And now … yes, a lot has changed for me.
S.R. Tell us about Matthew.
IRINA ZABIYAKA By the character of Matvey, the boy is very stubborn, in him, as in this Capricorn, persistence is strongly developed. If he wants something, he does not retreat to the last. It is difficult to cope with this, but I believe that in no case can it be broken.
Stubbornness – exactly what then develops in dedication. Matvey is an active child, just like his parents.
He has a wonderful memory: he will hear the song – he immediately gives it away. Until recently, the son did not show much interest in his peers, he liked older children more.
Now he does not mind playing with peers. He even tells me that he wants to go to kindergarten.
S.R. And give? IRINA ZABIYAKA Probably.
But we do not want to force it. For example, I did not like the garden, I suffered there. First we give our son to some group classes, if you like it, you can try the kindergarten.
In this sense, I am such a mom-zen, calm mom. He wants something himself – let him try, do not want – well, do not. Moreover, I think the boy, as a future man, should be given the opportunity to decide something himself since childhood.
And you need to give it a fall. In the literal sense of the word. When Matvey learned to walk, I gave him the opportunity to fall and get up himself, but he never cried.
The fact is that the child, falling, looks at the reaction of the parents, and we have never had "oo" and "oh", in which the baby begins to cry, but always has a smile. For me it was important to teach him independence, in my opinion, this is the main thing that a mother should teach a child.
And Matvey is already a completely self-sufficient boy: he plays toys for a long time, enabling me to do my household chores.
S.R. Growing a real man is not easy, and not everyone can manage it.
What else do you think you need to do? IRINA ZABIYAKA There is a dad in the family for this.
I am convinced that the boy should be brought up by his father, not by his mother, and if he is not in the family, his mother has a hard time. A single woman, as a rule, begins to pour out all her unrealized love for a man on his son, and this does not benefit him.
It seems to me that in such a situation a woman should love herself. However, in a full family, a mother should not take too much care of her son, clean up after him, for example.
The boy must be careful. Matvey is interested in cleaning, and I welcome it.
I think it's impossible to surround the boy with hyper-care, he needs to understand that it's not mother who should take care of him, but he needs to take care of her. After all, he is a boy, and mother is a girl.
Here, in my opinion, respect is being brought up. In addition, I raised my son in such a way that he knew from a very early age that his mother should be allowed to rest.
I do not get up early, and he got used to it and does not touch me. He sits next to me on the bed and quietly plays his typewriter or puzzles. Now he includes cartoons himself.
And I sleep well. And this is important not only for me, but also for him.
Thus, his personal space is formed, which I do not occupy completely with myself.
S.R. What do you think is most important in upbringing? IRINA ZABIYAKA When we were brought up, everything was "impossible".
And everything was known in advance: you will go to the kindergarten, mother will go to work, etc. Children were not eager to be selected, it was not then considered correct. With Matthew we have not. I want him to choose what he should do, and for me there is not, as such, a single concept of upbringing.
In addition, I believe that children are our teachers no less than we are theirs. They copy us both emotionally, and with gestures, and behavior.
Therefore, when a child appears, you need to work very well on yourself. And in what, perhaps, you will blame him later, in many ways it will be your fault.
S.R. You say that you do not want to infringe upon Matthew even in his stubbornness – stubbornness. But there are situations when you need to insist on your own.
How do you find a compromise? IRINA ZABIYAKA With Matthew it is very difficult to find. Whatever you offer him in return, the answer is no.
And I have a similar answer in this situation. He wants, for example, candy, I offer him replacement options, and if I hear no, then there is no candy.
And he already knows: as mom said, so be it. It is useless to manipulate me.
Moreover, in our family this "no" happens very rarely, therefore, it acts well.
S.R. And you can say who is stricter in the family: you or Vladislav? IRINA ZABIYAKA My husband and I are very similar, and we always agree.
Vladislav is a wonderful dad, it is the dad who throws the child up in the air, twists it, fights with it. They have some kind of fuss, one-on-one communication takes place.
S.R. Have you ever wondered who Matvey will be when he grows up?
IRINA ZABIYAKA The son says that he wants to become either a sportsman or a lifeguard. He wants to save everyone! Sport is, of course, good.
We think that it will grow up – he will choose the right, maybe some kind of martial arts. The boy must be fit, athletic. And, in my opinion, the talent for sport in Matvey has already manifested itself: he loves to move, jump, jump, and tumble.
And he, of course, loves cars. And I do not even want to speculate about his future.
I only know that the son must choose it himself.