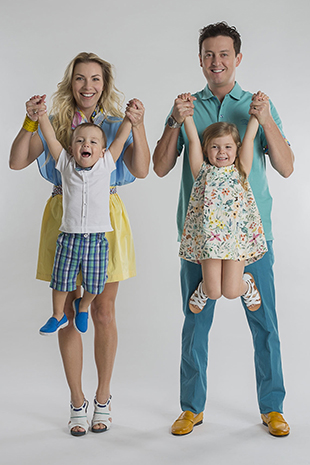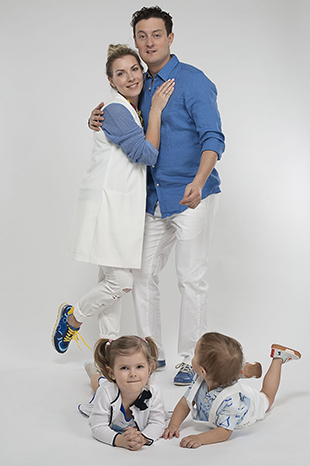 Happy parents Stas, is it true that you started to play in KVN while you were at school, and your dad was the head of the school team?
Stanislav Yarushin Everything happened by chance. My father is a historian and psychologist by education, he taught at a technical school.
And I, probably, in a 7th class became interested in KVN. I watched all the shows on TV, in parallel with watching hockey matches, because I was an avid hockey player.
So, in the 10th grade, we organized a KVN school team, and when we switched to the 11th, my dad wrote the script for the next game. And we won with a huge advantage! The school decided to make the team, which was entrusted to lead the Pope.
So he got to school and still works there as an additional education teacher, puts KVNs, and not only. In general, my father worked with me a lot since childhood, laid a lot in me, for example, in terms of music.
From the age of 15 I participated in music contests, sang, won prizes. He grew up, combining hockey and music and, when it was finally necessary to choose one thing, went into the works.
S.R. But did not enter the theater.
Stanislav Yarushin First, in 1998, I entered the Chelyabinsk Agroengineering University, where after a while I was taken to the county city KVN. But later, while still at university, he entered GITIS for correspondence – however, he did not study there.
S.R. Why?
Stanislav Yarushin You know, I am not from a wealthy family, but the tours that we went on with the "county town" gave us serious money. Imagine, the increased scholarship at that time was 300 rubles, and I came on tour with a hundred thousand! True, this money was by no means easy, we gave 30 concerts a month.
And I had to choose: either to give myself completely to the theater, or to earn money from KVN. Money overpowered.
And you know, I do not regret. Especially since my elder comrades, famous actors, now assure me that it might be good that I did not study. "You could be broken there, and there would not be the inner charisma that is now," – they told me.
S.R. And how do you feel? Stanislav Yarushin Something I certainly do not have enough … But I will not say that this "something" is more important than what it was and is.
Now we are going on tour with the comedy "Razdnya", where I have one of the main roles, and on the stage, next to the professionals, I just have enough. In practice, it turns out that I know and can do the same as they do. KVN School is a cool school, and I am very grateful to her.
And to play Hamlet … I have no such ambitions.
S.R. Not tired to star in "Univer"? Stanislav Yarushin Absolutely not tired!
In addition, we have a terrific team, ranging from the cleaners and ending with the general producers. We are all the time joking, we are all on an equal footing, there are no "starlets", as in some venues.
S.R. And what else, besides "Univer", an enterprise?
Stanislav Yarushin I release my first music album, it will be released in iTunes. And my father also helped me a lot in working on it, and, of course, my team. We have already had three concerts, and there are plans to take a ride through the cities in the fall with a concert.
People who used to perceive me only as an actor are very surprised by this. Although I sang all my life, and my first video was filmed when I was 14 years old.
I want to find and present it.
S.R. When a man has a family, does this inspire him even more to ambitious plans, or does it turn out that you need to think more about money? Stanislav Yarushin To be honest, I think: the main thing – feed the family so that it does not need anything.
Give your children the best. On the other hand, if I am not interested in something, but they pay a lot for it, for me this is also not an option.
While somehow it is possible to balance money – interest. I am already thinking about business … Probably, this is due to the fact that the brains have fallen into place, earlier, in terms of money, and in terms of girls, I was very windy.
This is with the advent of Alena everything in my life has changed.
S.R. How did you meet?
Alyona Yarushina At the site of "Univer" five years ago I went to my friend, Stas and I saw each other, and, as they say, a spark ran through between us. I still remember how Stas turned my head to my side, and at that moment I also looked at him.
And that's it! He himself found my phone number and in the evening sent me a text message with pleasant words, after which we probably talked to the phone until six in the morning.
Stanislav Yarushin We have been together for five years. When we met, I immediately wanted children, girl. We decided: if it works out with the children, we'll sign it.
Happened! And signed.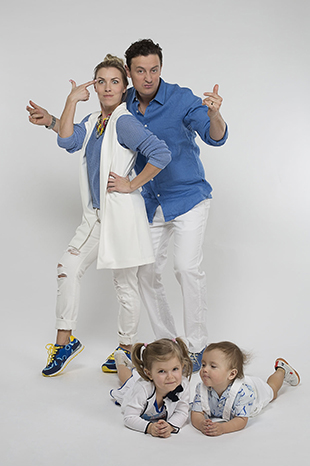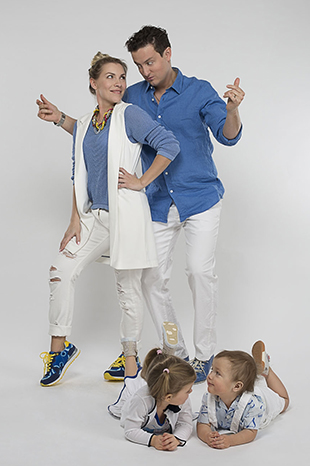 S.R. Alena, viewers more often see Stas in comedic roles, and what is he like in life? Alena Yarushina He is very different.
When Stas is with us, in the family, his mood completely depends on the microclimate in the house. If everything is calm and smooth here, then dad is kind and gentle, can joke and cheer. If any trouble happens, someone gets unwell, some discomfort, then dad reacts to it.
He tries to equalize the situation and he himself is going through. In general, our dad is responsible for making money, and I – for the children, for the house.
But children understand that the most important thing is dad, his word is the last one, as he says, so it will be.
S.R. Do you think the upbringing of a girl and a boy should differ? Alena Yarushina In my opinion, raising a boy is more difficult than a girl.
Absolutely different models of education. If you take the same age of Yarik and Stesha, everything happens completely differently. Stephanie was more flexible, we had no conflicts with her at all in two years.
Yaska is quite demanding, if he needs something, he will achieve his own by any means. And then, the boys are so nimble, it turns out!
He swallowed stones and bones. We have already been through a lot with him.
There have never been such problems with Steesch.
Stanislav Yarushin With the appearance of Yaroslav, we began to see things more clearly. For example, when you are scolding one child for something, you need to be seen by another, so that he, with this example, also immediately understands that doing so is wrong. We had a lot of educational work with Stefania.
My mother had the role of a good educator, I had a strict one. They used to bring up, in the old, kind way – they spanked when it was necessary.
Otherwise, I think it is sometimes impossible, otherwise you will miss it, then you will not fix it. And I see that Stafi is a raised girl in her four years.
Tactful, understanding, respecting seniors. Of course, it happens, she is naughty, like any normal child, but I have never seen hysterics such as falling to the floor.
And I am glad that she is interested in many things: drawing, modeling, and books. We both like it when I read fairy tales to her before bed, and she listens.
I do not know how other children at her age are four years old, but Stefania herself goes out in the evening and goes to bed without persuasion. And I also want to say that Stephanie is father's daughter, and Yaroslav is his mother's son.
The son is now such an age that he is more attracted to his mother. But then, I think, he will give me more heat.
His character is patsansky.
S.R. What has changed in the family with the appearance of Yarik?
Alena Yarushina When Yaroslav just appeared, I noticed that Stephanie's view changed. She was jealous. I even consulted psychologists about this.
But her jealousy was hidden. The only case of a clear negative happened when Stephanie "accidentally" threw the remote at Yarik. Well, we wrote it off as an accident, did not begin to focus the attention of her daughter, especially since she was only two and a half years old.
And more of this did not happen. But, in my opinion, not only her outlook changed, her attitude to the world changed. If earlier she looked at the world with enthusiastic eyes, now, it seems to me, the look has become sadder.
There was one – my eyes were joyous, Yaska appeared – gaze became somewhat detached. I notice that she envies him, because brother, by virtue of age, is closer to me now.
All this is so subtle that you cannot even tell, but I feel.
S.R. What you are doing?
Alena Yarushina I try to have enough for them equally. If I attach, then both, if I kiss, then one and the other. When Stefania goes to kindergarten, I don't say that I spend the whole day with Yaroslav, I say that I am involved in my own business.
When he falls asleep, I try to spend as much time as possible with her, I leave with her somewhere. I want to let Stephanie understand that I have not only a son in my life, but she also remained my favorite daughter.
And all this gradually has a positive effect, Stefania loves Yarik, misses him, is actively engaged in his education. He tells him poems, shows books, teaches some elementary things, such as how to pour tea into a cup, for example.
It's funny, but now at Yarik among the toys in the doll's favorites – apparently, I had seen enough of my sister.
S.R. Who do you want to see your son? Stanislav Yarushin I teach my son to hockey.
We have large collapsible hockey gates at home, with which he tries to throw pucks with a stick. I dream that he became a hockey player.
I wanted to become, did not work.
S.R. And who do you want to see your daughter? Stanislav Yarushin In my room 90% of the time on TV is hockey, and Stefania spends a lot of time with me.
She is very interested in hockey, she is a fan of the Chelyabinsk "Tractor" with me, she goes to games … I would not want to, but if my daughter wants to play hockey, nothing can be done. Well, why not? True, it's still more likely that Stefania will go on the actor's line.
Now it is impossible to say anything definite in the sense of the disposition; it must grow. I can imagine how difficult the puberty period will be … It's easier at this time with the boys, it's harder with girls.
I am preparing for this, psychologically adjusting myself. Sometimes I think what will happen to Stefania when she turns 10? It is very important to occupy the child with various useful activities so that he simply does not have time for nonsense.
On Sunday, please rest, and on the other days be kind to plow.
Alena Yarushina Stephania before the age of three wanted to be a hockey player. When I said that this game was a man's, she answered that she had seen the girls play.
And now, when I ask her whether the dream is still hockey, she says: "No, what are you ?!" I want her to follow in my father's footsteps, to become an actress. Because of her character (which she went to dad), she likes to evoke emotions in people.
He likes to play in public and watch the reaction to his gestures and words. And, in my opinion, it is capable of its activity, its sociability to conquer the audience. But, of course, her choice depends only on her.
We only help.
S.R. Does Stefania go to kindergarten?
Stanislav Yarushin Yes, in the most ordinary. Just a wonderful kindergarten!
And I confess, I do not understand why people pay big money for private gardens, when we have such good state, where you have everything you want. She participates there in the performances, and she likes it very much.
When she prepared the very first poem for the holiday, she came to me and read it. "No, stop, – I said, – this is a little wrong. Let me tell you by action: "I will cut a piece of colored paper.
I will make a little flower out of it. " Have learned.
Then I watched the video from the holiday, I saw that she was the only one who did everything right, as an actor. She is generally an artistic girl.
And recently, Stefania played the Granddaughter from Repki, and the sets for the performance were made specially and with great love by our directors from Univer. You see what our team is!