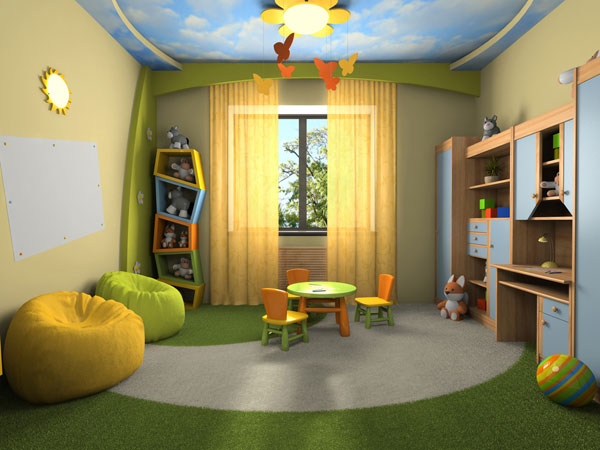 The ideal option is to have your own room. Every kid periodically has a desire to retire.
You can take a special place, a little fenced off. To do this, you can use a low screen, separate the corner with furniture (through the rack, bedside tables, tables, sofas).
Own space involves not only a separate place, but also the opportunity for the child to be alone. A child should feel that he can do what he wants there (play with such toys as he wants, do not always keep perfect order in his own place, arrange furniture as he wishes, invite anyone not to let those people whom he now does not want to see).
Your baby should be comfortable in the "swings" place. He must feel protected. To do this, consider the color scheme in the room.
Not very good if it is too pale, as well as too bright. Three walls can be warm, pastel colors, and the fourth can be painted in an active color. Next to this wall you can place a child's play corner.
Psychological comfort is also achieved through toys. In this case, the child should be able to show a variety of emotions.
Think of a place where the kid will be able to scatter toys, knock his fists on a children's punching bag or pillow, from the heart draw on the wall. To relieve emotional tension and relaxation, lay a mat, put a bowl of sand, put clay for modeling, turn on calm music.
A cozy setting is the one in which the baby feels comfortable. It can be created by the design of the walls, the location of furniture, soft curtains.
Think over the lighting solution. This may be a common light from above, and a sconce over the child's crib, and a desk lamp.
Adjust the power of the light. When selecting furniture, remember that it is impossible for a baby to be constantly neat.
The furniture may remain stains from paint, glue. So that the child does not leave patterns on the walls, select an easel for this purpose or a small section on the wall on which you can change the paper for drawing.
Often a child gets tired of his toys. It is quite common, so you should foresee a convenient place for storing machines, pupae, cubes.
A child can independently stack his toys, for example, in drawers and retrieve them from there as needed.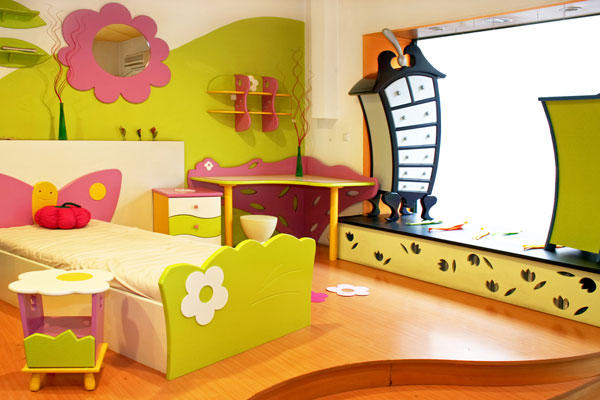 It is better to organize a variety of areas for drawing and artistic activities, sports, playing area, area for viewing book illustrations and reading books. Zoning must be flexible, and the child must be able to transfer items from one territory to another.
Depending on the age, the situation in the room, the assortment of toys and educational games should change.
1-3 years old Room: playroom, bedroom area, the largest free space for outdoor games of the baby. Toys: wheelchairs, large cars, soft and plastic toys, dolls, dishes, balls of different sizes.
Educational games: split images, frame inserts, large mosaic, floor building set.
3-5 years old Room: playroom, bedroom area, area for artistic and creative activities, gymnastics area, a corner for reading books. Toys: soft and plastic figures of animals, transport; Balls, pins, sets for plot-role-playing games – in "daughter-mothers", hospital, mail, shop, hairdresser.
Educational games: board games for the development of memory, thinking, attention, lotto, floor and desktop building sets, natural material for artistic and creative activities.
Your child is unique. He has his own interests, hobbies.
The space in the room should be interesting to the child. If the kid likes the underwater world and everything connected with it, then decorate the room in a nautical style.
Offer your child to take part in the room design discussion. Listen to his wishes.
Suggest yourself to create a panel, draw a picture, decorate stained glass with glass door inserts and so on.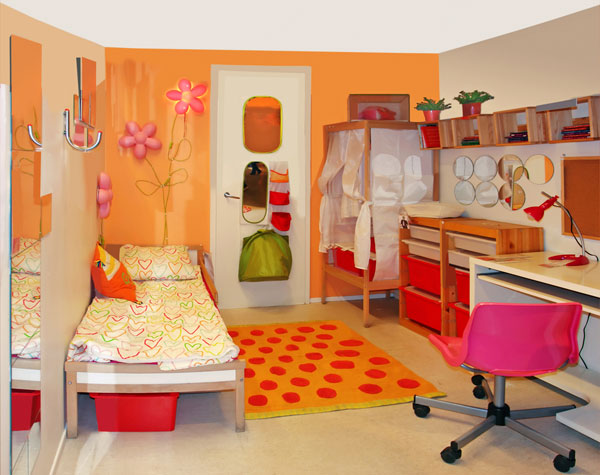 Add to the environment of the child elements of various types of art: reproductions of paintings, funny cartoons, decorative panels, Dymkovo toys, dolls and so on. Do not clutter the room.
Everything should fit into the conceived interior. You can create albums, folders with inserts in which you can place illustrations and photographs collected on various topics or types of art. One folder can be devoted to reproductions of landscapes, another – photographs, the third – to decorative and applied art, etc.
You can arrange themed weeks or days. For example, a week of photography.
In this week, go to the exhibition of photographs. Tell us about the history of photography. Consider the pre-prepared folder with photos.
Try to make compositions with your child and take pictures. Organize a contest for the best photo among the home.
Create a family album. Make a collage of photos.
End the week with an exhibition, invite guests to it. The interior can be given an unusual use of ordinary things.
So, for example, to make the tabletop of a coffee table from photographs in brown tones. The kid should see how traditional and non-traditional elements of art are combined in the interior.
The furniture in the room must be mobile so that you can change the interior design.
. they should not be too little or too much. It is best to change the assortment of toys with which your baby plays. Let the child play with some of them, then you can get some more out of the closet and remove those that the kid no longer pays attention to.
This will allow the child to always show interest in the game, invent new game plots and not clutter the room.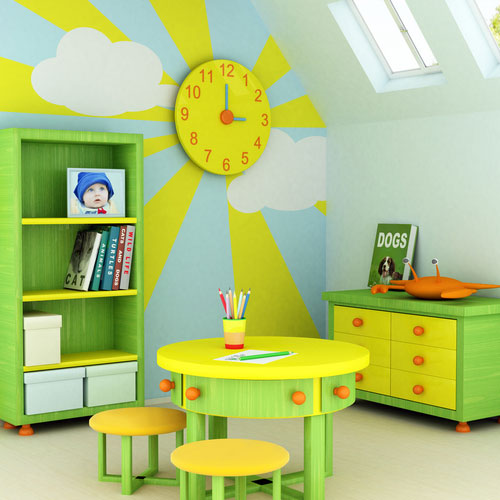 White. Carries hope, energy and power of transformation.
Beneficial effect on the closed and chained children; their self-esteem rises. Best used in combination with other colors.
Yellow. Influences intellectual development, stimulates the development of intuition and ingenuity.
Promotes concentration, improves mood, increases the speed of perception, visual acuity. This color is contraindicated only in cases where the child is too excited.
Green. It causes a feeling of freshness, soothes, reduces hearing sensitivity, contributes to greater concentration and concentration.
In the green color you can arrange a study area.
Blue. Promotes quiet rest and sleep, reduces blood pressure.
Blue tones give the impression of lightness, airiness, cleanliness.
Blue color in excess can inhibit the nervous system – use it pointwise.
Red. Exciting effect on the nervous system, increases blood pressure. With prolonged exposure adversely affects the child's psyche; an interior with a predominance of red can cause headaches and nightmares.
Children living in such a room are more likely to quarrel. For inactive kids, you can use more red.
Orange. It causes joy. Excites, but can quickly tire.
Orange color has an activating effect on the closed children, helps to get rid of fears. Stimulates the development of creative abilities.
Violet. Actively affects the cardiovascular system and lungs.
May cause feeling cold, sadness, depression. In the nursery purple color should not be much.