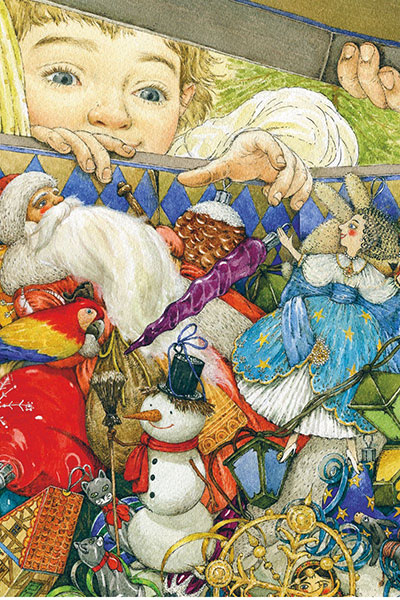 In contrast to traditional Christmas trees at the holiday "The History of the New Year's Toys" you can spend a whole day. This family festival will be held from December 16 to January 11 in the Museum on Poklonnaya Hill.
The program includes an interactive performance from the Moscow Theater "Alive" based on the book "The History of Christmas Toys", the exhibition of Christmas decorations, film screenings, master classes, fun contests, a photo session, a skating rink and, of course, gifts that will not leave anyone indifferent.
Read more about the presentation in the poster of the New Year's performances: http://www.parents.ru/article/yolki-2014-vybiraem-luchshie-novogodnie-predstavl/
and on the website of the organizers: http://www.elki-fest.ru/
All winners will receive 2 tickets to the Festival on Poklonnaya Hill "The history of the New Year's toys." The ticket includes a pass to the festival, a performance and a gift.
Tickets for January 6, 7 and 8 (18:00).
Prishivalko Julia (Zheleznodorozhny)
Blem Maria (Moscow region, Odintsovsky district, village Chastsy)
Potapova Tatyana (Moscow region, Orekhovo-Zuevsky district, D. Davidovo)
Zhidkova Elena (Moscow)
Efremov Alexander (Khimki)
PAYING ATTENTION: each participant has the right to answer the quiz questions ONLY once! In the personal data after the quiz questions you must specify the real name and mailing address. The editors will send prizes ONLY to the addresses indicated in the questionnaires and ONLY to those who are listed in the questionnaire.
If deliberately false information is provided, in accordance with the general terms of the tenders, the participant will be removed from the competition, and the prize will be transferred to the next participant. For providing false information and violating the rules of participation in the quiz, users will be blacklisted without the right to participate in our quizzes and contests over the next 3 months.