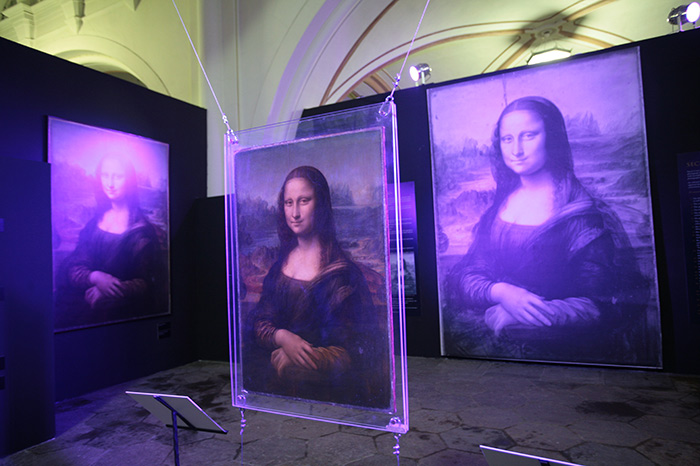 Australian company iVision, which pleased Muscovites with Van Gogh and
Impressionists, opens up a new grand exposition. This time it is dedicated to Leonardo da Vinci.
Artist, sculptor, architect, inventor, scientist, anatomist, musician, poet – who he was not. The exhibition "Da Vinci.
Revival "for the first time in Russia will demonstrate the full scope of this man's unsurpassed genius. The combination of the recreated inventions of the master and the multimedia format SENSORY4TM will allow viewers to make a unique journey into the depths of the intellect of the "universal" man of the Renaissance.
Only about 20 paintings have reached our time, as well as Leonardo's sketches, sketches and notes. The originals of his works are priceless and very fragile.
They are stored all over the world, but rarely travel around exhibition venues. Therefore, the multimedia part of the exhibition is an opportunity to see all the masterpieces of the artist in one place, on huge screens, feeling the full scale of the works.
At the exhibition you will learn 25 incredible secrets of the most famous painting in the world – "Mona Lisa", watch the process of its creation and see the picture through the eyes of contemporaries Leonardo.
Moreover, at the exhibition you will be able to see and touch and set in motion the famous inventions of Leonardo specially recreated by the team of Italian masters.
September 10 – December 20, 2015
Moscow, st. Lower Syromyatnicheskaya, 10,
ARTPLAY Design Center, on the roof of Building 3
Sunday – Thursday 11.00 – 21.00
Friday, Saturday 11.00 – 22.00
Ticket price:
Weekdays:
adults – 400r.
student – 350r.
student / pensioner – 300r.
family 2 + 1 – 1000r.
family 2 + 2-100 rub.
Weekends:
adults – 550r.
student – 400r.
schoolboy / pensioner – 350r.
family 2 + 1 – 1300r.
family 2 + 2 – 1400r.