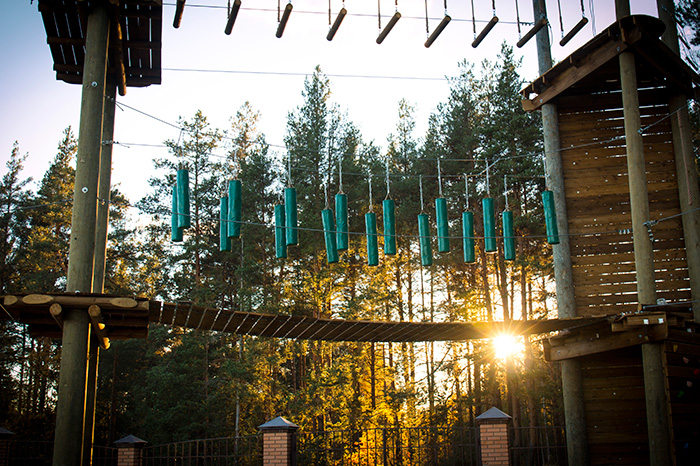 Rope park (taypark or cable park) is a complex with attractions, which are located at a height of more than three meters above the ground. Everyone can feel like a real climber, a mountaineer or just a clever person. And in an inclusive cable park, people with special needs can also gain confidence in their abilities.
It is such a park built in the center "Sheredar".
This is the only one of its kind, rehabilitation center, which appeared in the Vladimir region in 2015. Here, in a pine forest, in a place with a wonderful ecology, under the strict guidance and supervision of doctors, psychologists and volunteers, children undergo social and psychological rehabilitation, who have overcome cancer and other serious diseases.
Inclusive rope park in "Sheredar"
On the territory of 0.3 hectares and at a height of 3 to 7 meters, there were three tracks of varying difficulty, including 15 tasks. The design and construction of the park was carried out by the St. Petersburg company Space Concept, which was based on its own extensive experience in the development of cable parks and the experience of developing inclusive tayparkov in Europe.
In "Sheredar" instructors will work with special training, and the tracks themselves are provided with an advanced safety system. So rope park in "Sheredar" is absolutely safe for any person. For people in a wheelchair, there are three routes and six tasks.
In addition, the wheelchair users will be able to ride on a 95-meter trolley (downhill on a tightrope).
Children who spent a long time in hospitals and isolation in the struggle for life, as well as their brothers and sisters, can try their hand at an inclusive rope park. In the near future, programs for whole families will be held in the center.
Treatment of oncological diseases, often lasting for years, leaves a strong imprint on the child's psyche, causing in him insecurity in one's own strength and fears of being different from others. The programs of the Shedar Foundation are designed to involve children in the process of communication, help them expand their own capabilities, increase their self-esteem, confidence and confidence.
Rehabilitation is the final step towards a final recovery, which helps to make "Sheredar".