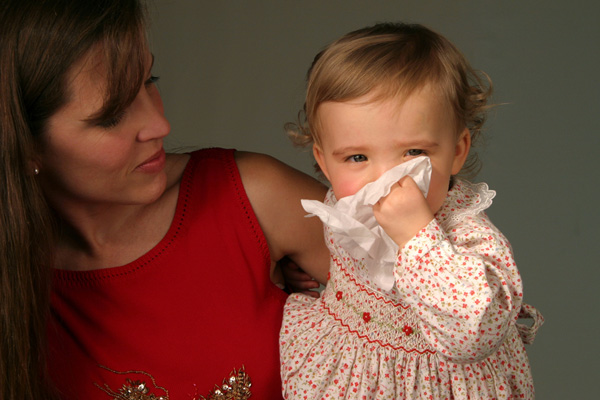 Transparent "water" flows from the baby's nose, which in 2–3 days becomes thicker and muddy, and by the end of the disease it becomes brighter again.
By the 3-4th day, the child may have a temperature (up to 38 ° C); he looks weak, refuses to eat.
The little one has a red throat, a cough begins.
Runny nose lasts 1-2 weeks; nasal discharge – thick, yellow-green.
The child has a stuffy nose.
He is worried about a headache.
The temperature can stay at around 37−38 ° C.
The kid does not eat well and sleeps.
A runny nose with clear liquid discharge begins abruptly and lasts a long time; it dies down, then again intensifies.
Scarce barely breathes nose.
He often sneezes, rubs his nose.
The eyes and eyelids of the child blush.
The little one feels good; eats and plays, as usual.
Whatever the cause of a cold, in children it easily leads to complications. From the nose, the infection can go to the neighboring "territories", causing inflammation of the tonsils, pharynx, bronchi, and from 2-3 years – the paranasal sinuses and adenoids.
Since the nasopharynx and ear in babies are connected by a wide channel, a runny nose sometimes turns into inflammation of the auditory tubes (eustachitis) and middle ear (otitis).
Even a small runny nose in a baby requires the attention of a doctor; otherwise, a cold that is not treated can lead to complications. A pediatrician will prescribe a baby, for example, antiviral or antiallergic drugs, and before the doctor arrives, it is better to limit yourself to nasal washes with drops based on sea water.
A runny nose (or rhinitis) is not a disease, but a symptom. To cope with it, you need to eliminate the cause of the problem, but the younger the child, the harder it is to identify. In babies up to one year, a runny nose is most often caused by viruses.
If bacteria are attached to them, nasal discharge becomes cloudy, yellow-green in color. After a year, allergic rhinitis occurs in children – the child may react to the smell of new mother's perfumes, pollen, animal dander and much more.
And sometimes allergy occurs "in tandem" with a viral infection.