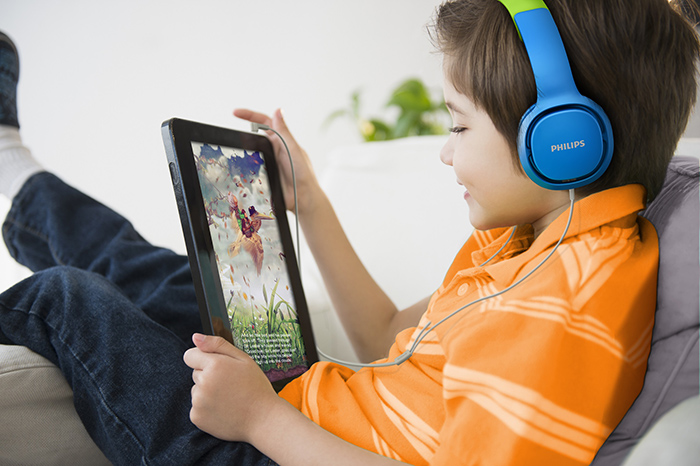 Object: Philips SHK 2000 children's headphones
Testing: Stanislav, 7 years
Controls: Catherine, mother of Stanislav
Stanislav is a big fan of audiobooks of any content. On average, listening to children's literature masterpieces takes a total of about 3 hours a day.
Since the time that Stanislav chooses to listen to the next audio masterpiece does not always coincide with the plans of other family members and may overlap the lessons of his older sister, the idea to test the headphones was met with great enthusiasm.
Mom Ekaterina: "I'm not a big fan of headphones, I think that children always try to" turn up the volume ", and this can have negative consequences for hearing. With the Philips SHK 2000 headphones I was attracted by the opportunity to fix the desired volume level.
The maximum in headphones is 85 decibels, but you can fix any below. Now I am calm, the son can listen to his favorite fairy tales for an hour without a load on the eardrums. Even with a very quiet sound, all the nuances of voices and music are perfectly audible.
While the son is at school, I sometimes listen to classical music in them: radiators with neodymium magnets allow you to get a very balanced sound. "
Stanislav: "The sound is excellent. I like to listen to audio performances: there is music, and songs, and the actors speak in different voices. Everything sounds very clean in these headphones.
And very beautiful. I especially like the sound of heroes who speak in bass. I also liked the color: bright blue – my favorite.
My sister also loves the blue color, but I will not give her headphones. Well, maybe just once, try it.
They sit comfortably on my head, at first I even forgot that they were on me, tried to leave the room and pulled out the cord. Probably because they are light and you stop noticing them. "
Mom Ekaterina: "There are no sharp corners and edges, everything is perfectly rounded, there are soft ear cushions that effectively block external noise and allow you to listen to music without increasing the volume. Due to the increased width of the headband, the mobility of the cups and the special shape of the ear cushions, the fit of the headphones is very convenient.
Nothing presses, it is clear that his son is comfortable. The special design of fixing the cups without fixing with screws allows you to easily remove the headphones from the headband and put in place without the risk of breakage.
This is great – I have three children, and I know first-hand the damage to things. It is convenient when the thing is durable and at the same time light, not bulky. "