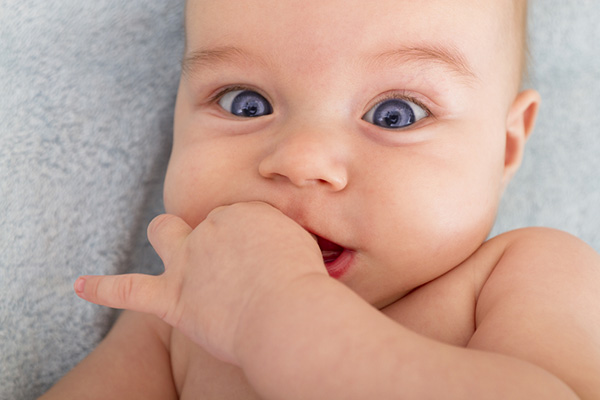 For three days now, the 5-month-old Anya has been biting her fist, her gums have reddened, snot are flowing from her nose. No doubt the girl has her teeth cut.
This process can begin from 4–5 months. If you closely monitor the condition of the baby's lower jaw, at one point, you will notice that she is all red and slightly swollen.
Sometimes you can see a tiny pearl-white dot – a sign that the tooth will soon erupt.
Baby teeth begin to form before birth. On the 7th week of pregnancy, the rudiments of milk teeth appear in the upper jaw of the embryo, on the 17th week – permanent.
At the age of about 6 months (sometimes earlier), the first tooth appears in the baby's mouth – usually the lower central incisor. A complete set of the baby will be able to boast only by two years. The order and timing of teething can vary, so if the child is out of the standard schedule, you should not worry.
But if there is not a single tooth for a year, you need to contact a pediatrician.
It happens that babies are perfectly tolerate the process of teething and about the appearance of them in the mouth, the parents find out by chance, once again looking into the mouth of the crumbs. But more often, unpleasant symptoms cause anxiety to both children and parents.
Teeth, moving to the surface, put pressure on the gums, which turn red, swell and begin to ache. Some kids at the same time very naughty. Others are in acute pain, because of which they cannot sleep and eat solid food.
All this may be accompanied by an increase in temperature, but not more than 38 degrees. As for the common cold or otitis, with which teething is sometimes accompanied, their cause is a decrease in immunity, weakened by inflammation.
In any case, children salivate profusely and the sucking reflex is greatly enhanced. These two interrelated phenomena allow the child to make a "natural" massage of the gums for himself with the help of any more or less suitable object: a spoon, a rattle, a piece of cloth or a crust of bread. In fact, the baby himself feels that he will help.
Such a self-massage is the first and easiest way to relieve pain, it activates the local blood circulation, weakens its rush to the tissues and alleviates inflammation.
You can enhance the beneficial effect of such a massage by offering your child a dental ring. If he likes this feeling – and not all children like the ring – take a cooling model. The cold has a slight anesthetic effect.
Several times a day, gently massage the baby's gums with a finger, applying a dental balm or gel on it. Caution: these soothing balms often contain sugar, so after the massage, wipe the baby's gums with a wet piece of cloth every time.
If these measures are not enough, once a day or two, give the child a paracetamol-based antipyretic, which also has an analgesic effect.
Tiny white granules are also an excellent tool to alleviate various painful symptoms during teething. You can feel free to consult a homeopathic doctor.
If the baby is irritated, the pain is accompanied by crying and crying, 2 Chamomilla 9 CH granules will help him every half hour. If one of the gums turns red, additionally give your child Calcarea phosphorica 9 CH in the same dosage.
If he has a mild fever and rhinopharyngitis, Belladonna 9 CH is best suited. And if he refuses a bottle, the ideal remedy is Borax 9 CH.
Dissolve the prescribed dose in water and give it medicine in a bottle or in a spoon, preferably 15 minutes before feeding.
In the supine position, the pressure of blood on the gums causes him even more pain. To calm the baby, slightly raise his pillow. Also, teething is often accompanied by reddening of the skin of the buttocks.
This is because its secretions become softer and contain more acid than usual and irritate the skin. Therefore, during this period, diapers should be changed more often, as much as possible to give the baby to lie with a bare ass without a diaper and use powder.
It can also be applied to a baby's chin to relieve irritation caused by increased salivation. But be careful: all these troubles are not necessarily related to the teeth!
If the fever does not subside for more than two days and / or is accompanied by additional symptoms (diarrhea, cough, digestive problems, rash …), consult a doctor.
In babies, milk teeth appear in pairs:
6–8 months: 2 incisors (in the middle below)
8–10 months: 2 incisors (in the middle at the top)
10–12 months: 4 incisors (below and above)
12–16 months: 2 first molars (below and above)
16–20 months: 4 canines (bottom and top)
20–30 months: 2nd pair of molars (below and above)
18–24 months: four fangs come out
2–2,5 years: the last four molars appear
This calendar is, of course, approximate. If the deviation from the schedule is 6 months, you should contact your pediatrician.