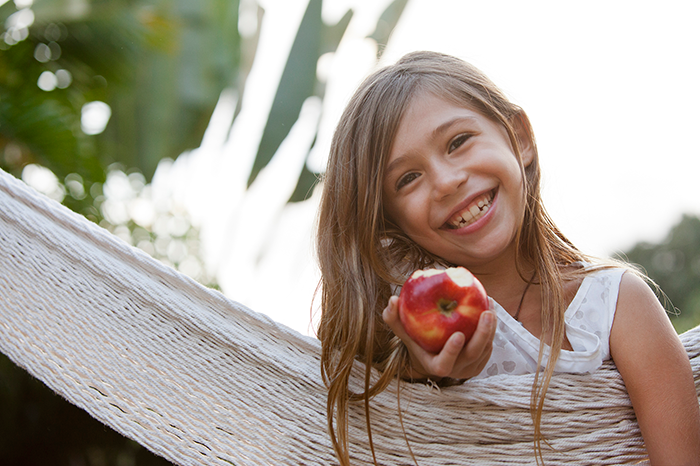 Practically all types of herbs are useful for teeth: dill, parsley, lettuce, onions, celery. They are rich in vitamins of group B, E, A, C, PP, trace elements potassium, calcium, magnesium, iodine, sodium, phosphorus, iron, beta-carotene, folic acid. From the point of view of dental health, these substances are necessary, because they strengthen blood vessels, improve blood formation processes and eliminate bleeding gums.
Parsley and dill are generally among the best natural disinfectants. Enough to chew a sprig of dill or parsley after eating to get rid of pathogens that contribute to the occurrence of caries.
Beets, cucumbers, apples, carrots are known to contain vitamins B, D, E, K, C, PP, which are good for the health of teeth and gums, beta-carotene, trace elements calcium, potassium, magnesium, sodium, phosphorus, iodine, fluorine, iron, cobalt and silver. A sufficient number of them normalizes the blood supply to the gums and reduces the risk of bleeding.
In addition, the teeth and gums, constantly receiving soft, processed food, wean "work out." But by nature, human teeth are "sharpened" for the processing of solid food. Therefore, do not neglect the possibility of nibbling an apple or a carrot – this is a kind of massage for the gums and ridding the teeth of plaque formed after eating.
Also, fresh fruits and vegetables contribute to more active development of saliva, which is an excellent bactericidal agent for the oral cavity.
Cheese, cottage cheese, yogurt – the main sources of the "building material" of teeth, calcium – contribute to the mineralization of hard tissue. They are also rich in other nutrients: vitamins A, B and D, magnesium, potassium. The specific properties of certain fermented milk products are known in terms of their beneficial effects on the health of teeth and the oral cavity as a whole.
Natural yogurt without sugar helps to reduce the amount of hydrogen sulfide, which means it helps to get rid of bad breath and normalizes the level of acidity in the mouth. Cheese is considered one of the most effective products in terms of prevention of caries – it increases the amount of calcium in the tooth enamel and accelerates the production of saliva, which also prevents the development of the disease (its amino acid arginine effectively resists caries).
Nutritionists consider seafood and fish to be the perfect food – they contain calcium, phosphorus, fluorine, and B vitamins.one and D. If the body lacks these substances, the bone tissues become fragile, diseases of the teeth and gums quickly develop. Virtually every type of fish is rich in calcium, selenium and fluoride, but most of all, marine fish and other seafood are valued, which, due to their high content of iodine and calcium, help protect teeth from caries.
This is one of the few sweet foods that strengthen the teeth. Honey has an antibacterial effect. Especially useful is honey in honeycombs – chewing natural wax cleans teeth, disinfects the oral cavity, helps to cope with stomatitis and inflammation of the mucous membrane.
Propolis is part of a number of tools for the treatment of periodontitis, caries and gum disease.
The undoubted record holder in terms of benefits for the teeth is cashew. These nuts contain a unique substance that can destroy bacteria that destroy tooth enamel, have antibacterial, antiseptic, tonic properties.
Pine nuts contain vanadium (this substance helps to strengthen the bone tissue), phosphorus and calcium, and almonds have a slight analgesic effect.