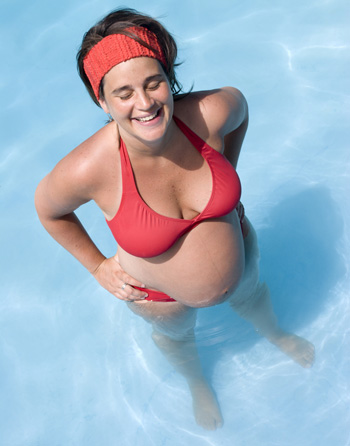 To the time spent in the pool, went to your advantage, adopt a few rules. Water will help relieve tension from the lower back muscles if you lie on your back or stand. Recall, due to the displacement of the center of gravity and the growing abdomen in future mothers, the posture changes: the natural curvatures of the spine, especially in the lower back, increase.
The result is an overstrain of the back muscles and lower back pain, and sometimes also in the region of the pubic joints (pubic bone).
1. Stand more stable, arms apart. The water level is on the shoulders.
Move along the side or march in place. The water will start massaging your skin and muscles, the body will exercise and at the same time relax – due to the lack of gravity.
Walk like this for 2 minutes.
2. Continue to march or move along the side, and join your hands in front of your chest, dropped into the water. Having made a big paddle, take them to the sides.
This exercise will support the tone of the muscles of the chest, arms, upper back and legs. Work out like this for 2 minutes and try to do a wider stroke.
3. Put your legs together, arms apart and keep them under water. Not bouncing and fixing the shoulders and arms on one level, turn in place one way or the other.
Such rotations will give strength and shape to the oblique abdominal muscles and take the load off the waist.
4. Lie on your back and swim on your back. Row your hands, lifting them up and away from the head. Raise the pelvis higher so that the body is stretched in a straight line and the stomach protrudes above the water.
This style will relax the back muscles and strengthen the legs, buttocks, back and arms. Reaching to the side, get some rest.
Your optimal distance is 150–200 meters.
5. The safest swimming style for your body will now be the crawl. Breathe freely, swim slowly and, having flown to the side, rest.
Your goal is the same – 150-200 meters.
6. For confidence, be sure to take a small swim board or noodles (a thin, sinking stick). Lie on your back and place the board under your head, and on top of it – your hands. Swim, working legs in the style of a crawl, and try to keep them moving from the hip.
Reaching to the side, get some rest. Your distance for one approach is 150-200 meters.