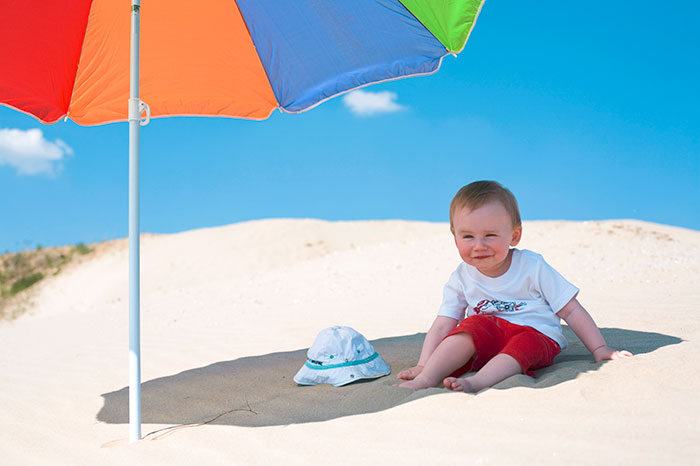 Photodermatosis is an allergic reaction of the body to type A sunlight. It is of two kinds. In the first case, allergy is directly caused by ultraviolet, and then it is a question of solar urticaria.
In the second case, a violent reaction is triggered by catalyst substances, which are activated under the influence of sunlight.
Solar, or light, urticaria is quite rare, and more often in girls. The reaction is based on individual hypersensitivity to ultraviolet rays of class A. Much depends on the skin type. So, allergy to the sun is more pronounced in red-haired people and owners of fair skin, because they have few melanocytes – protective cells that produce a dark pigment that protects the epidermis from excessive insolation.
For the same reason, all children up to 3 years old are at risk. When the solar urticaria, itching and blistering appear on the skin in literally 5-10 minutes of exposure to the sun.
But should the child hide in the shade, as after 20-30 minutes everything comes back to normal.
An allergic reaction of a mixed nature provokes the interaction of ultraviolet radiation with various chemical or vegetable components that fall on the skin surface or into its deep layers. It can occur in any child, regardless of skin type, although the risk of trouble is much higher in children with atopic dermatitis, allergic rhinitis, or atopic bronchial asthma.
Components of drugs or cosmetics (tetracyclines, many essential oils included in creams and ointments), vitamin A (retinol), food colors (yellow tartrazine), plant pollen and some products (celery, parsley, fig ). An allergic reaction can also occur when the sap of plants such as angelica, angelica, rosehip, clover, or hogweed.
Redness, blisters and itching appear 6–24 hours after sunbathing on those areas of the skin that are not protected by clothing. The rash lasts as long as the ingredient that provokes an allergic reaction is not completely eliminated from the body.
In allergy sufferers with prolonged exposure to the sun, the disease can become chronic and even affect areas of skin protected by clothing.
If, after sunbathing, your baby has red spots and blisters on your skin, you must first stop tanning and contact a pediatrician. In order for the skin to recover faster, the doctor will prescribe cooling or anti-inflammatory creams.
Antihistamines can also help fight inflammation. If there is no effect, go to a dermatologist.
If there are no lesions at the time of inspection, he will schedule a light test. During the study, small areas of the skin are irradiated alternately with ultraviolet rays of various types and after 24 hours they check the reaction.
Depending on the results, the treatment is adjusted.