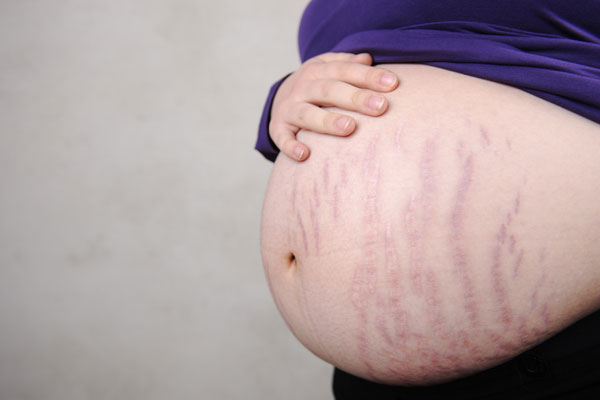 Stretch marks (scientifically, striae) are internal tears of thinned and lost skin elasticity. At first, the damaged areas look like violet-reddish stripes; this hue is given by the blood vessels of the connective tissue.
Then the places of ruptures are overgrown with cicatricial connective tissue and become light pink, and then milky-white. If there are a lot of stretch marks, it looks, of course, not very aesthetically pleasing.
The main causes of stretch marks during pregnancy: sharp fluctuations in weight, hormonal changes and heredity. The fact is that some women have genetically less elastic skin, it contains less elastic substance – collagen, so it is "torn" faster when stretched.
But even with heredity, you can argue, if you set yourself the task of avoiding stretch marks in anticipation of the baby.
Remember that the likelihood of stretch marks will significantly decrease if you follow the rules.
Watch your diet and do not allow sharp fluctuations in weight. Stretch marks are less likely to occur if you eat foods rich in minerals and vitamins, dairy products, fish, meat, legumes, tomatoes, bananas, olive oil. From the sweet and flour should stay away.
Regularly take a contrast shower: it perfectly tones and strengthens the skin, which contributes to the increase of skin plasticity.
Do not forget the massage. At home, "pinch" massage has an excellent effect, which you can do yourself: just for a few minutes daily pinch problem areas until a slight reddening.
Keep your skin in good shape with sports or dancing.
For skin care, use creams with vitamins A, C, E, collagen, elastin. Perfect for this purpose, for example, cream for the prevention of stretch marks Melvita. Vegetable oils of sea buckthorn, rosehip, baobab and Inca-inci contained in its composition easily penetrate into the deeper layers of the epidermis, increase the elasticity and tone of the skin, protecting it from tears.
Periodically at home make compresses with organic oils. Wheat germ oil, rich in vitamin E, is especially good for this purpose (as is well known, vitamin E is one of the main assistants in the struggle to preserve the elasticity and youthfulness of the skin); as well as jojoba oil, which since ancient times was used to protect the skin from dehydration and aging. Carefully approach the choice of manufacturers of organic oils, make sure you buy a 100% natural product.
Take a 15-minute bath with sea salt, the beneficial properties of which are known from time immemorial.
With a strong weight gain, wear special bras and bandages that reduce the load on the skin and do not allow it to stretch too much.
But if, even with all the precautions, you still have stretch marks, treat them like the beautiful actress and mother Salma Hayek did. The star recalls with pleasure how once a loved one told her that stretch marks on her skin make her look like a tigress.