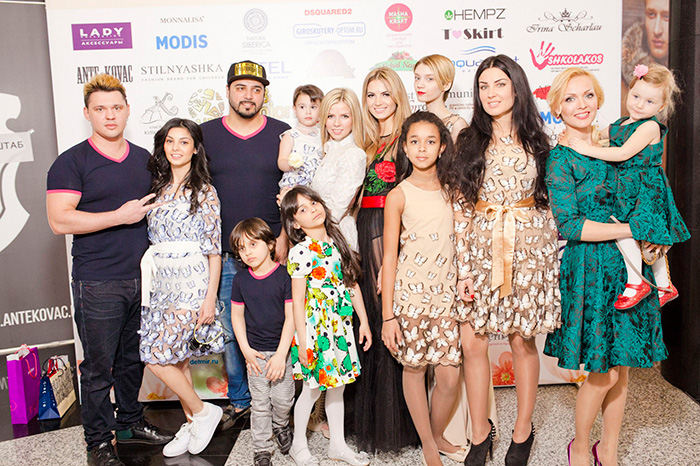 Among the stars who visited the show and tried on images from designers were director Valeria Gai Germanika, singer Yulia Volkova with her daughter Victoria and son Samir, Black Star label Klava Koka, star of the TV series "Molodezhka" Vlad Canopka, actress of the TV series "Salam Maskva »Ekaterina Direkarenko and her sons. The actress of film and television, Jeanne Epple, was a special guest of Marathon, and Sofia Milova was the voice, taking the baton from the courageous "Cadet" Kirill Emelyanov.
The organizers of the Marathon are ArtFashion production center for children and BestCoGroup agency. This year Tatiana Praskova was selected as the President of the Marathon – the organizer of the All-Russian children's competitions, including "Mini Miss and Mini Mister Russia", "Pride of the Nation", World Championship of Performing Arts in Hollywood.
Emilia Aristova (Tatiana Zarubina's agency, Omsk) became the face of the 3rd International Fashion Marathon # Ozerdakaksardtsu.
International Fashion-marathon "From Heart to Heart" is an annual holiday for the whole family with the participation of young delegates from model agencies from all over Russia, as well as from Bulgaria, Belarus, Georgia, Israel. During the show, staged by professional directors, 120 children from 3 to 18 years old presented current collections of world and Russian premium clothing brands, trends of the new season in children's and teenage fashion and demonstrated their skills of models and artists.
More than 10 world famous brands, as well as leading Russian and foreign designers took part in the Marathon.
This year, part of the proceeds, as well as gifts from partners, went to the children of the unrecognized Lugansk People's Republic, where the successor of the event, Fashion Marathon From Heart to Heart in Lugansk, will be held in June. Each participant of the capital Marathon could make his own contribution by handing out toys and books to the children of the LC and the DPR and accompanying his gift with a hand-made commemorative postcard.