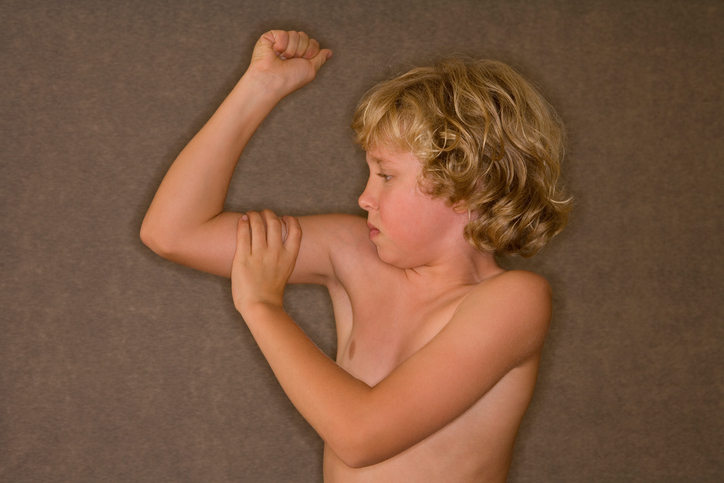 Of course, barely born, the baby is unlikely to be ready to push-ups or swing the press. But you can still do something.
First of all, it is a swimming pool and gymnastics – everything connected with work with its own weight. So the child can prepare for further physical exertion and just understand how his body is formed.
About the benefits of training in the pool did not hear just lazy. One example of Ksenia Sobchak is worth something: her son Plato began training from the first months of his life (experts advise to start with two) and achieved considerable success.
What are the benefits: strengthening of all muscles of the body, cardiovascular system and spine, lung development, removal of hypertonicity of muscles, improvement of emotional development.
Important! It is better to go to special infants' pools.
In normal "adults" there may be too much chlorine in the water.
The procedure is not only useful, but also pleasant. There is only one "but" –the massage should be done correctly in order not to harm the baby. This is taught in special courses that can be completed before the baby is born.
And the first couple of times to do under the supervision of a specialist.
What are the benefits: development of the musculoskeletal system, improvement of blood circulation, removal of hypertonicity of muscles, correction of "residual" reflexes – when a baby throws pens to the side, reflexively flexes and extends fingers, his chin is trembling. In addition, it is possible to correct orthopedic problems in the very germ – clubfoot, turned feet -. And still massage is the same tactile contact with mother, which is vital for kids.
Yes, and mom too.
Important! Massage can be done up to three times a day. Better – an hour after eating.
But not at bedtime: the baby may become too energized and then sleep badly.
At this age, the child needs more activity. Then mobile games come to the rescue – they will become an excellent basis for future lessons in the section.
Active exercises need to take 8-12 minutes at a time.
There are many games that are associated with the development of speed, dexterity. The main thing is that the child has fun, that he does not get tired and enjoy the process.
It would seem such a simple thing. But how much benefit in it!
Playing with a ball, children receive a complex load on the entire body. After all, you need not only to get to the ball – to walk or crawl, but also to grab, hold, throw or push.
This is the work of the muscles of the arms, legs, abs and back.
What is the benefit: in addition to strengthening muscles, it develops the ability to navigate in space, agility, eye, speed of reaction, and also improves the work of the cardiovascular and respiratory systems, metabolism.
Important! With a ball, you can come up with intelligence developing games: to teach a child to distinguish colors, sizes.
And a teamwork skill is being formed – because you will play together.
Many babies still cannot walk by themselves, but this is not necessary. To make the walk more efficient in terms of physical education, you can offer the child to roll his own stroller.
And the balance will be easier to hold, and additional muscles are involved.
What are the benefits: strengthening the musculoskeletal system and the cardiovascular system, the development of motor coordination, prevention of flatfoot.
Important! Do not force the child to walk by force. Tired – let him rest.
This is not the case when you need to practice to failure. This works only with adults.
Crawling can not be underestimated, it is a very important stage in the development of the child. Like climbing – overcoming obstacles. During such exercises almost more muscles work than when walking.
Teach your child to crawl through an obstacle, climb on a bench or a chair on his own – this will give an excellent load on large muscle groups.
What is the benefit: the development of a sense of balance, endurance, coordination of movements, strengthening the muscles of the whole body. And even purposefulness develops – if the kid overcomes an obstacle for the sake of some nice bonus.
Important! Show your child how to crawl or climb over an obstacle.
It is clear that you can simply step over it, but a personal example here is very important.
When the child has already learned to walk properly, the possibilities for physical development become even greater. By the way, regular exercise makes the child's psyche more stable.
The most important thing for parents is to inculcate a love for the sport in a child, not to push him away, so that later he wouldn't scream and be angry that he should go to the gym.
Home sports complexes or those installed in playgrounds make sports activities more varied and more useful. Horizontal bars, ladders, rings, even slides – all of these are your best helpers in classes with a child.
What is the benefit: sliding from a hill, climbing stairs and even swinging on a swing, develop balance, hanging on a horizontal bar and rings strengthens the muscles of the body and arms.
Important! Classes in the fresh air are also useful because they strengthen the muscles of the heart – they have not yet been completely formed by the age of three.
As soon as the child learned to run, it was time to start and jump. It can be very interesting if in the process you can also imitate different animals, a hare, for example, or a frog.
And if you combine movement with the sounds that animals emit, you "pump over" the connection of speech skills with motor skills.
What are the benefits: prevention of flat feet, strengthening of muscles and ligaments, coordination of movement and the development of a sense of balance – especially if you jump on one leg.
Important! For such activities you need to choose the right shoes.
It should be on a not too thin sole. It is better to jump on a non-rigid surface, and on a slightly springy one – covering modern playgrounds is fine.
You can teach a child to the usual exercises, but at a discount on age: swing press, pull up, make leg outs. For each enough 8-12 repetitions.
And be sure to consult your doctor about charging for contraindications.
What is the benefit: in addition to strengthening the muscles, there is such a thing as discipline. For a kid, charging becomes part of the daily routine.
The sooner you get used to it, the better your relationship with sports will be.
Important! The best time for gymnastics is in the morning, an hour after breakfast.
The only way is to try everything.
I liked it – we leave it, it did not like it – we choose further, we try, we look. Do not force your child through the power to attend classes.
And do not be afraid that somewhere you will be late. You can switch from one sport to another.
For example, Elena Isinbayeva initially engaged in artistic gymnastics. And then she passed into athletics and became the owner of 28 world records in pole vaulting among women.
From birth – classes in the pool with my mother.
From 3 years old – children's fitness with my mother.
From 5 years old – ballet, dancing.
From 6 years old – acrobatics, judo, wushu, sambo, figure skating, skiing.
From the age of 7 – hockey, karate, hand-to-hand fighting, wrestling, tennis, table tennis, swimming, gymnastics for girls.
From 8 years old – equestrian sport, karate, aikido, judo, cheerleading, modern dances, oriental dances, fencing, golf, gymnastics for boys.
From 9 years old – football, yoga, taekwondo, handball.
With 10 years – triathlon, basketball, volleyball, snowboard.
With 12 years – boxing, kickboxing, mountaineering, rowing, powerlifting.