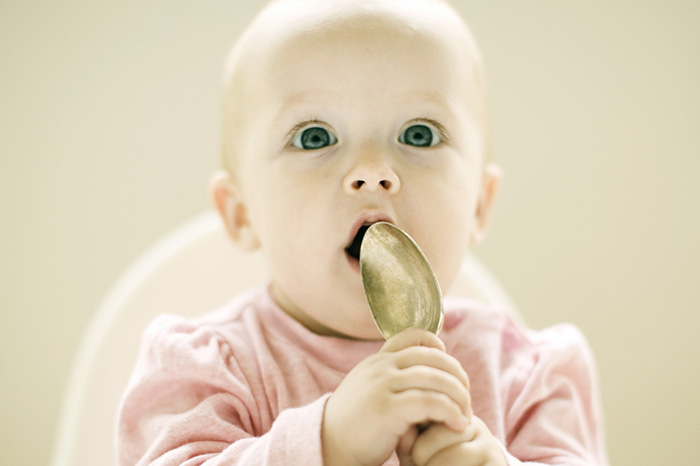 Such a gift carries a symbolic meaning that is rooted in pagan beliefs and superstitions. Silver is a precious metal, therefore a gift in the form of a silver spoon is a symbol of the material prosperity that everyone wishes for a child in the future. In addition, the spoon is an object that the baby uses several times a day, so it can become a talisman and protection from the evil eye.
In addition, in many countries, silver is a symbol of prosperity and success. In England, for example, a lucky man is said to be born with a silver spoon in his mouth, and in China, silver sticks are given for the birth of a child.
Silver has tremendous energy, which, joining the karma of the child, will help him cope with difficulties.
Believe it or not – you decide. But it seems to us that this custom is quite cute and there's no need to deny yourself the pleasure of pleasing your friends or loved ones who have small children.
So, where did the tradition of giving a silver spoon come from, we clarified a bit. However, you will be surprised to learn how astute were the ancient people who introduced the tradition of giving a baby a silver spoon.
The appearance of the first tooth in a child was a kind of signal that it was time to slowly wean him from breastfeeding. This process is difficult for the child, because in the "adult" products there are many microorganisms, including pathogens, which can adversely affect the weak children's body. And silver ions are known to kill bacteria.
A recent study of this metal has shown that not only normal microbes are destroyed, but also pathogens of diphtheria, typhoid, pulmonary and intestinal infections. And even the small amount of silver that enters the body with a silver spoon, has a bactericidal effect.
No wonder peasants in ancient Russia threw a silver coin into the well. So there is a direct connection between feeding a child with a silver spoon and his health.
So much for superstition!
And scientists have found that silver makes the taste of food more creamy and sweet. So, if your child is naughty and does not agree to eat infant formula, try feeding him with a silver spoon – the pleasure of the baby (and peace of your nerves) is guaranteed.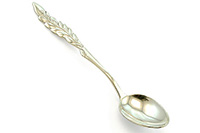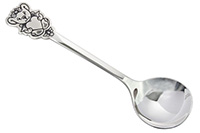 By tradition, the spoon should be given by the person who noticed the tooth first. After that, he should knock lightly 3 times on the tooth and wish the child success and health. According to tradition, this is exactly how well-being will come to the child.
But since usually this man is a mother, the grandmothers, godparents or close friends of the family become the donors. In some families, it turns out that several people give a spoon at once – someone for christening, and someone for toothache.
Sometimes it is more logical to do this: whoever has the money, he gives. In general, this is a matter of chance and it is not so important whether an aunt, your girlfriend or grandfather will give a spoon.
The tradition of giving a silver spoon can be easily upgraded. For example, engrave with the child's name, date, and even birth weight. But many people don't like the idea of ​​buying a spoon – it can be a false and sometimes useless gift.
There are plenty of other options.
Teether During teething, he becomes a thing of the first necessity. Teethers are needed to massage the gums, as the process of the appearance of teeth is accompanied by itching and unpleasant sensations.
You should not neglect them: if you do not give the baby a rodent, he will pull everything into his mouth and will be able to damage the gums and carry the infection. Therefore, it is important to choose a teether for teeth that is suitable for a child by age, high quality and from safe materials.
Do not worry that the parents of the baby have already bought one – rodents for the teeth is not enough.
Clothing. It will never be superfluous. Small children are growing before our eyes, so it has to be changed very often.
Romper suit, undershirts, caps, socks and sandals in the farm will definitely come in handy. Things "perishable" that have to be changed often, such as bibs and nipples, will also be a good gift. If you know how to knit, you can make knitted booties or jumpsuit for walking.
Another option is to give the kid clothes "on the way out", whether it be a smart dress or a festive dress.
Toys Rattles, educational games and constructors – all this will definitely come in handy for the child, and you will save the parents from unnecessary expenses.
Many, by the way, prefer to receive such gifts – practical and useful.
Baby cosmetics. A great solution would be a set of children's cosmetics. Choose only proven brands, do not waste time: funds usually last long, so their impact on delicate baby skin will be long.
If you know that mom is a fan of organic cosmetics, it will be a good idea to purchase children's organic products for the baby.