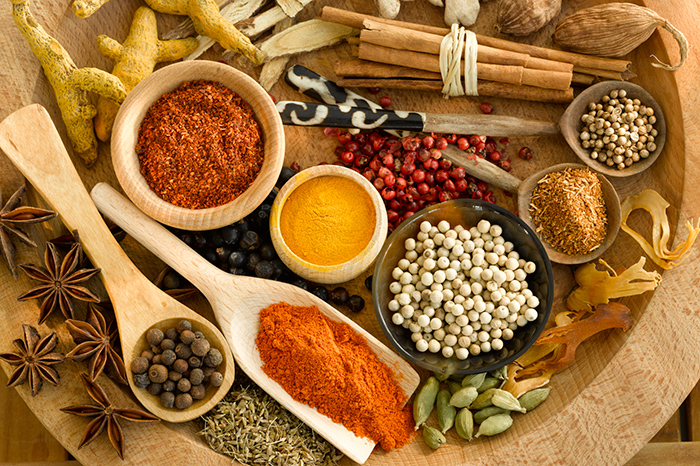 Greens, garlic, bay leaf and other spices, although they belong to the minor components of the dish, play a very important role in enriching the taste. In cooking, they are used to give the dish a unique aroma and piquancy.
Unusual, bright smell and unforgettable taste – the merit of aromatic acids and essential oils. It is these substances that enhance the production of digestive juices and due to this, stimulate the appetite, improve digestion.
There are vitamins A, C, K, mineral salts of potassium, manganese, copper, tannins and phytoncides in spices. All this is good, but, since the gastrointestinal tract of babies is very vulnerable to any irritants, choosing spices for the children's table and determining their volumes, care should be taken.
So acquaint the child with spicy "additions" ahead of time, which are recommended by doctors, it is not necessary. Not earlier than 8 months in very small volumes it is possible to use onions or green onions and garlic when cooking soup, vegetable and meat dishes.
Important: you can not give raw onions or garlic to a child at this age!
From 9 months you can add white pepper, bay leaf, celery, dill, parsley, which are put into the dish 5 minutes before the end of cooking. From the same age allowed the use of vanilla for cereals, puddings, casseroles, any baking.
Very spicy or bitter spices (black and red pepper, curry, chili, horseradish, mustard) in the baby's diet should not appear until school.
Start with one type of spice, literally at the tip of a teaspoon, and watch the reaction of the crumbs for 1-3 days. From this point of view, ready-made baby food is beneficial.
All the ingredients in the jars are in a strictly defined amount, which corresponds to the age norm, and, in order not to be mistaken, you just need to carefully examine the inscriptions on the label.